Decorated WWII Veteran and The Oaks at Inglewood Beloved Resident, Major Bill White, Dies at 106
Pegasus Senior Living is saddened to share that Major Bill White passed away peacefully on Friday, March 4, 2022, at 106 years old. His beloved daughter Mary and granddaughter Leah were by his side. The Oaks at Inglewood and the entire Stockton community mourn the loss of this local hero and national treasure.
Major William "Bill" White was born on July 31, 1915, in Long Beach, California, and was believed to be one of the oldest living WWII veterans and the oldest living U.S. Marine.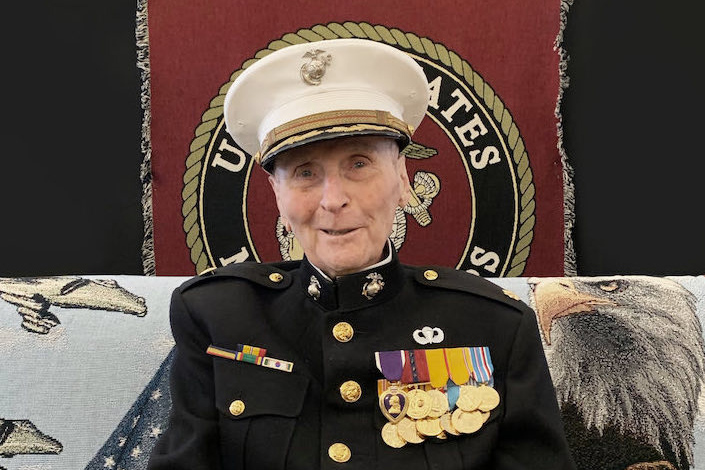 Crowds of Stockton, California residents came to wish Major Bill White a happy 106th birthday on July 31, 2021, at a parade in his honor. He beamed with pride and gratitude as he sat with his two daughters, grand and great-grandchildren, to enjoy the music and well-wishes from admirers. "I can't think of enough words to express my thanks," he shared.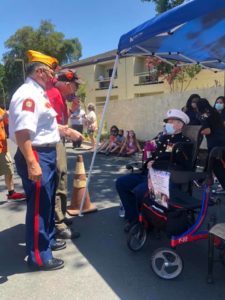 White gained national acclaim in 2020 after his request for Valentine's Day cards went viral. "Operation Valentine" was White's request for people to send in Valentines for his collection of memorabilia on social media. The goal was 10,000 cards and Major White received over 300,000 from people around the world.
At the time he told USA Today, "I wasn't expecting anything like this. It hit me like a ton of bricks. I still can't get over it."
Many also sent handmade gifts, candy, and personal notes of thanks, sharing that they, too, had family who served in the military or had served themselves.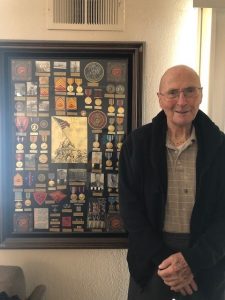 A decorated veteran, White fought in the battle of Iwo Jima and was awarded several medals and honors including the Purple Heart for injuries he sustained from a grenade blast. Though he enlisted in the Marines, he was initially not accepted due to his skin condition, but he did not give up on his mission, re-enlisted, and was accepted.
White then went through paratrooper school, crossed the equator on the USS Colorado, became a shellback and fought in World War II, and also served during the Korean War.
After retiring from the Marine Corps, White worked for the Huntington Beach Police Department as a reserve officer, an officer, and a jailer. He also gave back to the community by volunteering for 30 years with the Boy Scouts Explorer Post 563.
Major Bill White was an outstanding member of the community and proudly served his country with bravery and determination. We celebrate and salute him today and are so honored that he chose The Oaks at Inglewood to call home. We and the Stockton community, and all those that he touched will miss him.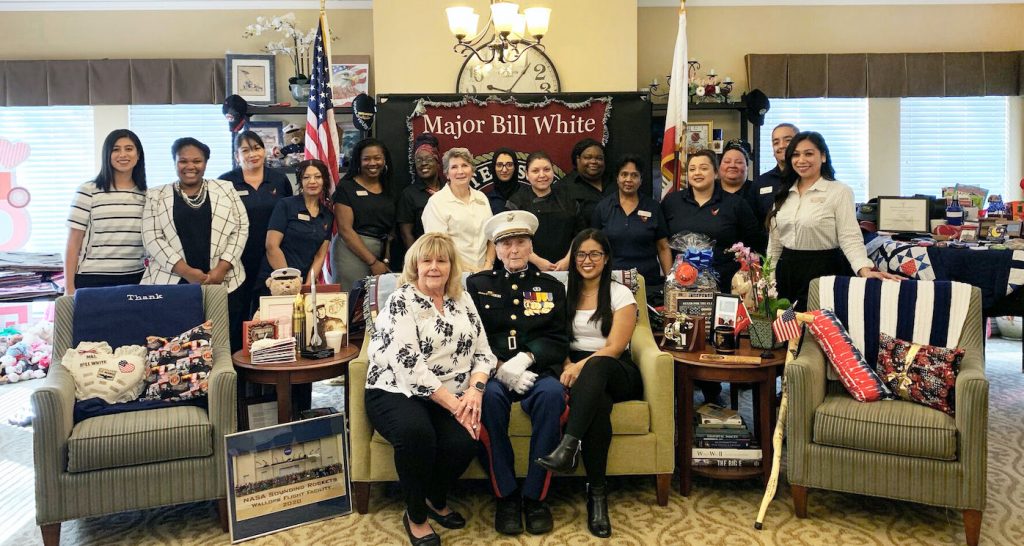 Major White's family has requested that in lieu of flowers to make a donation to the Hospice of San Joaquin County or the Stockton Marine Corps Club, in his honor.