Our Community Offers Top-Tier Senior Living Services in Elk Grove
Elk Grove Park provides California seniors with assisted living and memory care services in a comfortable environment. Located in the desirable and fast-growing city of Elk Grove just south of Sacramento, our community provides personalized support, enriching experiences, and a care team that is second to none. It's our goal to make you feel at home; we strive to foster a family-like atmosphere rather than a corporate one.
What Sets Elk Grove Park Apart?
There are a multitude of senior living options available in the greater Sacramento area, and it can be difficult to find one that is a good fit for all of your needs.
At Elk Grove Park, we offer:
An experienced and long-serving care team, including a health and wellness director, a health and wellness coordinator, and a wellness nurse
A variety of available activities and three chef-inspired meals per day
Strict COVID-19 safety protocols that protect the health and safety of our residents and associates
A social, cottage style-community
Competitive pricing
The combination of assisted living and memory care services means we can provide a higher level of care than many of our competitors, and we take every resident's individual situation into account when considering their care plan. We also welcome seniors with diabetes.
What is Our Community Like?
At Elk Grove Park, residents get the best of both worlds: the familiarity of a small community combined with the amenities of a large one. Our community's unique layout features a series of one-story, cottage-style buildings, creating a neighborhood-like atmosphere that you won't find at other senior living communities in the area.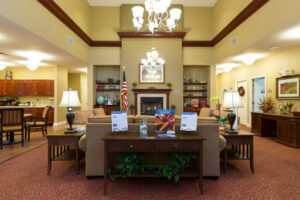 Each of our cottages features a:
Common area
Fireplace
Laundry room
Nursing station
Some of the cottages even have pianos, aviaries, and beauty salons!
Taking advantage of the natural beauty of this area, our community also features scenic landscaped outdoor areas and courtyards for our residents to enjoy.
What Senior Living Services Are Offered at Elk Grove Park?
At Elk Grove Park, it is our mission to provide services that help make every moment count.
Elk Grove Assisted Living
Elk Grove Park's assisted living program aims to give our seniors the opportunity to live as independently as possible while providing the appropriate support when they are needed.
Elk Grove Park's assisted living program includes services like:
Medication assistance, administration, and management
Scheduled transportation to appointments and shopping trips
Housekeeping and maintenance
Diabetic care
To make residents feel more at home, we also allow pets.
Elk Grove Memory Care
Our memory care program is focused on the needs of residents living with a diagnosis of dementia and/or Alzheimer's disease. The program takes place in a secure, separate wing of the community that allows for maximum attention and care.
Our program offers:
Brain games for mental stimulation
A research-backed treatment approach
Social events
SingFit music therapy
Walking groups
Looking for more details? Contact us today to learn why so many seniors feel at home at Elk Grove Park.