It can be difficult to know when it's time to transition a loved one with Alzheimer's or dementia from assisted living to memory care. You may feel like you're making a decision that you don't want to make or that you're not doing enough.
Should they stay in assisted living or transition to memory care?
You may feel guilty or anxious about the transition, but enlisting help from an assisted living and memory care community can provide a stable move for those who need it.
The Village at Rancho Solano in Fairfield, CA offers a continuum of care. We can provide multiple levels of care to seniors as their needs change. Our goal is to help your loved one age in place.
Let's work together to create a custom care plan that meets their individual needs. Our team is here to help make the transition as smooth as possible.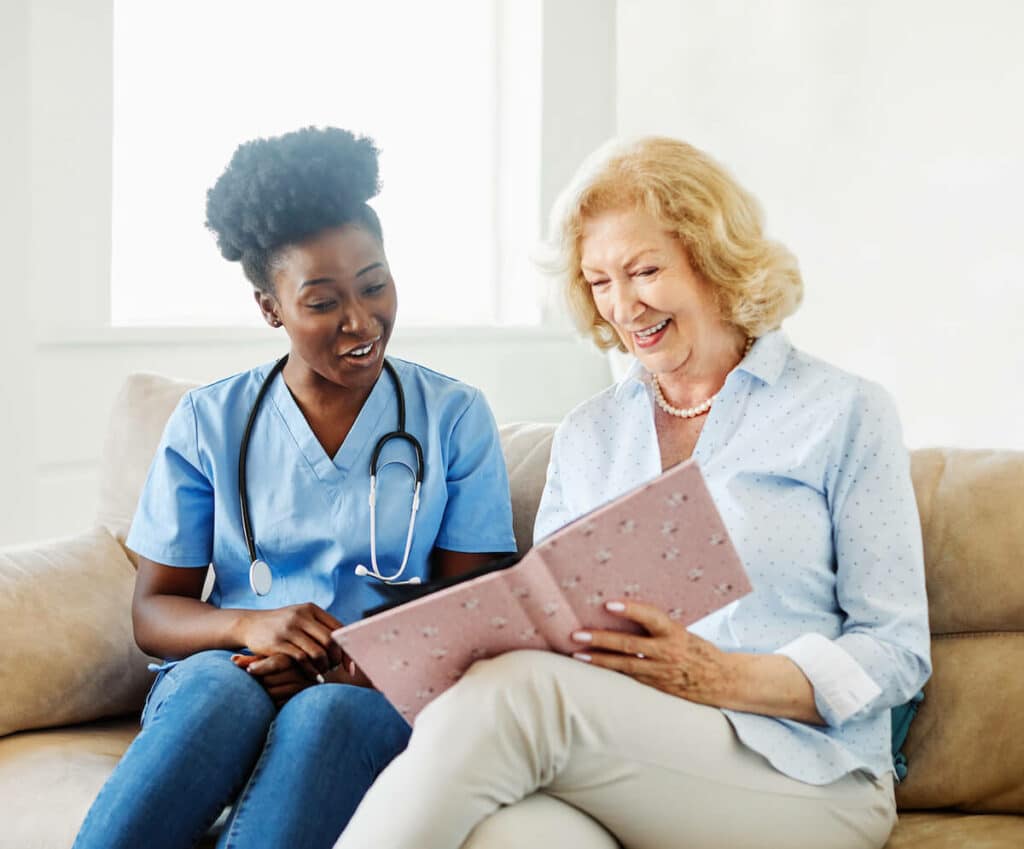 What is assisted living?
Assisted living is a type of senior housing that provides assistance with activities of daily living (ADLs). These can include help with bathing, dressing, grooming, using the restroom, and taking medication.
Assisted living communities typically provide care for seniors who need some level of assistance but do not require 24-hour skilled nursing care.
There are over 127,000 older adults living in assisted living facilities in California. About 35 percent of residents live with a type of dementia, yet only 18 percent of Golden State communities provide dedicated memory care.
What is memory care?
Memory care is a specialized type of senior living that is designed to meet the needs of people with Alzheimer's or other types of dementia. Memory care facilities offer a secure environment, as well as unique programming and activities that are designed to help keep residents engaged and socialized.
The benefits of memory care include:
A secure and enriching environment
Specialized care from a team of trained professionals
Data-based activities and programming
Socialization opportunities
How to make the transition from Assisted Living to Memory Care
Making the transition can be collaborative if your loved one with dementia already resides in assisted living. The nurses and specialized caregivers will likely know your loved one on a personal level and have a rapport.
Assisted living is helpful for seniors who need help with a few daily activities. Memory care is thoroughly equipped to support the challenges of living with memory loss and offer a higher quality of life.
Some common indicators of needing to transition to memory care include:
Wandering
Sundowning
Confusion about time and place inside the community
Declining personal hygiene
Irregular sleep patterns
Lack of interest in activities and events
Excessive falls
Agitation and mood changes
Discuss options for the next step with the senior living community if your loved one is exhibiting these behaviors. Additionally, discuss these matters with your family members. Don't try to hide a transition of care.
Having all family members on the same page will be helpful for the moving process. Equip everyone to have the same response if a loved one asks why or where they are moving.
Downsizing may be needed if your loved one resides in a larger apartment. Memory care suites are generally smaller spaces that accommodate people living with a form of dementia. Their design offers a valuable sense of independence.
Pack up or move when your loved one is not present. The sight can cause agitation or stress when making the transition. Make sure to include familiar objects and precious items in a clear view when setting up the new living space.
Even if their new apartment is smaller, they'll have plenty of space to socialize in familiar and easy-to-navigate areas.
The Village at Rancho Solano offers the perfect solution for families facing this difficult decision. Our memory care program, Connections, is specifically designed to meet the needs of those with dementia. We provide specialized care that allows residents to feel comfortable and at home.
Is it time to talk about memory care?
Connections Memory Care
Pegasus Senior Living, Senior VP of Health and Wellness, Dr. Sandra Petersen, is a nationally recognized assisted living and memory care expert. She created the Connections program to promote neuroplasticity in older adults living with memory loss. Her data-based approach to dementia care draws on experiences in her life.
Over a decade ago, Dr. Petersen experienced a stroke resulting in memory and mobility loss. Her rehabilitation included movement and brain exercises that formed new neural pathways and helped her recover.
She transferred that experience to provide purposeful care to those living with Alzheimer's and dementia. Introducing our program can influence new connections in the brain to slow memory loss.
The Connection program provides:
Data-based activities and therapies
A calming secure environment
Expert caregivers dedicated to making emotional bonds
A dedicated team providing personal care
Enriching experiences
Family support
Find Relief in Fairfield Assisted Living and Memory Care
If you're considering memory care for your loved one, we encourage you to schedule a tour of our dedicated Alzheimer's and dementia care community. Our team would be happy to answer any questions you may have and show you the benefits of memory care.