Life can be a vacation every day in Mesa, Arizona. Many seniors choose The Grand Canyon State for a winter getaway, but putting down roots in Mesa can lift burdens for years to come. Think about finding assisted living in the Mesa, AZ area and never worry about missing out on the fun again.
What can seniors do for fun in Mesa, Arizona?
Downtown Mesa comes alive nearly every weekend with farmer's markets, festivals, and live entertainment. Culture lovers can check out the Mesa Arts Center for free concerts, traveling exhibitions, and live theater.
Seniors looking to stay active and take walks through the park will love calling Broadway Mesa Village home. Near our community, get your walking steps and swings in places like:
Red Mountain Park
Jefferson Park
Arizona Golf Resort & Event Center
Our residents also enjoy taking community transportation to more senior-friendly adventures like:
The Lost Dutchman Museum at Superstition Mountain
Desert Botanical Garden
Arizona Commemorative Air Force Museum
While other parts of the country experience cold and snow, Mesa seniors stay active in the outdoors. Even when the sun heats up in summer, older adults can find plenty of air-conditioned activities.
Beyond adventurous outings, indoor activities are built into our residents' everyday lives. Our senior living calendar includes countless ways to stay physically and socially active:
Cinema club
Walking groups
Puzzles and card games
Bingo and blackjack
Cooking demonstrations
Tea parties and happy hours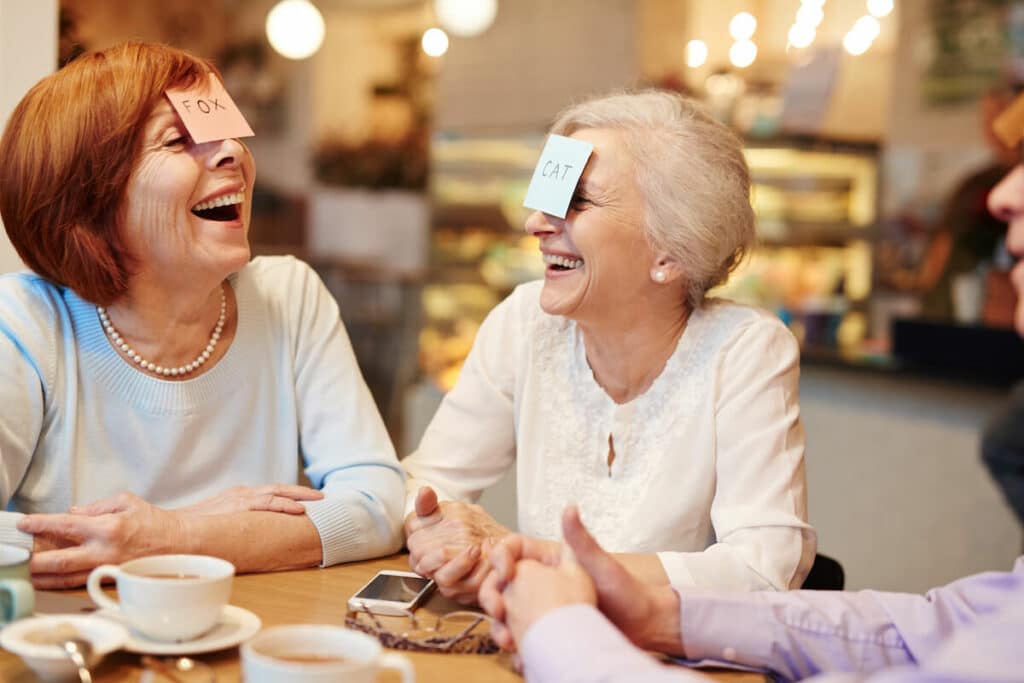 Why choose senior care centers in Mesa, AZ?
Moving to a senior care center like memory care or assisted living in Mesa, AZ can free up the hassles in retirees' lives. Let the team at Broadway Mesa Village handle the cooking and cleaning while you focus on living the life you want.
Senior care services mean that residents can live with freedom and confidence thanks to expert help from licensed nurses and specialized care partners. Broadway Mesa Village offers seniors two types of care and multiple levels of assistance in each. Find out which level of care is right for you.
Assisted Living
Assisted living offers seniors residential care in beautiful, spacious, and modern apartments. Our senior housing is comfortable and convenient.
Assisted Living Community Services:
Nursing oversight
Personal care plans
Bathing, dressing, transferring, and other activities of daily living
Medication management
Physical, occupational, and speech therapies
Personal check-ins as needed
Assisted living is not a nursing home. Our seniors are active and focused on living vibrant lives. No matter your interests, we include social activities, community trips, volunteer opportunities, and wellness programs on our calendar that changes every month.
Memory Care
Alzheimer's and dementia affect over six million people in the United States. Memory care is an option to relieve the 11 million family members who are providing supervision and care duties.
At Broadway Mesa Village, our dementia care community is guided by Dr. Sandra Petersen and the Connections philosophy. This program for seniors living with memory loss due to Alzheimer's, Parkinson's, and other forms of dementia focuses on evidence-based therapy to preserve memory and promote healthy living.
Memory Care Community Services
Connections Program
Activities of daily living assistance
Medication management
Brain-healthy meals
Dementia-friendly exercise
Sensory enhancing activities
Encouraging social interaction
Clean private rooms
Secure Environment
Can I afford the services of an assisted living and memory care community?
One reason so many retirees move to Arizona is the cost of living. Our assisted living community in Mesa offers seniors a lower average price for care than most places.
According to the 2021 Genworth Cost of Care Survey, the average cost of assisted living is around $4,500 per month in the United States. Arizona residents can expect to save at least $500 per month of that cost. At Broadway Mesa Village, seniors who don't require many services can deduct nearly half the cost from the national average.
Our residents only pay for the senior care services they require. Moving to an assisted living community before you even need most of its benefits is a fantastic way of aging in place. The cost of care will only increase when needs change.
Renting a senior apartment also eliminates many variable costs from your life. Say goodbye to:
Property taxes
Home maintenance and upkeep
Utility bills
Grocery bills
Car insurance and high fuel prices
What happens if I need a higher level of care?
One of the most significant advantages for seniors living in Mesa, AZ, is the Banner Desert Medical Center. This medical facility is home to the largest emergency room in Arizona and specializes in geriatric care, cardiology, and oncology.
Seniors who develop Alzheimer's or dementia can transition to our memory care community. Our senior living specialists can recommend third-party home care services to residents who require higher health care services.
What's so fun about senior living in Mesa, AZ?
We invite you to tour Broadway Mesa Village and meet our Resident Ambassador. We can't wait to show you or your family around our beautiful senior care center in Mesa, Arizona. Contact us to arrange a tour.