Caring for a loved one is an incredibly rewarding experience, but it can also be highly exhausting. Caregivers need to recognize the signs that they need a break and take steps to recharge and refresh. That's when it is time to find respite care in Houston, TX.
Respite care at The Farrington at Tanglewood helps family caregivers in Houston, Texas take a break from their responsibilities. It's a short-term stay that lets caretakers recharge and refresh.
So what is respite care, and why is it needed? Here's what you need to know.
What is Respite Care?
Respite care services are designed to provide primary caregivers with temporary relief from the demands of caring for a loved one.
This type of care offers comprehensive support. Seniors receive the added benefits of socialization, activities, and other services in an engaging environment. It's also a fantastic way to try out senior living before committing to signing a lease.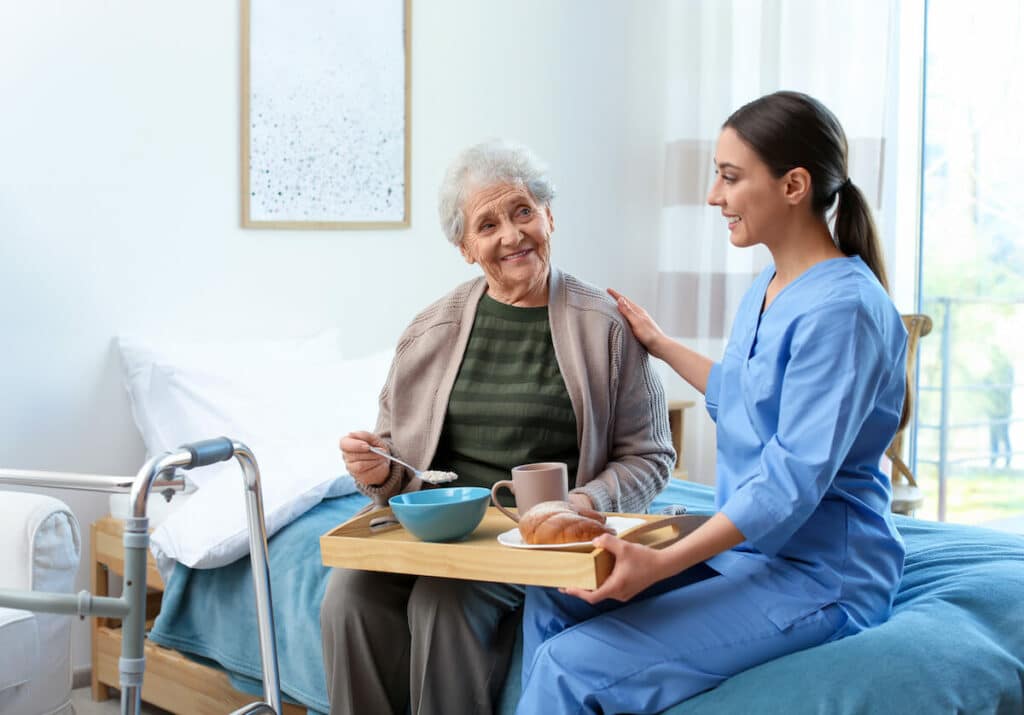 Respite care is available for short-stays or long-term, depending on the needs of the caregiver and senior. There are a few types of respite care facilities for various levels of care:
Assisted living facilities can provide services for seniors who do not need skilled nursing services. Personal care assistance is readily available.
Nursing homes are short-term stays that can provide skilled nursing services and rehabilitation following an injury or procedure.
Home respite care can provide cooking and cleaning services and senior care duties.
Adult day care services are excellent for when caregivers need a break for a short period.
Memory care communities are advised for seniors with Alzheimer's or dementia.
Respite care is available at The Farrington at Tanglewood for seniors who could benefit from assisted living or memory care support. Short-term guests are treated with equal dignity and respect as full-time residents.
Signs it's Time for Respite Care
Caregivers often feel guilty when considering taking time off from their duties. Guilt, loneliness, and burnout are common signs a family caregiver needs a break. Respite care can benefit both parties involved.
Here are some signs that it might be time for you to consider seeking out respite care for your loved one:
You feel overwhelmed by your responsibilities as a caregiver
You don't have enough energy or motivation to perform your daily tasks
You're feeling isolated from friends or family members
You're not able to take part in activities you used to enjoy
Your physical or mental health is starting to suffer due to stress
Caregivers get much-needed rest while the senior receives top-notch services and socialization opportunities. A chance to practice self-care is crucial for any family caregiver. Try to rest and make time for yourself daily to prevent burnout. Use short-term care as a resource.
Respite care is often needed when caring for a loved one with dementia. Providing this duty is typically a full-time job.
Over one million family caregivers provide 1.8 billion hours of unpaid Alzheimer's care per year in Texas. According to statistics compiled by Texas Health and Human Services, 48 percent of informal caregivers are 40 to 64 years of age. Another 42 percent of family caretakers are 65 to 84.
Family caregivers should know they are not alone. Take breaks to continue providing the best level of care.
The Farrington at Tanglewood Offers Comprehensive Respite Care
Send a loved one on a care vacation to The Farrington at Tanglewood. We provide caregivers in Houston, TX with top-notch respite care options. Our experienced team understands how difficult it can be for caregivers to balance multiple roles and commitments.
We ensure our residents receive personalized care when they stay with us. Respite care costs are similar to a stay in a hotel, with the added benefit of senior care services.
We offer short-term and extended stays up to 30 days or more. Residents will receive personalized attention while having access to amenities like:
Private residence
Restaurant-style dining
Fitness classes
Social events
Worship services
Housekeeping services
Transportation assistance
Taking time off as a caregiver isn't easy, but it's essential to ensuring a high quality of life for all involved.
Respite Care for Alzheimer's and Dementia in Houston
Connections is the signature program for memory care at The Farrington at Tanglewood. Seniors with Alzheimer's and dementia can benefit from our program during their stay in respite care.
Founded by Dr. Sandra Petersen, Connections encourages physical and mental activity in a very social setting. Combining these practices can promote brain function and slow memory loss. It also alleviates the loneliness many seniors with dementia face. We offer meaningful activities daily.
Respite Care for Houston Family Caregivers
Take a break and contact us today! Speak with our senior living experts to design a short-term care solution for your needs. Recharge, refresh, and practice self-care. Our team will handle the rest.