55+ Gated Communities in Spokane, WA Just Might Be the Perfect Setting
What are some advantages of retirement communities?
Spokane, WA is a unique city that boasts incredible natural attractions like the Spokane River gorge and the awe-inspiring Spokane Falls. It's the perfect place to retire, but what kind of communities are best for seniors looking to settle in the area?
Great options for the active senior who wants to age in place are 55+ gated communities in Spokane, WA. Retirement communities like South Hill Village offer lifestyle options to meet every need, both those you have now and in the future.
Why are private, gated senior communities preferable?
Security and comfort. These communities are typically in more secluded areas with lower crime rates. South Hill Village is located just outside of Spokane and creates an environment where like-minded seniors can be comfortable and feel secure. Inside the community, spacious apartment homes are outfitted with full kitchens or kitchenettes, large, lit walk-in closets, walk-in showers, and patio or balcony, and small pets are welcome.
The assistance you may need
As you retire, independent living may be your best bet, but as you age it's helpful to live in a community where assistance is available, should you need it in the future. Assisted living offers seniors the chance to stay as independent as possible while getting that extra help needed with daily tasks like dressing, bathing, and eating. What's even better? Having help with those burdensome tasks like housekeeping and laundry. It's nice to mark those items off of your to-do list, permanently.
Help for dementia and Alzheimer's
Memory care for seniors offers a reliable, secure environment where they can feel at ease. If your loved one has been diagnosed with Alzheimer's or other forms of dementia, that security is very important to you.
What memory care residents need
Getting help for a loved one with Alzheimer's or other forms of dementia can be stressful and leave family members overwhelmed. You can stop worrying about finding the right care. South Hill Village's Connections program fuses secure, calming environments with an evidence-based, unique approach to care. The Connections program is centered around providing an engaging and supportive environment where seniors with dementia thrive.
The program was designed by Dr. Sandra Petersen, who used her extensive background in memory care as well as her own experience with successful neuroplasticity treatments, to develop an effective approach to care.
Connections residents participate in activities that involve music, aromatherapy, art, and movement to engage the mind and body. New and varied activities help stimulate the brain and build new neural pathways.
Connections works to stimulate the mind through:
Word games
Recall/reminiscence therapy
Book club
Storytime
A diet full of brain-healthy foods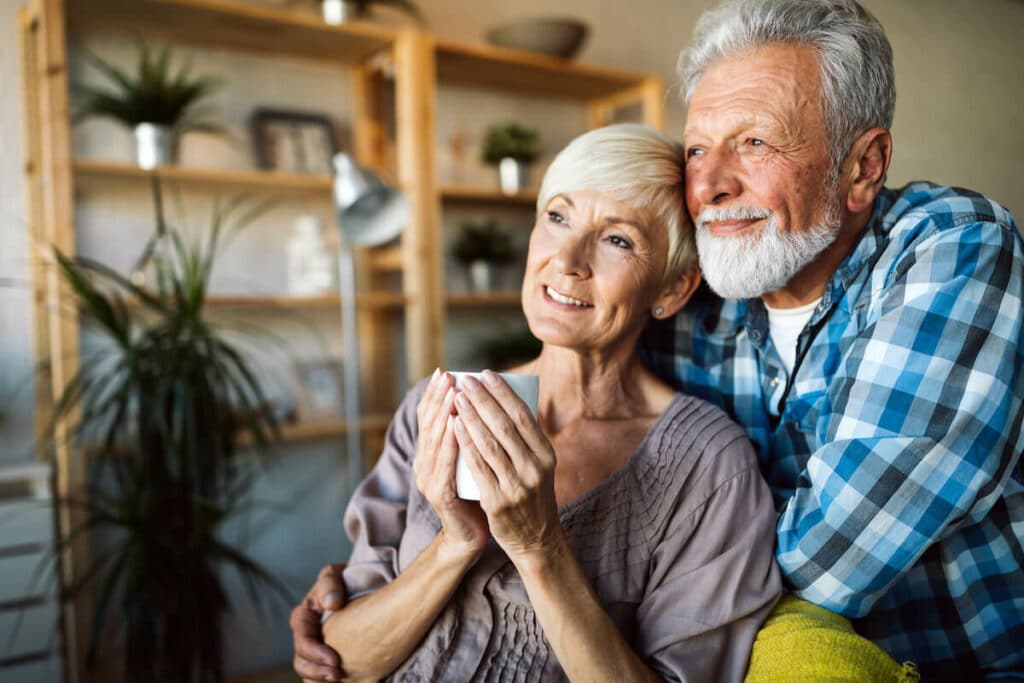 Residents also engage their emotions and bodies through:
Aromatherapy to decrease agitation
SingFit, a program shown to elevate mood and improve speech through singing classic songs
Boxing, walking clubs, and other fitness programs
Come home to a community that meets your needs
Seniors who are looking for an independent lifestyle full of activities with friends and those that are looking for a reliable environment where they can age in place, find the perfect home at South Hill Village.
"South Hill Village is a warm and loving facility that offers many opportunities for their residents, and the food is exceptional according to our parents." —Adult child of resident* 
*taken from a third-party survey
Come home to one of the best retirement communities Spokane has to offer.
Find your serenity with 55+ living. Contact us today to set up a tour and see what life is like among friends in your new community.