Mr. Clarkson, or Clark B. had a birthday of the century on March 19, 2022.
Sterling Court at Roseville Assisted Living and Memory Care celebrated his milestone birthday among friends and family.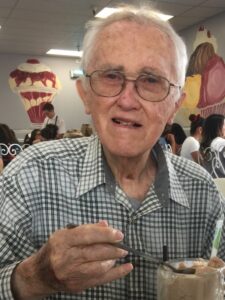 Turning 100 is an honor in and of itself, but Clark also happens to be a decorated World War II veteran of the U.S. Army. He is one of a handful of heroes still alive today who served in one of the most famous and harrowing battles in U.S. Armed Forces history: the Battle of the Bulge.
The celebration included a barbeque followed by a formal program. A military honor guard staged a demonstration and presentation. A number of local political figures, including State Senator Jim Nielsen and Assemblyman Kiley, presented citations and resolutions. Chef Rob, the community's Culinary Director, grilled Clark's favorite comfort foods: burgers, hot dogs, potato salad, and other classic fixings.
"This combination of achievements is cause for a special celebration," says the Executive Director. "We reserved the central courtyard of our community, where Clark's friends and family gathered."
More About Clark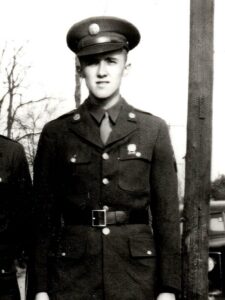 Clark was born on March 19, 1922 in The Dalles, Oregon. He attended Oregon State University (OSU) from 1940-41, then served in the U.S. Army from 1942-46. During the war, he saw action throughout Europe, including the Battle of the Bulge, and received an honorable discharge as a disabled veteran from his time serving. He returned to OSU after his service, and graduated in June 1949 with a Bachelors of Science degree in fisheries.
Following graduation, Clark was employed by the California Department of Fish & Game in Long Beach. He met his wife, Arline Hill, while in Long Beach and they were married in 1952. They raised six children, five daughters and one son: Barbara, Paula, Marie, Cindy, Lydia, and Matthew. Clark has 13 grandchildren and 17 great-grandchildren.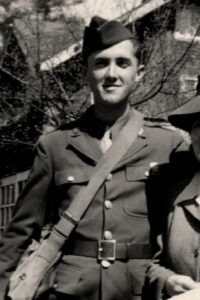 Clark's career with the state took him and his family to Monterey, Lodi, Long Beach (twice), Eureka, and Sacramento. Finally, Clark and Arline settled in Granite Bay, California. Clark retired as the Assistant Chief of Marine Fisheries for the CA Department of Fish & Game. While working in Long Beach, Clark made the front page of the local newspaper as having tagged a bass in Long Beach and tracking it to Japan one year later, having been instrumental in creating the tagging system for fish…quite an achievement in his field with impacts realized still in marine research today.
Clark was an active member of the Knights of Columbus at St. Rose Catholic Church in Roseville and enjoyed golfing as time allowed in his busy schedule. He is a deeply loved and cherished resident at Sterling Court at Roseville, where his lively personality and booming voice brings smiles to residents and staff alike.
"It is a tremendous honor to celebrate his 100th birthday and his many contributions to our country, his family, and our community," says Paulette Perfumo, Life Enrichment Director at Sterling Court at Roseville.
Check out Clark's birthday celebration on KCRA!
Celebrate Milestones With Us
Whether it is a birthday, anniversary, or something special, we find every excuse to celebrate our residents! Contact Sterling Court at Roseville to find out more about senior housing in Roseville, CA.