How to Talk to Parents About Moving into Assisted Living
It's difficult to see a parent or loved one struggle to complete tasks that were once easy. It's also hard to think about them feeling lonely if you live away from them. Broadway Mesa Village is a senior living community in Mesa, Arizona that offers services that improve the lives of older adults.
Convincing a person to move to assisted living can be a sensitive topic, but the discussion can be easier than you think with the proper preparation.
The National Center for Assisted Living reports that 64 percent of senior living residents need help bathing, and 48 percent need assistance getting dressed. Assure your loved one that needing help is a common occurrence.
Many seniors and their families wait until after a crisis to seek a senior care facility. Moving to assisted living is a fantastic option to prevent future catastrophes like falls and avoidable accidents.
Doing research is one of the best ways to convince your loved one that senior living can improve their life quality.
1. Research
Understanding the needs of your loved one and offering solutions can make the conversation easy. Here are tips to prepare for the talk:
Below is a checklist of reasons why a senior needs assisted living. Consult the list to think of aspects in your loved ones' lives that need improvement.
Visit websites and social media pages to learn more about assisted living communities in Mesa. Imagine if your loved one would enjoy joining our lunch bunch.
Use our blog as a resource for senior living news.
Share your research with trusted friends and family members and ask if they have any additional questions.
2. The Conversation
Including another person in the conversation can be a big help. Make sure they know the facts as well. Don't be pushy or aggressive. Let the conversation occur naturally. Start by asking your loved one how they feel about certain aspects of their life:
Do you feel lonely?
Are you managing your medications okay?
Is the house being cleaned regularly?
Be an empathetic listener and let them tell you what concerns they have. Be patient and give them a chance to respond with whatever emotion they have. Use your research to suggest possible solutions and ease into the benefits of assisted living.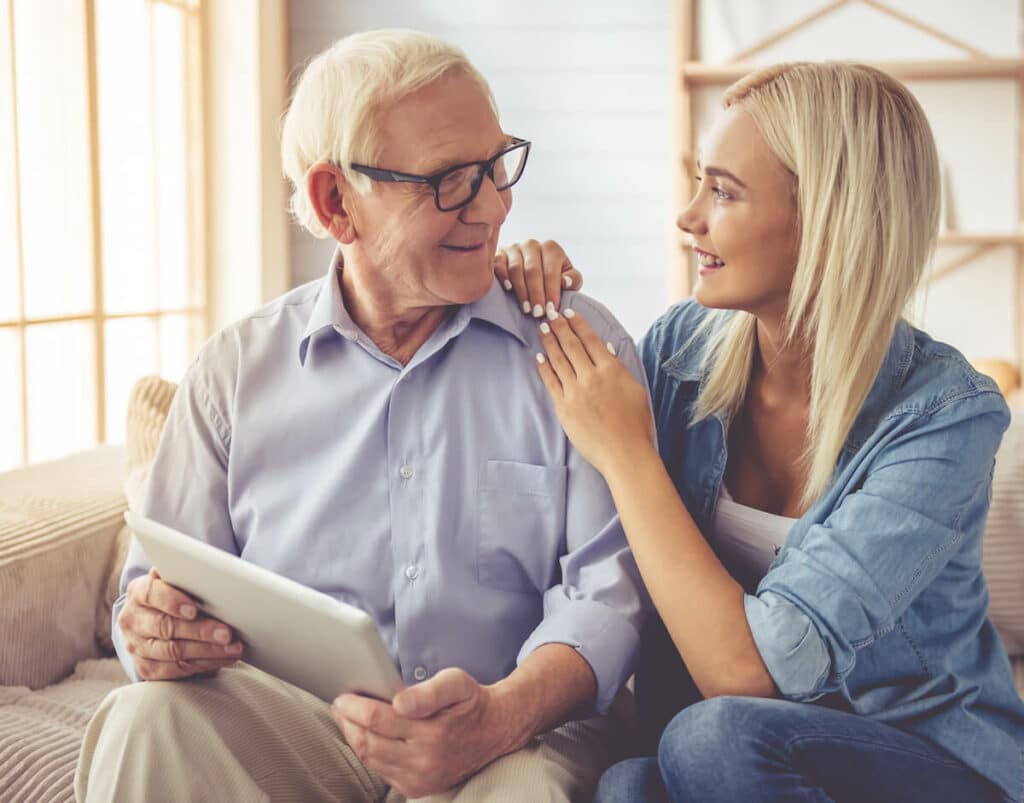 Don't make them choose right away. This discussion is just about planting the seed. Thank your loved one for expressing themselves and suggest a follow-up chat. Give mom or dad time to process their decision.
Does my loved one need assisted living?
Assisted living offers personalized services to older adults who want to live independently but need help in one or two areas to do so. Licensed nurses and specialized care partners provide:
Ongoing health monitoring
Bathing, grooming, and dressing
Transferring
Dining assistance
Medication management
Physical, occupational, and speech therapy
Activities of daily living allow residents to live confidently and enjoy their lives. Services like housekeeping and laundry also free up a lot of time. With all of that extra time, there are a lot of opportunities for fun in our assisted living community in Mesa, AZ.
Socializing over meals, arts and crafts, games, scenic drives, and shopping outings is a part of daily life at Broadway Mesa Village. Our community includes many comfortable common areas inside and out for seniors to make new friends. New residents with pets will enjoy spending time with their furry friends on our outdoor walking paths.
Answer the questions below to see if assisted living is right for your loved one:
Has their hygiene changed?
Has their mobility changed?
Are they worried about falls?
Are they eating nutritious meals?
Are medications being taken on time?
Do they have adequate access to care?
Are they lonely or experiencing isolation?
Are some areas of the house being neglected?
Are they experiencing Alzheimer's or dementia?
If you answered yes to any of these questions, assisted living at Broadway Mesa Village can help. If your loved one needs continuing care beyond assisted living, our Connections program for memory care is also available.
Make Mom or Dad Part of The Process
If your loved one can see the benefits of assisted living, experience it in person by taking a tour. Let them be active participants in making decisions and asking questions about their new home.
While touring, ask questions about the monthly rent structure and current special offers. The average cost of assisted living communities in Mesa is nearly $4000 per month. The level of care your loved one needs will influence the price, but Broadway Mesa Village is one of the best values for seniors in the city.
Following the tour, we can offer moving resources and downsizing tips that make the transition easier than expected.
Moving a family member to assisted living should be a collaborative process and not a command. Treat your loved ones with respect, and let's work together to get them the care they need.
Contact Assisted Living in Mesa, Arizona
The senior living specialists at Broadway Mesa Village are available to answer any questions and arrange a tour. Contact us to find out more.