Why are falls so dangerous for seniors?
The senior population is experiencing exponential growth, which means an increase as well for senior living in popular areas such as Elk Grove, CA. The growing baby boomer population is also contributing to a rise in injuries and behavior changes for older adults like we have not seen before.
Between 2010 and 2015, healthcare in California noticed a 38 percent increase in senior falls. Wendi Skala, a trauma injury prevention coordinator for Kaiser Permanente South Sacramento, notes, "As baby boomers go into their older adult years, the things that make them susceptible to falls just multiply. It's a huge problem."
Why are seniors falling?
The Centers for Disease Control and Prevention (CDC) notes, one in four seniors experiences a fall every year. Contributing factors reported by Aging Care include:
Decline in physical activity
Poor vision
Medication
Complications of Alzheimer's and arthritis
Home hazards
Can a senior living community prevent falls and accidents?
At Elk Grove Park, we provide assisted living and memory care in a cottage-style environment.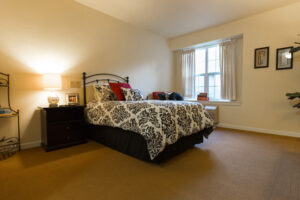 We offer transfer assistance and take care of the chores that can lead to accidents.
Of course, what goes up must come down, and falling is always a possibility. Our community maintains clear pathways, no need for stair climbing, and offers assistance while standing up and traveling. Mishaps can occur when someone forgets that they need to use their walker or wheelchair, but our goal is to heavily limit the variables that cause accidents for your loved one.
What happens when seniors fall?
Accidents happen, and falling is a part of life, but falls should not be a common problem as we age. Falls contribute to many preventable fatalities and 95 percent of hip fractures.
A fall can be detrimental to the health of a senior. Hospitalization can lead to rehabilitation without the chance to return to living an independent life. However, an invisible effect of falls also contributes to seniors' mental health.
How can a fall change seniors' behavior?
Even if a person doesn't hit their head, a brain injury can occur. Ten percent of fall patients over the age of 65 become diagnosed with traumatic brain injuries. We now know Alzheimer's and other forms of dementia can sometimes be traced back to brain injuries. Athletes who develop dementia due to Chronic Traumatic Encephalopathy (CTE) are prime examples.
Falls can also create confidence issues and fear that lead to avoiding activity. Without activity, the body can weaken and be more susceptible to future accidents. Without good physical health, mental health problems can also become more prevalent.
Are senior behavior changes normal?
The University of California San Francisco says dementia is a leading cause of behavioral changes in seniors. It's a common defense mechanism against over-stimulation, embarrassment, or frustration.
What causes senior frustration?
Health conditions not addressed
Lack of activity
Medication changes
Pain
Confusion
Routine interruptions
Can a senior living community help seniors' behavior?
Elk Grove Park has many dedicated associates who have been a part of the community for over a decade. That sort of professional experience gives our residents the confidence to lead independent lifestyles that are happy and healthy.
Our family-like community offers behavioral tracking to alert family members of sudden changes. We empower residents to create routines and coordinate a full calendar of activities. Working with the direction of their doctors, we can manage medications to prevent complications.
What should I look for in a senior living community near me?
Everyone is different, but if you or your loved one is concerned about home accidents or behavior changes, consider Elk Grove Park, located just south of Sacramento. We also utilize the Connections program for those living with Alzheimer's and other forms of dementia in our dedicated memory care cottages.
Services
Assisted Living and Memory Care 
Activities

Art classes
Music therapy
Gardening
Wellness classes
Shopping trips and outings
Library
Entertainment from local artists and more

Care

24/7 nurse
Certified memory care specialists
Diabetic care
Assistance bathing, dressing, and grooming
Medication assistance, administration, and management
Transfer assistance
On-site physical, occupational, and speech therapy

Amenities

Small family-style cottages
Outdoor walking paths
Transportation service
Housekeeping, laundry, and maintenance
Beauty/barber shop
Chef-inspired nutritious meals three times a day in the country kitchen
Pet-friendly
If you are interested in learning more about assisted living and memory care for Alzheimer's and dementia from a qualified professional, please contact us or call (916) 683-1881 to take a tour.