Pegasus Community Provides Senior Living Services in Roseville, CA
Are you looking for compassionate and capable senior living care in a comfortable environment? Sterling Court at Roseville, a Pegasus Senior Living community, wants to be your destination for quality senior living services. A committed team, inviting atmosphere, and personalized care are just a few of the elements that set us apart.
What Makes Sterling Court at Roseville Different?
Whether you're looking at options for yourself or a loved one, it's essential to find a senior living community that meets all of your needs.
For seniors who would like to retain an independent lifestyle but may require a little extra help with daily activities, we offer assisted living services. With excursions, activities, and a host of social events, assisted living is far from a nursing home. We are also happy to accommodate residents with diabetes.
For those dealing with a diagnosis of Alzheimer's disease or dementia, Sterling Court at Roseville offers memory care through Pegasus' Connections program. Connections is a research-backed and innovative lifestyle for memory care residents that involves enrichment and activity every day, including no-gap programming, fostering relationships, and an intimate associate-to-resident ratio.
We make it our mission to really get to know our residents and their specific needs. Kathryn, our health and wellness coordinator, stays connected with families and keeps them updated regarding their loved one's care. Many of our experienced team members have years of service, with distinguished careers in the senior living field.
What Kinds of Amenities Does Sterling Court at Roseville Offer?
Pegasus Senior Living may have dozens of locations across the United States, but the feel inside our communities is anything but corporate.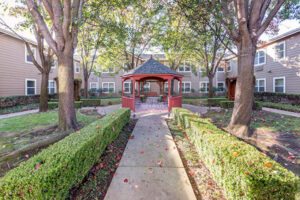 We know that in many ways, our residents' experience is about the little things; we try to provide a personal touch to make our seniors feel like they are at home.
Residents can enjoy:
Peaceful outdoor courtyards in both our assisted living and memory care areas
A lovely verandah
Elegant landscaping
A fireplace in our living area
Our "Coca Cola room," styled after a 50s diner
We also offer a dining experience that is second to none, providing three chef-inspired meals a day.
To get a better idea of our community, check out our photo gallery.
Since the very beginning of the pandemic, we have prioritized the safety of our staff and residents by instituting strict protocols to prevent the spread of the coronavirus. In the last few months Sterling Court at Roseville, like every Pegasus community, has been focused on getting our residents vaccinated as quickly and efficiently as possible.
Choosing a senior living community is a big decision. If you'd like to learn more about how Sterling Court at Roseville can provide you or your loved one with a secure, worry-free life, don't hesitate to reach out to us today.