Ms. Orsula H. celebrated a very special birthday on June 14. She turned 105 years old.
Her assisted living and memory care community, Elk Grove Park, helped to make her day special by asking for birthday cards to mark the occasion.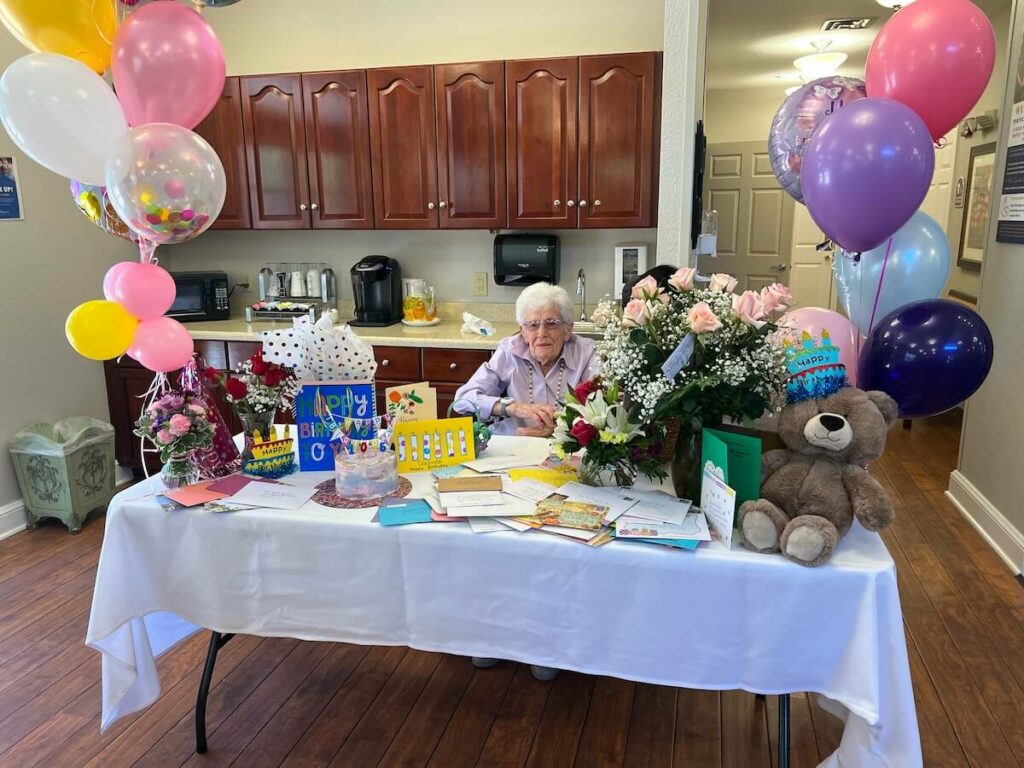 About Orsula
Orsula was born on June 14, 1917, in Burgettstown, PA. She is the oldest, and the only one remaining, of her six siblings. She has now survived two pandemics, the first being the 1918 Influenza Pandemic (Spanish Flu).
She was raised along with her siblings in the coal mining region west of Pittsburgh, PA. Her father was a coal miner in the Penobscot Mine in Avella, PA.
As a young woman, she left home to take a housekeeping position for a family in Pittsburgh. During WWII, she worked at Westinghouse Electric in Pittsburgh. She met her future husband Micheal in Pittsburg.
At the conclusion of the war, she moved to California. Orsula was married In San Bernardino on February 28, 1945, to the love of her life. She and her husband Michael raised one daughter in Upland, California. Orsula and Michael were active in the Masonic Lodge and Disabled American Veterans organizations. Orsula is a 55-year member of Eastern Star.
Orsula and her husband moved to Sacramento in 1983 to be close to their daughter and family. In 1986, Orsula started volunteering at the Kaiser South Sacramento hospital. She has been an active volunteer, working at the information desk and knitting for the baby nursery. When COVID-19 struck, volunteers were unable to continue but she continued to knit.
Travel is a word that has kept Orsula on the road every year since 1985. She loved to see our great country and many places abroad. Her happy place now when the weather is good is feeding the squirrels in front of Cedar Cottage.
Learn more about senior living at Elk Grove Park
Seniors at Elk Grove Park enjoy life more with the care, services, and friends that make every day special. Contact us to learn more about our assisted living and memory care community.