Seniors choose Pegasus Senior Living to join a community that feels like home. This feeling comes from the dedication of local associates across the entire country. We cannot thank them enough.
Our services range from independent living, assisted living and memory care. Residents enjoy three seasonal meals per day, complete fitness goals, attend endless activities and find plenty of time to bask in the many amenities our communities provide.
All of this is possible thanks to a team of devoted associates. From culinary to concierge, housekeeping to health and wellness, our partnership with these local heroes ensures our residents live their best lives.
As we celebrate Labor Day, we recognize the associates who have provided care and services to Pegasus Senior Living residents over the past decade and beyond.
What services does Pegasus Senior Living provide?
Enjoy the freedom of your retirement years with independent living through the following amenities Pegasus communities often provide:
Fitness and wellness programs
Daily meals in the dining room or the opportunity to prepare meals in your kitchen
Regular health care access
Transportation services to appointments and entertainment
Home maintenance, including laundry services, housekeeping and more
Assisted living provides our residents with personalized care services that enable them to continue living independently. Below are several features our assisted living residents typically enjoy:
24-hour support
Licensed nurse
Activities of daily living: bathing, dressing and grooming
Medication management
On-site rehabilitation services
Ongoing monitoring of health
Memory care provides a secure and engaging environment for those living with Alzheimer's and other forms of dementia. Our Connections Memory Care program generally includes:
Brain healthy activities
Personalized activity schedule
Assistance with activities of daily living
Purposeful living
Who are we celebrating?
Because we have many tenured employees in 38 communities across 12 states, we are showing them plenty of gratitude.
"This was never my career path," says Tha Chay-Phann, Business Office Director at The Oaks at Inglewood. "I always imagined myself working at a hospital helping others. I started here short-term and fell in love with the residents and community. Almost 15 years later, here I am still doing what I love: Working with seniors."
The Oaks at Inglewood's Life Enrichment Director, Nita Iv, joins her with over 15 years of service as well.
She says, "Getting up for work is easy knowing I can make a positive impact in the community. It gives me the opportunity to meet a wide variety of seniors and make a tremendous difference in their quality of life."
At Historic Roswell Place in Georgia, seven associates combined have over 90 years of Pegasus excellence: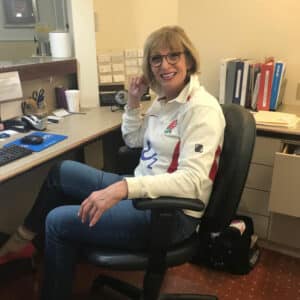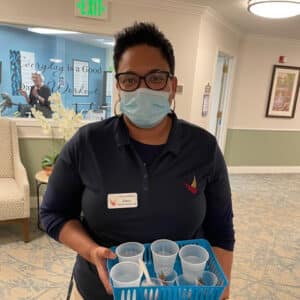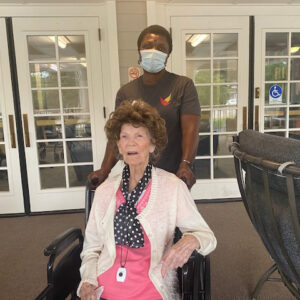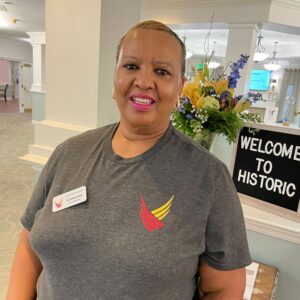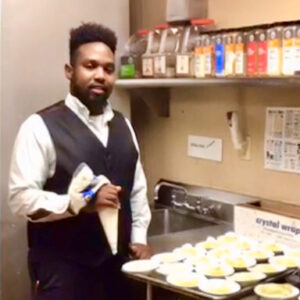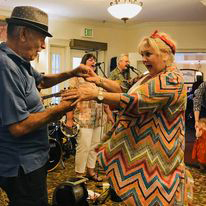 Not pictured: Vonda Stoudt, Life Enrichment/Care/Dining/Housekeeping Partner, 11 years
Down the road at Magnolia Place of Roswell, a team of women embodies dedication, leadership and commitment to the care of our residents:
Veronica Mweetwa, 11 years
Aicha Qessou, Dining Services Partner, 13 years
Paula Erhunmwunse, Housekeeper, 15 years
Nancy Johnson, Health & Wellness Coordinator, 19 years
Rita Stevenson, Dining Services Partner, 20 years
They are multi-faceted and multicultural women who fulfill multiple roles and responsibilities in the community. They chose to dedicate themselves to senior living to accomplish a higher purpose and calling. We couldn't be happier for them.
Is there an opportunity for growth at Pegasus Senior Living?
In Nevada, communities like The Chateau at Gardnerville are full of success stories of people who promote our local and passionate care ethos.
Katie Nichols started there 11 years ago. Beginning in health and wellness, she is now the Executive Director.
Jessica Maidlow started as a care associate 13 years ago. After taking time off and going to school for marketing, she returned to become the Sales Director:
"This community gives me a great purpose in life. I get to be around such amazing people who have built this world as we know it. I am so humbled by them every day, and they teach me how special life really is."
Also with 13 years of experience at the community, Jessica Imelli arrived as a care associate and is now the Assistant Executive Director.
"I enjoy connecting with our residents and families, and making a difference in their lives," she explains.
We congratulate our partners on the culinary team as well. Edith has been a favorite in the dining room for 18 years, and residents stay full thanks to Debbie's decade of cooking.
Why do associates love their careers at Pegasus Senior Living?
"It's a fun community," says cook of 22 years, Hector Vargas. "I enjoy the smiles on their faces when I prepare a delicious meal. It's always all about the bond we have I cherish."
The community to which Vargas refers is Sun City West Assisted Living in Arizona. Their community has some of the longest-tenured Pegasus associates who have incredible things to say:
"It's not just a job. It's like a second home, and I come to see my family." – Letty Romero, Dining Service Partner, 18 years
"It's always amazing to be the first person to greet them in the morning. Being a part of their lives is a blessing." – Carmen, Housekeeper, 17 years
"I am truly honored to have the opportunity to be able to enrich their lives. I have met some of the most incredible people and listened to some of the greatest life stories they've had to share. It is an amazing experience that I'll forever cherish." – Maria Romero, Life Enrichment Director, 15 years
"I work with seniors because I feel like I am truly doing something that is important, and it is intensely rewarding. My goal is to bring a smile to their faces every day. I do this by having them tell me stories of their youth or important events in their lives. Reminiscing with them helps them feel better, especially for those who do not have family, or whose family are not able to visit very often." – Gayle Lemenager, Assistant Executive Director, 15 years
"I enjoy hearing the stories our residents have to share about their lives. They all have their own unique story." – Sherri Williams, Sales and Marketing Director, 24 years
Sun City West Assisted Living also includes:
Char, 22 years
Diane, 14 years
Michele, 12 years
Dedication and Trust: Meet the entire team of decade makers
The Gardens at Marysville, Marysville, WA
Karen, 22 years
Debbie, 16 years
Community
Associates
Bridgewood Gardens, Albertville, AL

Pat Roberts, Executive Director, 21 years
Brenda Lopez, Care Partner, 21 years
Liz Lesley, Dining Partner, 19 years
Brenda Taylor, Care Partner, 18 years
Donna Lochamy, Dining Partner, 17 years
Nancy Chambers, Dining Partner, 13 years

The Renaissance of Florence, Florence, AL

Cassandra Allen, Health and Wellness Director 22 years
Mary Donna Ott, Life Enrichment Director, 22 years
Debbie Arthur, Dining Services Partner, 21 years
Vivian (Shelia) Creasy, Care Partner, 21 years
Jennifer Reding, Sales & Marketing Director, 18 years
Donna Simbeck, Dining Services Partner, 15 years
Patti Armond, Cook, 16 years
Hilda Richardson, Business Office Director, 11 years

Town Village of Leawood, Leawood, KS

Nick Michale, Dining Services Partner, 17 years
Lee Baalman, Life Enrichment Partner, 15 years
Peggy Ferguson, Life Enrichment Director, 13 years
Christopher Davis, Dining Services Director, 12 years
Robert Molina, Transportation Partner, 11 years
Angelia Gorden, Housekeeping, 10 years
Ramiro Betancourt, Sous Chef, 10 years

Castlewoods Place, Brandon, MS

Sandra Gilbreath
Derinda Thompson
Glendora Horton
Detria Parker
Mary Summerhill

Ridgeland Place, Ridgeland, MS

Tony Harper, 21 years
Robert Gilmer, 17 years
Angie Shonta Smoots, 12 years

Parmer Woods at North Austin, Austin TX

Betty S. Crayton, Care Partner, 13 years
Brandy Villareal, Care Partner, 20 years
Elizabeth Ramirez, Housekeeping, 10 years

Cordata Court, Bellingham, WA

Kay, Housekeeping, 23 years
Patty, Housekeeping, 23 years
Darlene, Dining Services, 10 years
Thank you, Pegasus Senior Living Associates!
"I have always had a passion for helping seniors maintain an excellent quality of life and helping them live that life to the fullest." – Pat Roberts, Bridgewood Gardens Executive Director
We agree with Pat's sentiments and hope all of our residents can live their lives to the fullest thanks to our associates' empowering services.
We're proud to include so many associates in our celebration of Dedication and Trust. Our communities feel like home and equip residents with the care they need. This care is essential to our values, and we could not do it without our team members.
Want to join our team?
Begin your journey to a rewarding career and the chance to make lifelong friendships along the way. Apply to a community near you today. At Pegasus Senior Living, We're local. We're Passionate. We Care.