The topic of memory loss is an overwhelming one for many seniors and their adult children. The fear of forgetting can be daunting.
Understand what normal memory loss looks like versus something more serious such as dementia or Alzheimer's. It's important to know the differences before making any decisions about care.
Be aware of the resources available in California for dementia care. People who need Alzheimer's care in or near Roseville have additional data-based options.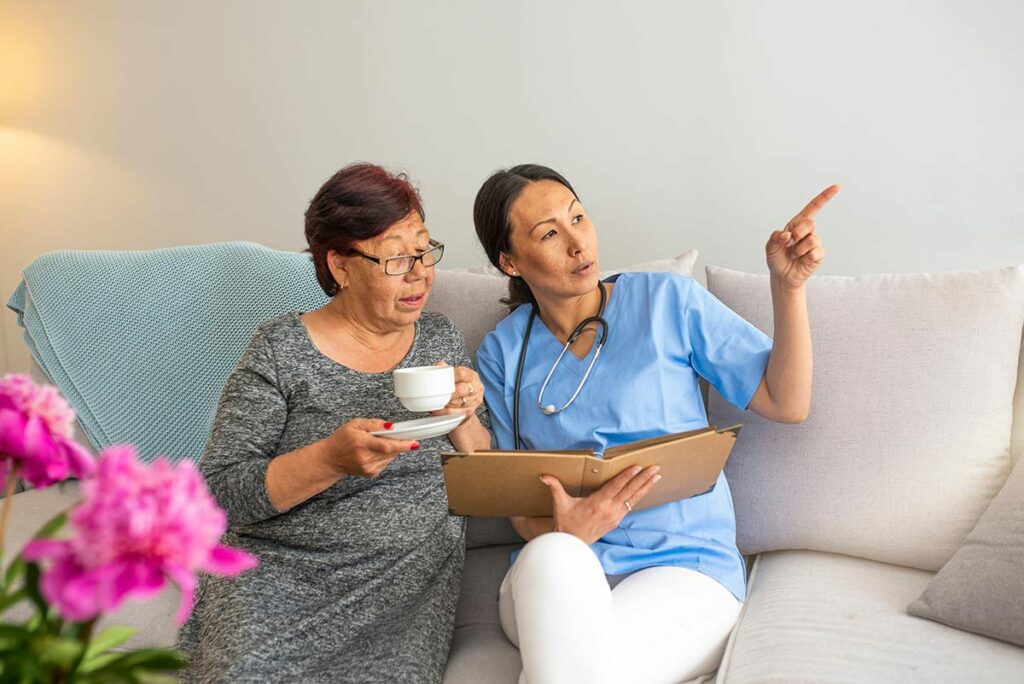 Placer County has organizations dedicated to helping seniors deal with the effects of memory loss. Families from Rocklin, Folsom, and Citrus Heights are welcome to visit the Connections memory care program at Sterling Court at Roseville to learn more about Alzheimer's and dementia support.
Continue reading to learn more about:
The differences between dementia, Alzheimer's, and normal memory loss
California dementia care and support options
Alzheimer's care and memory care near Roseville and Rocklin
Normal Memory Loss vs. Dementia and Alzheimer's
Normal age-related memory loss is common among older adults. It may manifest itself in a variety of ways, such as:
Trouble remembering recent events
Losing focus in conversations
Needing help with problem-solving tasks
Repeating information
While it can be concerning to family members who are watching their loved ones struggle with memory problems, these issues generally do not interfere with daily living activities and should not be cause for alarm.
These issues can sometimes be remedied by creating reminders or lists. Forgetfulness happens, but as Connections founder, Dr. Sandra Petersen says, "Alzheimer's and other forms of dementia affecting personality and behavior are not normal parts of aging."
Alzheimer's and Dementia
Alzheimer's is the most common form of dementia. It accounts for 60 to 80 percent of cases of memory loss.
Dementia is a condition that can affect senior adults but differs from average aging-related memory loss. Physical changes in the brain cause the roots of dementia. It often involves impairment in:
Cognitive functioning
Language processing
Short-term memory recall
Reasoning skills
Dementia is not a single disease but an umbrella term used to describe various conditions affecting cognition and behavior. Examples of dementia include:
Huntington's disease
Parkinson's disease dementia
Dementia with Lewy bodies
Frontotemporal dementia
Creutzfeldt–Jakob disease
Vascular dementia
Mixed dementia
Alzheimer's affects over 690,000 seniors in California and more than six million across the country. Individuals diagnosed with Alzheimer's live with progressive cognitive decline due to damage to nerve cells in the brain.
Ten signs and symptoms of Alzheimer's include:
Confusion or difficulty recognizing people or places
Difficulty controlling emotions
Changes in personality or behavior
Signs of agitation
Abrupt mood swings
Withdrawn from social activities
Difficulty communicating
Confusion regarding time or place
Difficulty completing household chores
Wandering
Unlike normal age-related memory loss, the symptoms of Alzheimer's tend to worsen over time if left untreated or unmanaged properly. Receiving an early diagnosis is critical when it comes to providing quality care.
Dementia Support Resources in California
Placer County recently received a grant to become a "dementia-friendly community." The idea of dementia-friendly cities spreads awareness to community members. Citizens can learn how to make the area more accessible and safe for people with memory loss.
The Placer County Healthy Brain Initiative offers family caregiver tips and local resources.
The City of Sacramento and the Alzheimer's Association of the Greater Sacramento Area also have many resources for in-person and online support groups.
Caregiver Resource Centers are available throughout California. This form of support offers:
Legal and financial advice
Respite services
Care planning
Counseling
Training
Support groups
Caring for a loved one with dementia is a noble calling. However, caregiving duties can often lead to burnout if not appropriately managed. Use the resources listed above to support a parent or spouse.
Memory care is a long-term solution that lets families return to being family.
Memory Care for Rocklin and Roseville Area Seniors
Sterling Court at Roseville is an assisted living and memory care community less than 20 minutes from Rocklin, Folsom, and Citrus Heights. The signature Connections program guides residents to continue learning, moving, and socializing.
The goal of Connections is providing relief from depression and anxiety through engaging activities and personalized care. The data-based care program encourages healthy brain function through a process called neuroplasticity.
Caregivers can trust their loved ones will receive individualized services while having access to resort-style amenities in a secure environment. Family members can return to being a child or spouse instead of a care provider.
Discover Data-Based Alzheimer's and Dementia Care in Roseville, CA
Be aware of the resources available in the Roseville area to make informed decisions about how best to care for someone with Alzheimer's or dementia. Contact Sterling Court at Roseville to arrange a tour of the Connections program in Roseville, CA.