If your loved one is living with Alzheimer's or another form of dementia, their care may seem impossible to manage by yourself. It's normal to want to provide the best care you can, but sometimes the specialized care they need is more than what you can handle alone.
There's relief in finding a program that truly understands memory loss. More than six million Americans are living with Alzheimer's and their caregivers sometimes struggle to find the best resources to meet their unique needs. If this sounds familiar, the Connections program at North Point Village can help.
The Connections Program
In the Connections program, seniors and their families can connect with biomedical professionals that can help with Alzheimer's. Here, they benefit from an evidence-based approach to care in secure memory care cottages at the newly renovated North Point Village.
Connections focuses on concepts of neuroplasticity or stimulating parts of the brain to rebuild neural connections by introducing new activities that engage the senses. This holistic method works by engaging the emotions, stimulating the senses, incorporating exercise, and brain-healthy meals.
Real-life results
Connections was developed by Pegasus Senior Living Senior VP of Health and Wellness Dr. Sandra Petersen, who personally experienced the benefits of neuroplasticity after recovering from a stroke. After working with a brain health specialist, Dr. Petersen was able to recover and re-adjust over time.
The specialist advised Dr. Petersen to learn a foreign language, thereby producing new neural pathways in the language center of the brain. She also incorporated exercise with midline body movement like ballroom dancing, which further enhanced her recovery. Years later, what Dr. Petersen experienced and learned, combined with her extensive medical expertise and research, led to the innovative Connections program.
Interactive activities
Connections helps seniors engage parts of the brain with special features like the interactive SMARTboard. A Sharp AQUOS BOARD® interactive display system, which looks like a giant iPad or tablet at 65 inches, allows residents to participate in recall activities that engage language and communication, motor skills via interactive virtual environments and a bike pedal exerciser, and mind games like Candy Crush.
Residents are not only engaging physically and emotionally, but they are also having fun while connecting with others.
At North Point Village, your loved one will regain a sense of self by receiving specialized care that helps them connect to the world around them. Seniors at our community experience enriching lifestyles thanks to our programs and the benefits of music, art, technology, movement, and engaging their senses. Our team members ensure every day has purpose.
A sampling of our activities:
SingFit music therapy
Aromatherapy to decrease agitation
Reminiscence/recall therapy
Robotic pet therapy
Interactive technology & games
Book club
Specially designed fitness programs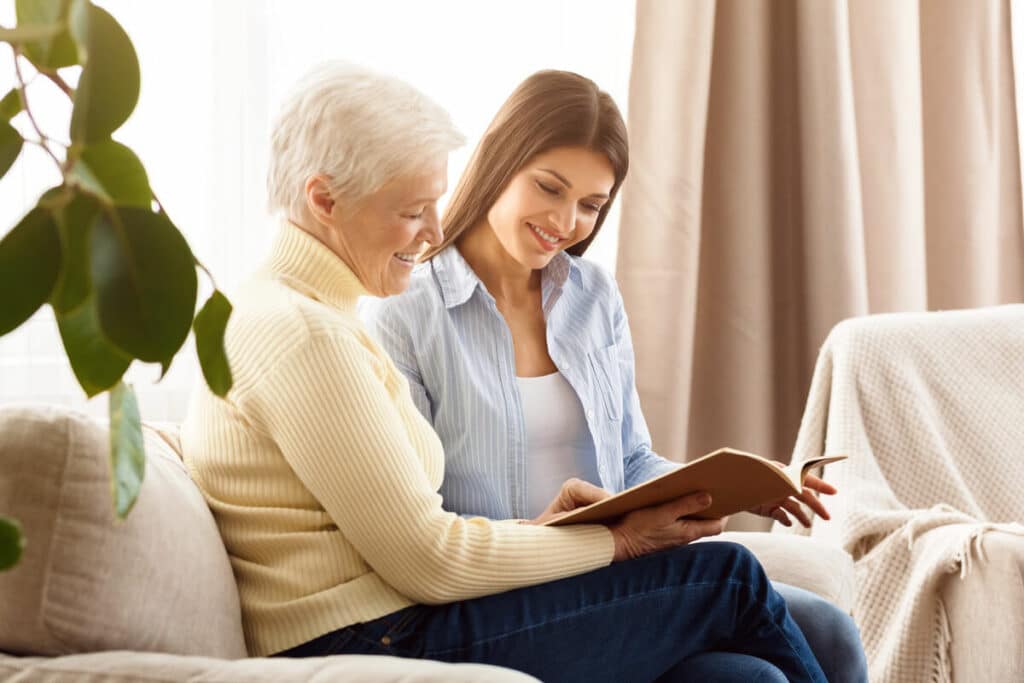 Seniors with memory impairments can experience a robust life filled with friends, activities, nutritious food, and a secure, calming environment. Studies indicate that staying both socially and physically active can help slow the progression of cognitive decline. The Connections program expertly integrates those components to improve well-being.
Secure memory cottages
Our separate and secure memory care cottages provide a familiar and calming environment. This paired with the comprehensive Connections program, ensures residents are receiving just the right amount of stimulation and engagement. We make it our priority to make each resident feel important and cared for.
From the moment we first toured North Point Village, the staff has been extremely friendly, caring, and supportive…The entire staff is very professional and caring. I am very happy and pleased to call this my Dad's new home. – Karen M., Google review 
Come visit North Point Village to see how we are changing seniors' lives.
Let us be your Spokane Alzheimer's care resource and rest assured that your loved one is receiving the best possible care. Call us today at (509) 465-8440 and set up a convenient time to stop by for a visit. We are happy to answer any questions you may have about memory care.