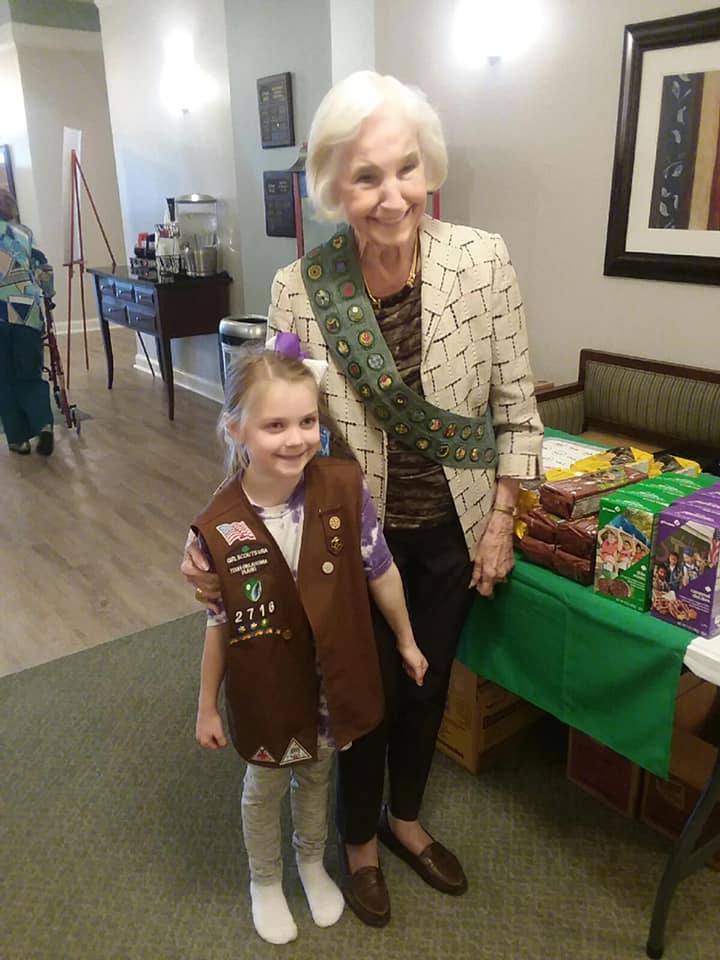 As the whirlwind of Girl Scout cookie-selling winds down, Shirley, a resident at independent living community Ridgmar Place, recollects what it was like to be a Girl Scout and what her thoughts are about the organization now.
Where did Shirley live when she was in the Girl Scouts during the 30s and 40s?
Shirley grew up in Kansas. She started Girl Scouts in Arlington, KS and finished there – had a brief year in a neighboring town but doesn't really count that!
How old was Shirley while she was in the Girl Scouts?

Shirley joined at 7 years of age and was in Girl Scouts throughout her school career.

 What does it mean to Shirley to have the organization still be around?

Shirley believes that Girl Scouts have endured because of the impact that the organization has on families and the "whole family" approach to being involved. She's proud to meet other girls of all ages and be able to relate to experiences in Girl Scouts.

What does it mean to her to know that they still empower and inspire leadership in young women?
Shirley attributed almost all of her life's successes to having a strong belief in and understanding of what is good and what is right in the world. Shirley went on to nursing school (fully degreed RN with post-graduate credentialing as well), to serve on boards, chair committees and to raise a family because of the foundation the Girl Scouts gave her in life.

She believes that young women today are often taught these valuable lessons through the Girls Scouts alone as the family dynamic in America has changed. She sees that today, the Girl Scout organization may be, for some girls, the closest thing they have to a family. She said, "Girl Scouts is a good counterpoint to the popular culture today."


Does she have any thoughts on how the Girl Scouts are run now vs during the 30s and 40s?

Boy does she! Shirley says that the structure in Girl Scouts is VERY important – it is the structure that enforces and reinforces the lessons girls learn. The empowerment that comes from achieving great things through hard work, teamwork, and dedication.

Does Shirley eat any Girl Scout cookies? If so, what are her favorite and least favorite flavors?


Shirley LOVES the cookies but she doesn't eat the cookies. She buys them and gives them to her grandchildren and other people. She's bought many boxes over the years and enjoys giving them away as gifts – she loves the joy she sees on other peoples faces when she surprises them with Girl Scout cookies.
We had a great visit and Shirley spoke eloquently about her time in Girl Scouts and what an impact the organization has had on her life. She said that she was well-prepared for the success she earned in life because she learned how to succeed AND how to fail in Girl Scouts.
The Girl Scouts end their cookie-selling on March 22. Come visit Shirley at Ridgmar Place to learn more about her days in the Girl Scouts!