Get to Know Pegasus CEO, Chris Hollister
Chris Hollister is the Co-Founder and CEO of Pegasus Senior Living. He might be the only person in the world involved in senior living, international eco-tourism, and pizza.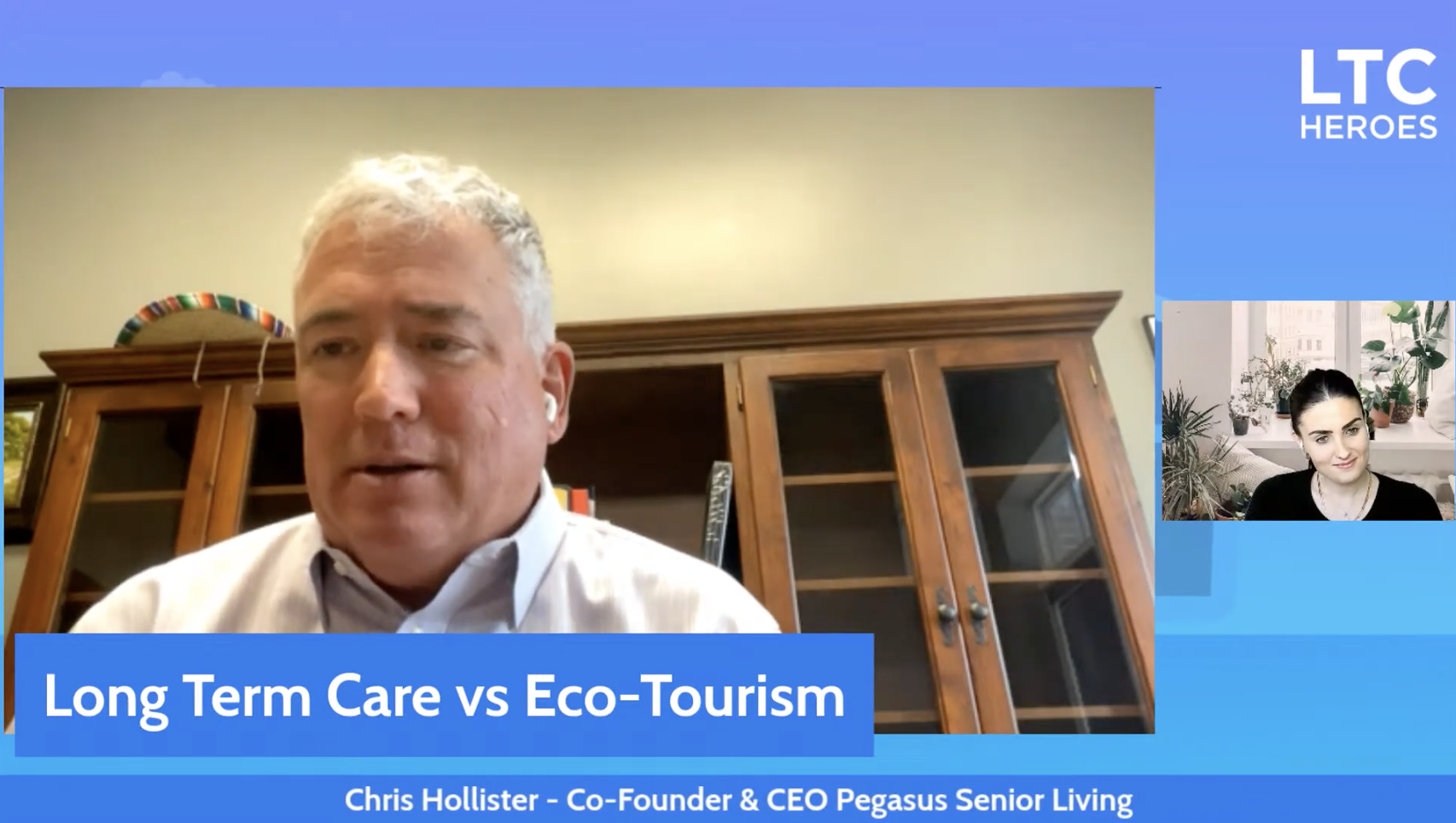 His diverse background helps him understand the needs of seniors from many different walks of life. He inspires the culture in Pegasus communities across the country. He encourages employees to provide the best possible care for residents and always puts seniors' needs first.
The "LTC Heroes Podcast" recently caught up with our CEO to discuss:
The importance of creating an employee-centric culture and retaining staff
Changing the public perception of memory care and its immense benefits.
Advice on how people can get involved in senior living operations
The similarities between ziplining through the bush of New Zealand and operating a senior living community
Creating Culture in Senior Living
An employee-centric culture is one where employees feel like valued team members and are motivated to do their best work. A study by Glassdoor found that 53 percent of employees would stay at a job longer if they felt like they were part of a supportive community.
Under Hollister's leadership, Pegasus is recognized as a certified Great Place to Work. Senior living is a people industry. Having an employee-centered culture is vital.
"COVID changed the world," Hollister says. "This isn't a telecommute job. The pendulum has swung. They [employees] have the power now, and they have to connect to the mission."
Assisted living and memory care are not businesses that can shut down for a day. Having people that can take care of older adults is a day-in-day-out job. Some of the ways Pegasus communities are retaining team members include:
Investing in an employee benefits package
Increased wages by 20-30 percent
Creating a culture of celebration
At-home orientation training
Creating an employee-centric culture should be a top priority for any senior living community because it has improved resident satisfaction, higher staff retention rates, and increased operational efficiency. Giving employees a reason to connect to "the why" of the business is critical.
Educating the Public About Memory Care
Memory care is a different caregiving approach specialized for those living with dementia. Team members who do not know the culture can be a problem in memory care because it can be challenging to understand the needs of the residents.
A higher turnover rate in specialized care is unfair to residents and their families because they constantly have to adjust to new caregivers. With people in memory care who understand our signature program, Connections can help create a more nurturing environment for residents.
"We're very fortunate to have Dr. Sandra Petersen, who's a physician and noted memory care expert," says Hollister. "We have the theory of neuroplasticity. If you move, connect, and learn – in that order, you can get people to rebuild neural networks and live. And on some levels improve. That's a bold claim, but we think it can slow the progression."
Hollister stresses the importance of educating the public on the benefits of memory care as an industry.
Memory care is scary for many people, and it causes tremendous stress for seniors and their families. Older adults who need memory care will be happier living in the moment. Connections is a program doing precisely that.
Pizza and The Great Outdoors
Hollister has been involved in senior living for over 35 years. After much success in his first decade, he moved to New Zealand to reset and connect to his passion for nature.
His ecotourism business drops people off in the bush via zip lines and educates them on the history of the Mauri people and how to navigate an unfamiliar environment.
"It's an amalgam of senior living. Every community is its own habitat and peculiarities. You have to gauge how to let people make it their own community."
Hollister rolled up his sleeves as a teenager in the restaurant industry. He resurfaced that determination by investing in a New Zealand pizza shop. All endeavors are about risk management and empowering your people.
"It's all about making people happy. Senior living is by far the hardest business. There are so many moving parts."
How can someone get into senior living operations?
"In 1986, a year out of business school, I was interested in real estate and finance," says Hollister. "This industry has a way of pulling at your heartstrings once you get in it, and I just fell in love with it."
A career in senior living operations can be very rewarding, but getting started in the industry is not always easy.
One of the best things you can do is to get involved and network with other professionals. Attend industry events, join professional organizations, and make friends with people who work in the field. You should also continue your education and strive to be well-rounded.
Operational people who understand the financial world and finance people who understand senior living can be valuable assets to any organization.
However, firsthand experience working in a senior living facility is also essential. Understanding the day-to-day operations will help you develop the skills you need to succeed.
Don't be afraid to ask questions and seek out mentors who can help you navigate the industry. With hard work and dedication, you can achieve your goals and have a rewarding career in senior living operations.
Paul Steinhoff was a strong mentor to Hollister, who taught him lessons such as:
Double-check your work
Think critically
Don't force an answer
Look at the facts
Listen and Learn
Pegasus Senior Living offers independent living, assisted living, and memory care to seniors and their families in 12 states. Contact a community near you.
Creating an employee-centric culture should be a top priority for any senior living community because it has improved resident satisfaction, higher staff retention rates, and increased operational efficiency.
Dig deeper and get to know Pegasus Senior Living Co-Founder and CEO Chris Hollister here.