IN TIMES OF UNCERTAINTY...
Imagine a lifestyle with all the support
and stability that you could need
Welcome to The Landing at Queensbury
Assisted Living and Memory Care in Queensbury, NY
If you think senior living at The Landing at Queensbury is like a nursing home … think again! We serve the greatest generation with a true passion for seniors in our hearts. We encourage you to live life to the fullest, whether you require assisted living or memory care services. 
With endless day trips and outings, we love calling Queensbury, New York home.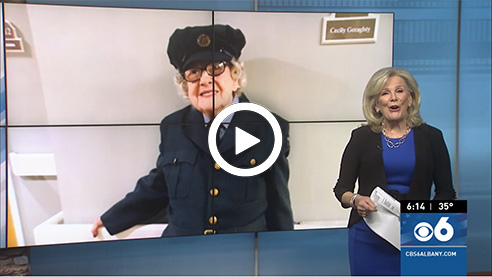 Our Very Own Hero Recognized
Our very own resident, Cecily Geraghty, is making waves as she celebrates her 100th birthday! Watch her interview with CBS 6 Albany as she shares about her service in WWII, earning a gold medal in ballroom dancing, and receiving a card from the Queen of England!
"The Landing of Queensbury seemed very appropriate for our relative. They had a first floor apartment, and she can have her pet, which was important for her. It was very clean and modern. The kitchen was clean, and they had choices of food. It was very good. They did a lot of follow up, and they were very thorough."
Book a tour at your convenience and have lunch with us.

We are ready when you are.
Head Nurse Rae Locke and her staff do an outstanding job taking care of my brother, Jeffrey. They are the front line during this virus crisis and they work with fearless dedication! Mr. Woodcock, Ms. Boots and everyone at The Landing work as a team to provide excellent care and service. Kudos!"