New Orleans, LA is known as a foodie's dream. People travel from all over the world to come experience the famous Cajun and Creole cuisine and many distinctively New Orleans dishes you'll find here.
Local Dishes To Try
When visiting or making NOLA your new home, what are some classic dishes you can expect to savor? One thing is for sure, there'll be plenty of flavor!
Gumbo
Perhaps one of the most iconic local recipes, gumbo, has both French and West African roots. This savory stew is served over rice and typically features chicken, sausage, and shrimp. Other additions include celery, peppers, onions, and okra. The great thing about gumbo is you can make it your own, throwing in some fresh crab if you like, too!
Jambalaya
Jambalaya has been a local dish since the colonial Spanish settlers tried to recreate paella.
The rice is central in the standard recipe and also includes protein, vegetables, and spices. The Creole version includes tomatoes, but the Cajun version does not. Either way, you can't go wrong with this delicious choice.
Crawfish étouffée
Another NOLA staple, this dish has truly French roots. The word étouffée is derived from the French word étouffer which means, "to smother." Smother is the perfect word for this thick stew that smothers the plate with flavor and is packed with sweet crawfish tails, served over rice.
Fresh seafood
Whether it's raw or grilled Gulf oysters on the half-shell, a fried shrimp po-boy, or boiled crawfish, there's no shortage of fresh seafood dishes to enjoy year-round!
Where can seniors dine like a local and enjoy all of the flavors of NOLA?
Senior dining at Laketown Village incorporates many of these local favorites. The food is not only delicious but healthy too. Chef Saul works to create tasty and health-conscious options with tons of flavor like steamed veggies and Cajun crawfish pasta.
We have always been spoiled by the quality and quantity of the food here. We have excellent chefs and other kitchen and dining room employees. The cooks, chefs, and wait staff are performing higher than could be expected under the circumstances. No matter where you go, you will not find better people.*
Delicious Dining in Alzheimer's Care
New Orleans area seniors living with Alzheimer's or other forms of dementia benefit from specialized, experience-based care in the Connections Program at Laketown Village.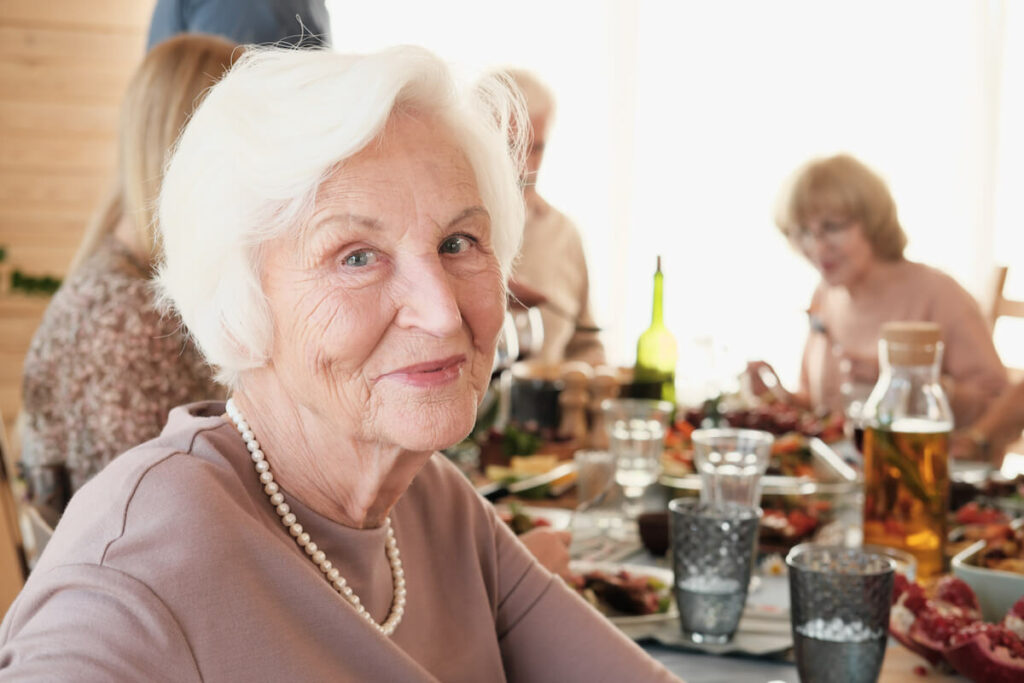 The program incorporates components of neuroplasticity, socialization, engaging the emotions, and challenging the brain with new activities like chair yoga.
In addition, seniors get their nutritional needs met with brain-enhancing foods like blueberries, broccoli, sweet potatoes, and fish with omega-3 fatty acids. Studies show that a brain-healthy diet helps to improve memory and cognitive function.
Senior Dining: Dining together is more fun
Seniors at Laketown Village also get together and enjoy delicious meals or celebrate fun events that involve great food and great friends. Our annual Crawfish Boil is always a hit, and we've made some changes to adhere to COVID-19 guidelines, ensuring residents and guests can safely enjoy themselves.
We also like to get out and enjoy fresh local seafood at spots like Harbor Seafood and Oyster Bar. Located in Kenner, LA, Laketown is the perfect place to enjoy the food of New Orleans without the crowds.
Assisted living and memory care
If your loved one needs a little help with daily activities like weekly housekeeping, personal laundry, medication management, dining, and getting around, our assisted living services can really increase their quality of life.
Or, if specialized memory care can better meet their needs, they'll also enjoy three delicious meals plus snacks daily, enticing events, activities, and scheduled transportation. Your loved one can eat well, live well and be well at Laketown Village.
Laketown Village is professionally managed across the board. All key indicators (caring team, cleanliness, activities, room options, dining, atmosphere…) are all on point.* -Family Member of Resident 
*comments submitted via third-party survey
Seniors Dine Well and Live Well at Laketown Village
Come discover how much more engaging senior living can be with our fresh, local cuisine, fun activities, and excellent care. Find out more about assisted living and Alzheimer's care. New Orleans area seniors experience more at Laketown Village. Contact us today at (504) 467-1000 to learn more about our community.