The Benefits of Animal Therapy
Elk Grove Park is delighted to share the heartwarming success of its innovative approach to senior wellness through animal therapy. Since 2020, Micah, the beloved therapy dog, has been spreading joy, comfort, and mental stimulation to residents.
Additionally, the community has embraced the cheerful companionship of canaries, bringing joy and peace to residents in assisted living and memory care.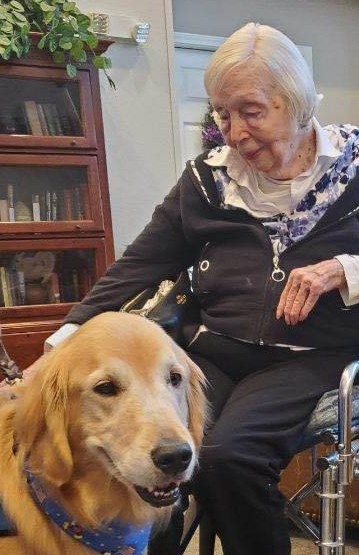 Life in this Elk Grove community centers around embracing a holistic approach to well-being. The senior living community understands that residents' physical and emotional health is positively impacted by animal therapy.
Micah's regular visits have become a source of immense delight for residents. He provides not only a wagging tail and warm companionship but also a sense of mental stimulation that is truly remarkable.
"Since Micah joined our community, we've seen a significant improvement in our residents' overall well-being," shares Oliver Aden, Community Sales Director at Elk Grove Park. "The bond between Micah and our seniors is truly heartwarming. Micah's presence has a therapeutic effect, offering comfort and happiness to our residents in a way that words can't describe."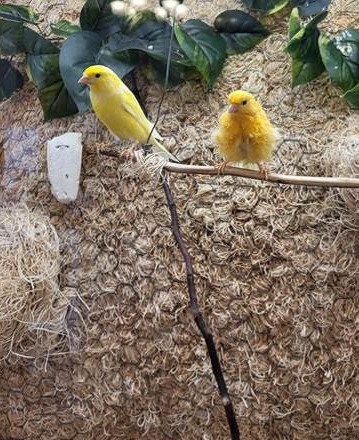 But the happiness doesn't stop at Micah's paws. Elk Grove Park has introduced a unique feature that has delighted residents and visitors. Canaries have found their home in the community. With their melodic songs, they bring joy and peace to all who hear them. The sweet chirping of these birds has a soothing effect, making residents feel at ease, especially in the Connections memory care neighborhood.
"The canaries have also become a wonderful conversation starter during tours of our community," says Oliver. "Visitors are captivated by the charm of these birds, which adds to the welcoming and homey atmosphere at Elk Grove Park. Our residents named them Moe and Birdie; their babies who were recently born are Sweet Tweet and Pete, and we also have Harley and Davidson and Yellow and Curly."
Elk Grove Park is committed to providing an environment where residents thrive, and animal therapy is one of the many ways we enhance their quality of life.
Meet our residents, team, and animal friends.
This Elk Grove community centers life around resident wellness. Animal therapy is just one way we ensure residents' well-being. Contact us today to learn more.