Our very own Bill White turned 104-years-old on July 31, 2019 at The Oaks at Inglewood Assisted Living community off 6725 Inglewood Avenue in Stockton, CA. We hosted a big party for Bill that day. The local Assembly Member Susan Eggman attended to present Bill a declaration from the Senate.  A representative from Quilts of Valor also came and presented Bill with a quilt.
As a father, military veteran and volunteer, Bill has led and continues to lead a full life.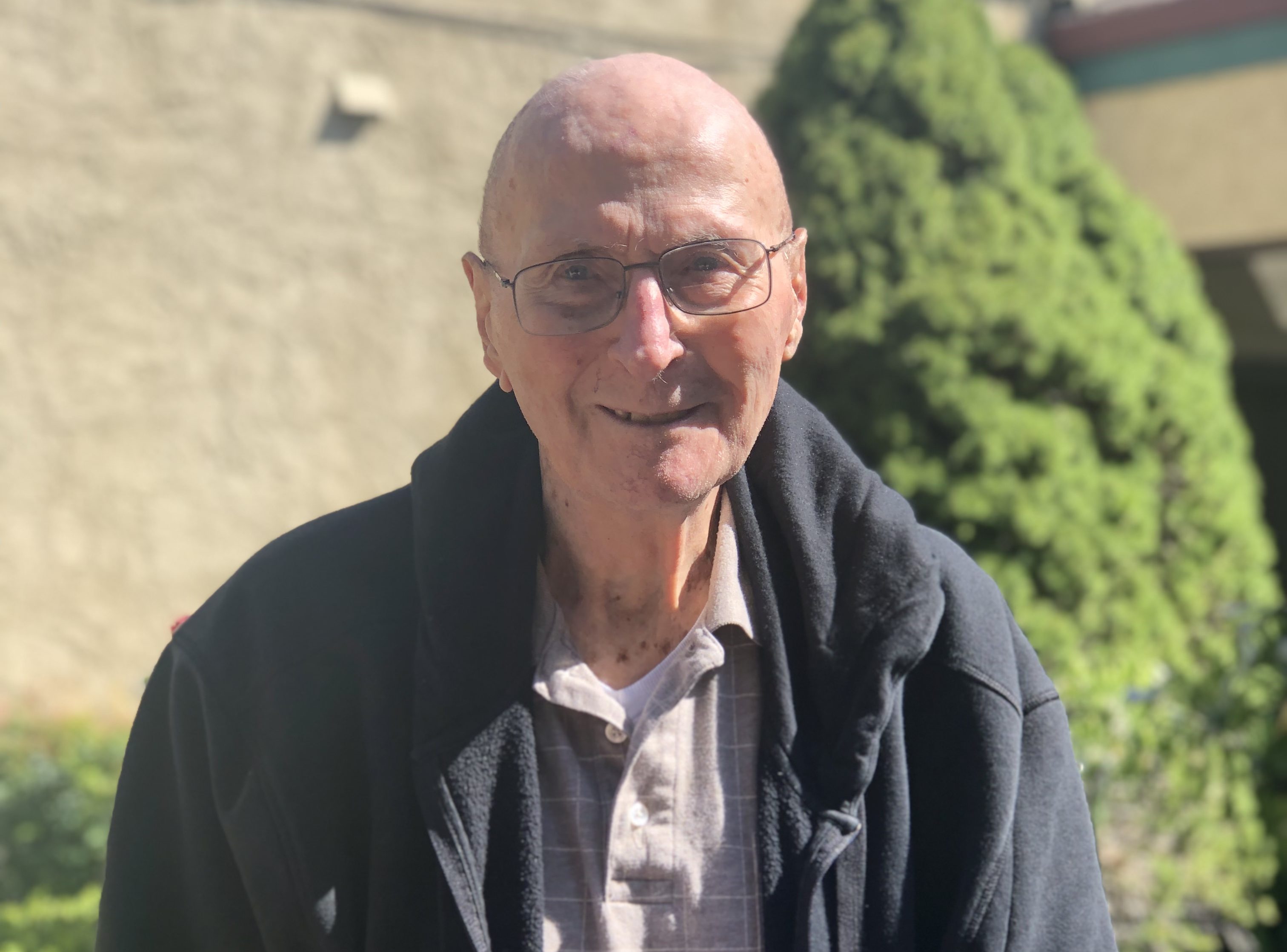 Bill's History
Born July 31, 1915, Bill White was born in Long Beach and grew up in the Southern California area. After high school, he enlisted in the Marine Corps., but was turned down due to a skin condition. Without hesitation, he moved to the next opportunity, which was a construction project in Arizona that would be later called The Hoover Dam. He spent a year and a half working the dam by driving the trucks into the tunnels.
Bill in the Marine Corps.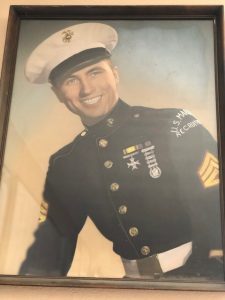 In 1934, he played his cards again with the Marine Corps. He was enlisted and crossed the equator on board the USS Colorado in 1936 as a "shellback." He was stationed at Pearl Harbor from 1936 to 1937 before being transferred to the 4th Marine Regiment in Shanghai.
When WWII started in 1942, Bill was assigned to Parachute School and was transferred to the 4th Parachute Battalion in Bougainville. When the paratroopers were recalled from the Pacific in 1943, he went to the Parker Ranch in Hawaii to prep for the invasion of Iwo Jima.
Something big happened to Bill at the time while the invasion occurred.
Bill arrived at Iwo Jima on February 19, 1945. On the morning of February 28th, he was heading to the front lines. He was told to relieve another Marine in a foxhole. Tapping him on the shoulder, Bill said, "I'm here to relieve you." When the man turned around, Bill realized that the Marine was his brother-in-law, the only brother of his wife. They only had the opportunity to say hello and then goodbye as they switched positions.
On March 3rd, Bill led his men to the direction of the Japanese front line. Under a salvo of rocket fire and grenades, he made his way closer to the line. After throwing two grenades, one of the Japanese grenades hit close to Bill, picking him up and slamming him against the wall. After staggering back to the First Aid Station and getting patched up, they listed him as a GSW or Gun Shot Wound. Nothing Bill could say changed their minds, and he was sent back to the U.S.
Bill's Military Life Continues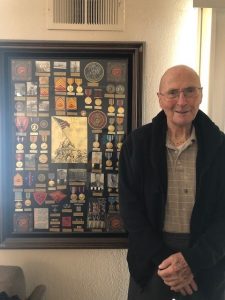 Bill was assigned to Camp Pendleton in California where he assisted with the discharge of 400,000 Marines after the war. He was transferred to Pearl Harbor in 1947 where he met and married his second wife, Myra.
He was then transferred to Washington DC in 1952 and then to Korea where he served with the 11th Marines Artillery. His daughters were born soon after, Mary in 1956 and Alice in 1958. He was sent to Okinawa in 1960 but returned home when Myra was diagnosed with cancer.
After Myra's passing, Bill met and married his third wife, Jeanette. He was promoted to Major in 1963 and retired from the Marine Corps. in June 1964 after 30 years of active service.
Bill wasn't one to sit around. Shortly after retiring, the family moved to Huntington Beach where Bill became a member of the Huntington Beach Police Department working in the jail for 12 years.
Bill was also working as a volunteer and adviser for the Huntington Beach Search and Rescue for almost 30 years. He was instrumental in securing donations, including a building that became a permanent home for the program's headquarters. The building is named "The White House" in honor of Bill and still serves the youth of the area today.
Bill Now
Bill lost his loving wife Jeanette after 40 years of marriage in 2001. His daughters live in California with Mary in Stockton and Alice in Sacramento. Bill has one granddaughter and three great-granddaughters. At the community, Bill is very much active by partaking in bingo, Wii bowling, sing-alongs and socials, as well as many of the community outings. We love that Bill calls The Oaks at Inglewood home!
Watch Major White in this viral video!