Pegasus Senior Living community, Broadway Mesa Village, is lucky to have their very own "Rosie the Riveter." Resident Elsie W. took six weeks of riveting classes at Douglas Aircraft in Chicago, which is part of what's known today as O'Hare International Airport. She then worked as a riveter for two and half years during the war effort.
At the time, women weren't allowed inside the plant unless their hair was covered and they wore pants. Elsie says that ever since that experience, she's had a hard time wearing a dress. Because there was a war going on, pictures weren't allowed in the plant, and workers were searched to make sure they weren't sneaking in any surveillance equipment.
Elsie worked on the wings of all the C54 cargo planes except for the very first one that went out the door. The riveter, or tool that was used, was a foot long and not very heavy. Elsie had a riveting partner on the outside of the plane, while she worked on the inside. She was so tiny, she could fit inside the wing! She recalled that if she didn't hit the rivet hard enough to go through, her partner would signal her with a knock, then Elsie would rivet it again. It didn't take her long to master the job and she rarely got a knock signal from her partner.
Elsie kept in touch with her riveting partner until she passed away a couple of years ago. Her daughters still keep in touch. Elsie says she'll never forget the day when they heard the shout that the war was over. Everyone cheered and put their riveting guns down and left the plant right then and there. It took her four hours to get home that day due to all the celebrating in the streets.
Later in life, Elsie and a friend went to see a special film about WWII and it was announced that there was a celebrity in the audience. Elsie was surprised when they said that she was the celebrity. She was then publicly recognized for her service. Afterward, a man in the audience came to tell her that he'd flown on one of the C54 airplanes that she'd worked on so many years ago. "That was so gratifying," she shared. "It made it all worth it."
Pictured here is Elsie, posing as "Rosie the Riveter."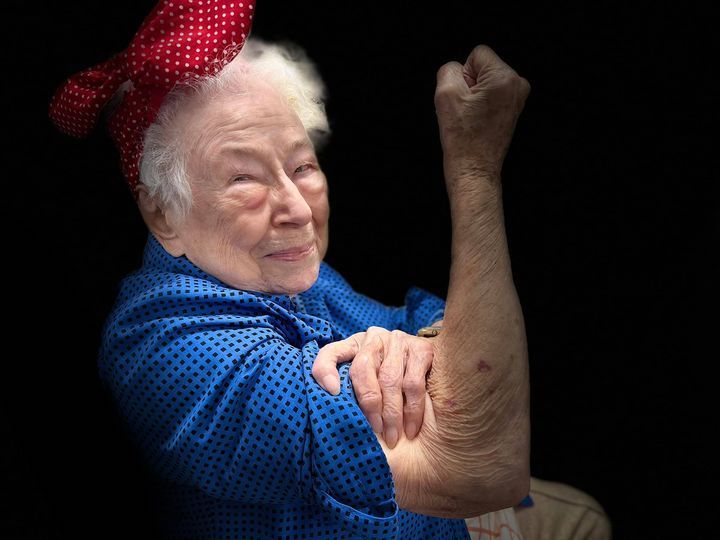 At Broadway Mesa Village, we're proud to honor stories like Elsie's and share them with others. Her service and courage should be celebrated and acknowledged. Thank you, Elsie, for sharing your story.
Learn More About Broadway Mesa Village
You'll find inspiring stories from amazing residents in our assisted living and memory care community. We're also accessible to all the local shopping, restaurants, and outdoor activities you could ask for in Mesa. Contact us to stop by for a visit.