Vivian B. turned 104 years on August 31 and her senior living community, Broadway Mesa Village, made sure it was extra special. At 10 a.m. on Wednesday, August 31 at 7231 E Broadway Rd, Mesa, AZ 85208, Mayor John Giles visited to wish Vivian a happy birthday. Later that day, at 1:30 p.m., Vivian had a birthday party among her friends, family, and community staff members.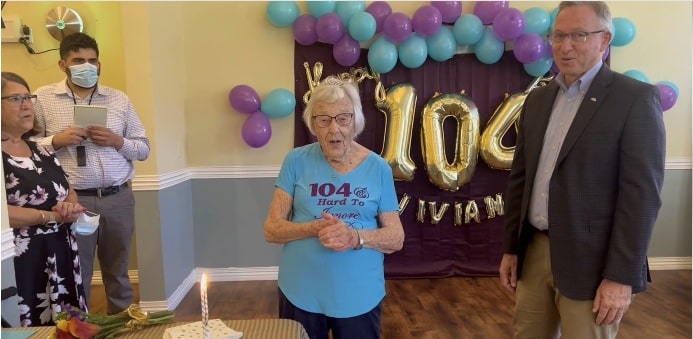 "We are doubling up on this young lady's birthday celebration," shared Life Enrichment Director, Teresa Hadley. "We're having a chocolate fountain in the afternoon and her favorite cake."
When Broadway Mesa Village staff asked about her secret to longevity, Vivian said it is because, "God (is) in my life, as he is always guiding me." Keeping active, doing things, and exercising would also be her secret to longevity. Her mother lived until she was 108!
About Vivian
Vivian was born on August 31, 1918, in Opheim, Montana, and was married to her husband, Cliff, for 71 years. They eloped in 1940. She has two sons and five grandchildren (four girls and a boy).
She worked in the office at Consolidated Aircraft in San Diego. Vivian and Cliff also worked at their ski shop, Sierra Chalet Ski Shop, for more than 40 years in California.
When Vivian's son came to Arizona in 2018, he picked out Broadway Mesa Village and moved Vivian from Hawaii straight to the community, just before her 100th birthday.
Come celebrate your birthdays with us!
Learn more about our community by contacting us for a tour today.