What is the Connections program?
The Pegasus Senior Living Connections program is an innovative, data-driven approach to providing memory care. It's evidence-based philosophy rooted in neuroplasticity to promote rebuilding brain growth.
We utilize the latest therapeutic treatments to provide calming comfort. Specialized team members rely on personal engagement to gain trust and provide individualized care.
The Connections program will be opening soon at The Gardens at Marysville. Don't miss out on this opportunity to experience elevated Alzheimer's care near you.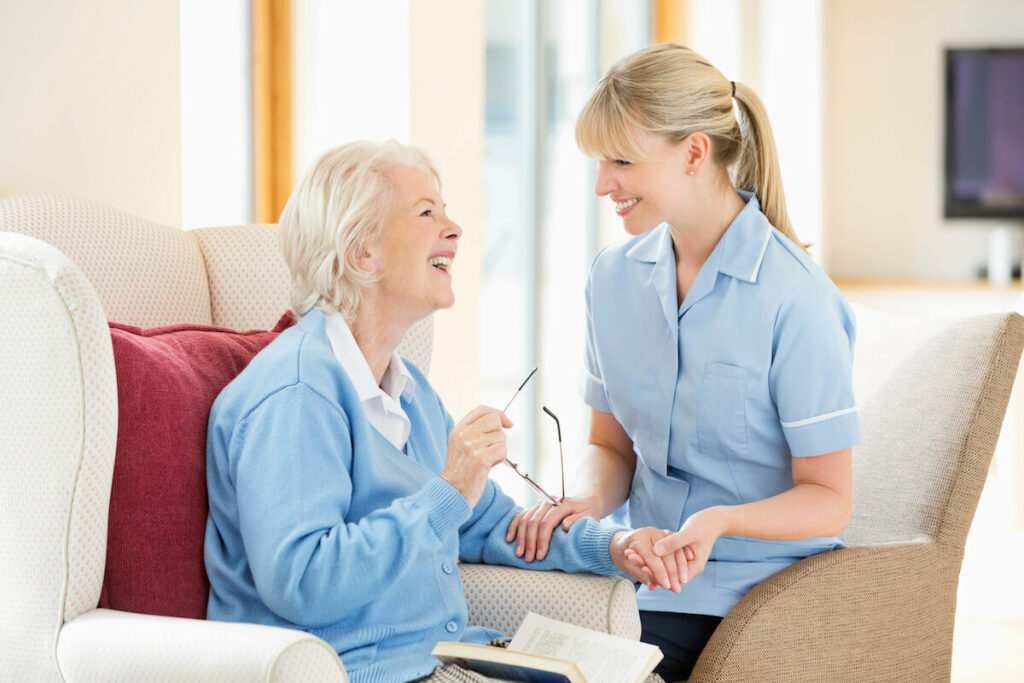 Our purposeful programming stands upon these four principles:
Engaging the Emotions
Encouraging Movement
Challenging the Brain
Supporting Socialization
Over a decade ago, Pegasus Senior Living Health and Wellness Consultant Dr. Sandra Petersen experienced a stroke that severely affected her speech, mobility, and memory.
The neuroplasticity treatments that helped return her to teaching and consulting in senior living after only two years of rehabilitation inspired what would become the Connections program.
"I lost the use of the left side of my body so that I couldn't walk," says Dr. Petersen. "I had trouble completing a sentence. I had trouble with word finding and thinking of what things were called."
From working with brain health specialists, Dr. Petersen learned how to create neural pathways around the damaged areas of her brain.
Through challenging the brain, she began learning Spanish. The motions of ballroom dancing classes allowed her to walk without assistance again.
" If it could work post-stroke, why couldn't the same idea of neuroplasticity work in memory care? And so I began thinking about how I might be able to take those neuroplastic concepts, those of connecting through emotions, moving and providing new information to retain and gain skills." – Dr. Petersen
Introducing Connections to Marysville, WA
We proudly welcome memory care residents into our assisted living community in Marysville, Washington. The dementia care team is ready to lift the burden of caregiving from family members in the Everett area.
There are many reasons why seniors enjoy living in Marysville, WA. The city is close to several large lakes, which offer ample opportunities to appreciate nature. The area also has a thriving arts and culture scene, with several museums and theaters to enjoy.
Our program for memory loss allows older adults to experience independence and comfort. We involve activities that connect residents to enjoy their surroundings and former hobbies.
What is memory care?
Memory care is a type of long-term care that is designed to meet the needs of people with Alzheimer's disease, dementia, and other cognitive impairments.
Memory care facilities are usually smaller than traditional nursing homes, offering a more intimate setting with fewer residents.
Staff members receive special training in how to adapt to the challenges of memory loss and other cognitive issues. They are available 24 hours a day to provide assistance.
Memory care facilities often have many amenities and activities to keep residents engaged and improve their quality of life. These include sensory gardens, reminiscence therapy, and daily exercise classes.
The Benefits of Data-Based Alzheimer's and Dementia Care at The Gardens at Marysville
Our services take the stress away from the family members acting as caregivers. We let families enjoy their time together.
Personalized Care
Our specialized memory care associates take the time to get to know each resident on a personal level. Our goal is to offer activities specific to everyone living with us.
Intentional Programming
We utilize the Connections philosophy to ensure healthy brain activities. Playing games, enjoying the company of furry friends and pursuing art are all fun things to do in addition to being rooted in purpose.
Fostering Relationships
Our small resident-to-associate ratio lends itself to creating a strong sense of community. We all come together to create a large extended family. We're always encouraged to see residents forming bonds in our spacious family room, enclosed courtyard and dining room.
Active Routines
Our activity schedule is full of reasons to choose the Connections program. Establishing a routine with a daily structure can maintain cognitive function, decrease stress and increase mood.
The Alzheimer's Society recommends 150 minutes of exercise per week. Breaking that number down could equal ten minutes of activity a few times per day. To get the heart rate up and the body moving in our community, we offer:
Gardening
Chair exercises
Walking club
Noodle volleyball
What kind of care and services does The Gardens at Marysville offer?
Our dedicated licensed nurses and trained memory loss caregivers provide:
Bathing, dressing and grooming assistance
Medication management
Personal check-ins
Dining assistance
Behavior tracking and management
Physical, occupational and speech therapy available on-site
Our team is vast with expertise in so many areas. Here are some of the services we offer:
Seasonal dining options for three meals a day
Housekeeping and laundry services
Transportation to and from appointments, entertainment and shopping
Beauty salon and barbershop
Visit Memory Care at The Gardens at Marysville
Memory care at The Gardens at Marysville is opening soon. Contact us to be among the first to receive data-based care for your loved one.