Connections now supports memory care in Apple Valley. This program is a signature service offered in Pegasus Senior Living communities nationwide. Visit Whispering Winds of Apple Valley to discover comprehensive support for you and a loved one.
Pegasus Senior Living Senior VP of Health and Wellness, Dr. Sandra Petersen, founded the Connections program. She recovered from a stroke by utilizing neuroplasticity treatments over a decade ago. Her treatments are the basis for our data-based approach to Alzheimer's and dementia care.
Seniors living with memory loss face so many challenges. Caregivers are often left overwhelmed and burnt out. Our signature service at Whispering Winds of Apple Valley offers memory care to reunite families and provide relief.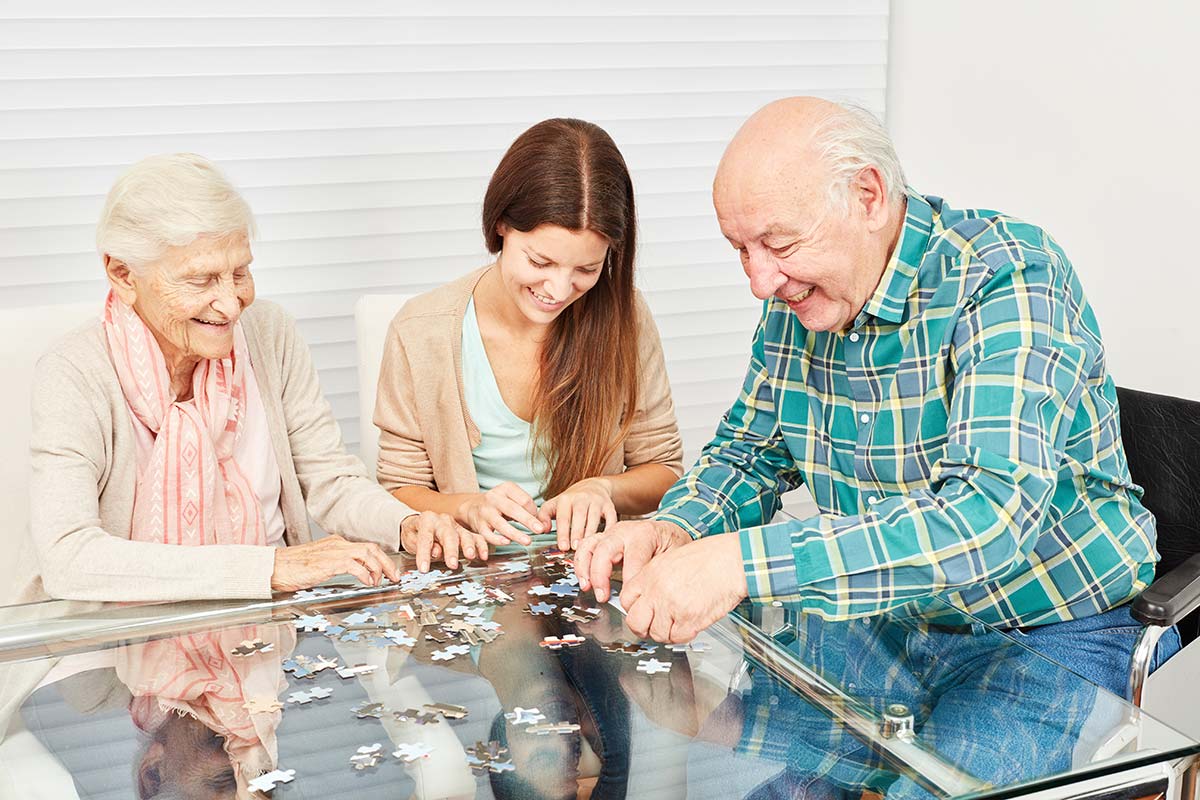 What is memory care?
Memory care is a long-term care option for seniors with Alzheimer's or another form of dementia. It offers a specialized level of care that provides:
Dementia care specialists
Personal care services
Social opportunities
Engaging activities
Secure and calming environments
There is peace in knowing that a loved one is receiving personally-tailored care. Other memory care facilities in Apple Valley may offer similar services. But Whispering Winds of Apple Valley is the only assisted living and memory care community utilizing the data-based Connections program.
What is Connections?
The Connections program for memory care offers much-needed resources. According to the Alzheimer's Association, ver 690,000 seniors in California have Alzheimer's. The prevalence of this form of dementia is expected to grow by 127 percent by 2040.
Connections is an evidence and experience-based approach to care for a growing number of older adults.
We engage those in our memory care program using trusted methods to address their needs and ensure they thrive. We create environments and activities where seniors:
CONNECT: Keeping spirits high by interacting with the community, building relationships, and giving back.
LEARN: Exercising the brain with fun and stimulating the mind with trivia, guessing games, word association, and current events.
MOVE: Staying fit, being active, and building strength through exercise, dancing, and games.
Neuroplasticity refers to the brain's ability to reorganize and form new connections around damaged sections. Exercise, creativity, socialization, and mental challenges are excellent ways to promote brain plasticity.
Dr. Petersen took up ballroom dancing and Spanish lessons to overcome a stroke that left her with memory and mobility issues. Such activities work the mind and body at the same time. These practices encourage new synaptic connections.
These modern therapeutic treatments cannot reverse the effects of dementia. However, they can slow memory loss and provide an enjoyable experience for loved ones. Best of all, family caregivers can return to their role as loved ones.
Our memory care community in Apple Valley provides individualized care and purposeful programming in a secure and consistent environment. Activities are tailored to residents' needs and include:
SingFit music therapy
Recall therapy
Pet therapy
Interactive technology and games
Chair yoga
Walking groups
Word games
Clay modeling and crafts
What are memory care costs in Apple Valley, California?
The average cost of memory care in California is $6,563 per month. However, the cost of care will generally fluctuate between locations. The average cost of senior living in San Francisco or Los Angeles is significantly higher than in smaller regions like Apple Valley, CA.
Seniors living in Apple Valley who choose home care may find a cost-effective option in memory care. The average cost of home care in the Appley Valley area is $30 to $40 per hour. A person requiring 40 hours per week of home care may find a lower cost in a senior living community. Memory care also offers 24-hour support.
Memory care also offers significant benefits that are not available at home:
One monthly bill for care and board
Three chef-prepared meals per day
Housekeeping, laundry, and maintenance
Valuable socialization and exercise
Round-the-clock supervision
The journey through Alzheimer's and dementia is not a road to travel alone. Families can now put their trust in the memory care services offered at Whispering Winds of Apple Valley. We provide those with memory loss the opportunity to live fulfilling lives.
We are here to be your resource when you need it most. Let our expertise guide you through finding the best care for your loved one. Connect with us today.
Memory Care in Apple Valley is Now Open!
Contact our community in Apple Valley for memory care services. Request a tour and learn more about how the Connections program reunites family relationships.