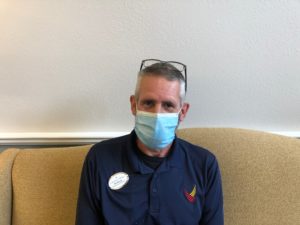 Maintenance Assistant Bill Moulin goes above and beyond to ensure Kenner senior living community Laketown Village is in tip-top shape!
Serving as interim Maintenance Director, Bill joined the Laketown Village staff in early 2020. He began working with seniors at a nearby nursing home and has loved serving seniors ever since. It brings Bill such joy to make the residents laugh and smile, which he does all the time! As we practice social distancing in line with Pegasus Senior Living's COVID-19 protocols, Bill tries to keep Laketown residents' minds off what is going on in the world through humor and fun.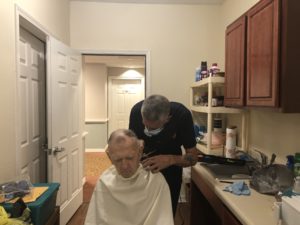 Bill works hard to keep things up and running here at Laketown Village. Due to our commitment to keep residents healthy and safe, our hairdresser is not permitted in the building as we prevent coronavirus infection. However, we discovered that Bill is handy with clippers, so he began cutting our gentlemen's hair! As soon as it is safe to do so, we hope to welcome our hairdresser back to Laketown Village for our ladies.
Bill loves cars and is a motorcycle enthusiast. Recently Bill received some very special news: at the age of 50, Bill and his wife are having a baby – his third child! The baby is due in October. Bill and his wife are excited to welcome the newest addition to their family.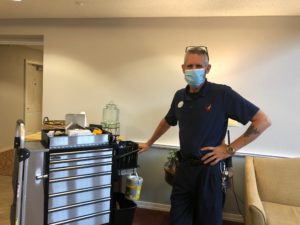 Laketown Village is lucky to have a hero like Bill serving our residents. If you are searching for senior living options in Kenner, please let us know how we can help. During COVID-19, we are following safety regulations by providing virtual tours or phone calls to provide more information for you and your family. Contact us today and our senior living experts will reach out!