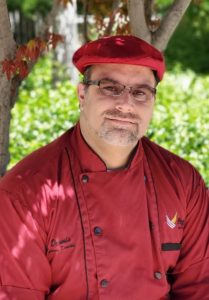 Dining Services Director Dennis Rasmussen provides an excellent dining experience for the residents living at The Village at Rancho Solano, a Fairfield senior living community. Dennis comes to work each day prepared to serve residents and keep them engaged in culinary activities.
Chef Dennis was inspired by his father Dan Berndt to become a chef. Dan himself was a chef at country clubs and ran his own small diner. As a young child, Dennis loved to sit at the kitchen counter and watch his father prepare the family meal. Amazed by his father tossing spices into a boiling pot, Dennis imagined his father was a wizard preparing a magical meal for the family. As Dennis got older, he dreamed to be apart of the magic his father created in the kitchen. Dan started teaching Dennis how to cook, and that's how Dennis fell in love with cooking for others.
Dennis has been cooking for more than 20 years. He began his culinary career at a steakhouse called The Cocky Bull where he worked for about 2 years. From there he went on to a restaurant called The Hometown Buffet where he worked for 10 years. One day Dennis' best friend Billy told him about a chef's position at a senior living community. Dennis was excited to start cooking for seniors, and as he began his journey in senior care, he fell in love with serving seniors. Preparing food for the residents made the experience of cooking even more enjoyable! Dennis' favorite thing about senior living is the priceless opportunity to get to know the residents and listen to their stories.
Chef Dennis brings 13 years of senior care experience to The Village at Rancho Solano, having worked for other senior living companies including Sunrise Senior Living, Emeritus Senior Living, Brookdale Senior Living, Westmont Senior Living, and finally Pegasus! He has been working in our community for a little over 2 years.
When asked what his favorite thing is about working at The Village at Rancho Solano, Dennis said it is working with an amazing team that is always supportive, fun to be around, and passionate about serving the residents. The Village at Rancho Solano develops activities based off their residents' interests, hobbies, and tastes. For instance, when planning the cooking classes offered at the community, Dennis always lets the residents choose what they would like to make. Recently Dennis led a cooking demonstration during which residents made one of their favorite meals: pizza! Programming at The Village at Rancho Solano is interactive, and resident driven.
Dennis described last year's luau event as being one of the most exciting occasions residents and associates enjoyed at The Village at Rancho Solano. "For a whole month after the luau, all our residents were talking about how amazing everything was from the food to the entertainment," says Dennis. "Definitely a memorable moment."
The staff at Rancho Solano go above and beyond to serve and care for residents, even as the community continues to observe Pegasus Senior Living's social distancing protocols and preventative measures in response to the coronavirus. Residents' safety is of utmost importance; everything is sanitized before and after every activity and task. Daily temperature checks are taken of the residents, associates, and outside essential care providers entering the community. But COVID-19 will not stop the team at Rancho Solano from ensuring residents are engaged, happy, and having fun! During the most recent cooking demonstration, residents socially distanced as Chef Dennis led the interactive pizza-making tutorial! Check out our Facebook page to keep up with everything happening at The Village at Rancho Solano!
We also invite you to try out Dennis' favorite meal to prepare, French Onion Chicken! Please see the recipe card and let us know what you think. We cannot wait to re-open our community and have you come in to taste Chef Dennis' delicious culinary creations! Contact us to learn more.