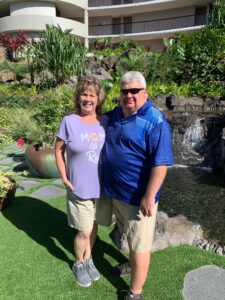 Community Sales Partner Lorri Hensley at Mesa senior living home, Broadway Mesa Village, is a dedicated and passionate hero coming to work each and everyday to care for our residents! We are so honored to have Lorri on our team.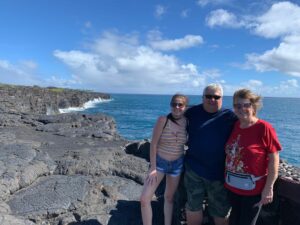 Lorri was born and raised in Cincinnati, Ohio. Much of her family is still in Ohio, including her mother, brother, niece, nephew, as well as 8 great nephews and 1 great niece. Lorri tries to return home to Cincinnati at least once a year and plans on heading back amidst the coronavirus pandemic to visit her mother. Cincinnati is also home to Lorri's husband Todd, and the happy couple was married in 1994. In 1997 Lorri and Todd moved to Arizona so Todd could take a new job, first living in Tempe, then Chandler, and finally settling in Mesa. Todd works for a corporate audio and visual event company called AV Concepts, that provides the lighting, video walls, computers, and big corporate breakout rooms for conferences.
Throughout most of Lorri's life, she has worked several different jobs. She worked in sales and customer service jobs for a building material company, cleaning company, as well as two jewelry stores. One day, Lorri's friend informed her of an open position at Broadway Mesa Village, then managed by Merrill Gardens and later Brookdale Senior Living. Lorri had no senior living experience prior to starting at Broadway Mesa Village but found that she enjoyed working with seniors. "I'm pretty adaptable," says Lorri. 8 years later, Lorri is proud to serve seniors at Broadway Mesa Village.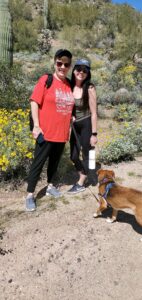 Lorri has one daughter, born in June of 1999 named Kathryn. At 21 years old, Kathryn is preparing to go to nursing school. She works as a medical assistant at Fast Med, an urgent care clinic. Kathryn, like her mother, is also a healthcare hero; she has been doing much of the testing for coronavirus, and thankfully there has been a lull in the number of cases. Lorri and Todd are very proud of Kathryn's hard work and commitment to serving others.
Broadway Mesa Village is proud to announce that their community has been totally COVID-free since day one. Lorri explains that this is largely due to the Broadway Mesa team's conscientiousness about cleanliness. "Our main objective is to keep everyone healthy," says Lorri. "The pandemic has been tough on our residents, but we have done road visits with family members, and finally our residents are able to sit in the dining room. We offer small gatherings for activities and games," says Lorri. "Everyone is ready to see their family members on a consistent basis. The residents are frustrated by the restrictions, but they understand. Every day they say, 'Thank you for keeping us healthy.'"
Broadway Mesa Village is committed to coronavirus prevention, but recently we started welcoming family members to visit on the front porch while maintaining social distancing and complying with guidelines to keep everyone safe. "It has been really hot – up to 120 degrees outside here in Mesa – so we put a fan on the porch to keep everyone cool," says Lorri. The associates at Broadway Mesa Village are periodically tested for coronavirus, particularly when new employees start at the community.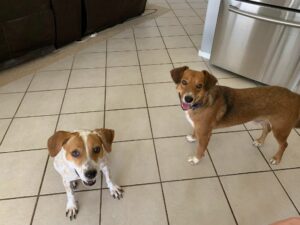 In Lorri's free time, she enjoys walking with her two rescue beagle mixes, Courtney and Toby. Lorri also loves yoga and hiking; she is looking forward to October when it finally cools down enough to enjoy the great outdoors again. Lorri spends a lot of time in the family pool. She also enjoys craft projects such as painting rocks with her daughter and making wreaths for the holidays.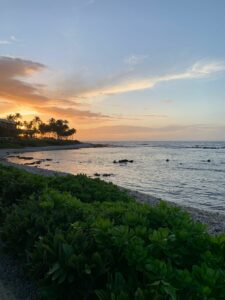 Lorri was diagnosed with Stage 2 Kidney Cancer in October of last year and required surgery to have one kidney removed. Lorri went through surgery in November then she and her family took a much-needed vacation to their favorite place – Hawaii – that December. This was the family's third time traveling to Hawaii, this time around staying in Kona. "It was very pretty and volcanic," says Lorri. When asked what her favorite Hawaiian island is, she said Maui. "It's the most picturesque. I call it my happy spot," says Lorri. The team at Broadway Mesa Village is happy Lorri was able to beat cancer and enjoy her well-deserved Hawaiian vacation.
Broadway Mesa Village is blessed to have such caring and passionate associates such as Lorri on our team. If you are looking into senior living options in Mesa, Arizona, Lorri can assist! Contact us today to set up a tour.