As the baby boomer generation gets older, the prevalence of dementia continues to rise, creating a greater need for dementia-friendly communities for seniors. The physical environment of a dementia-friendly community plays an essential role in supporting residents. Sensory-friendly design elements, such as clear signage, contrasting colors, and appropriate lighting, are implemented to aid navigation and minimize confusion. Thoughtful floor plans with familiar cues and secure outdoor spaces promote mobility and independence while ensuring resident security.
In this blog, we will explore the significance of dementia-friendly communities and how unique training methods, such as Dementia Live®, empower staff to better care for residents.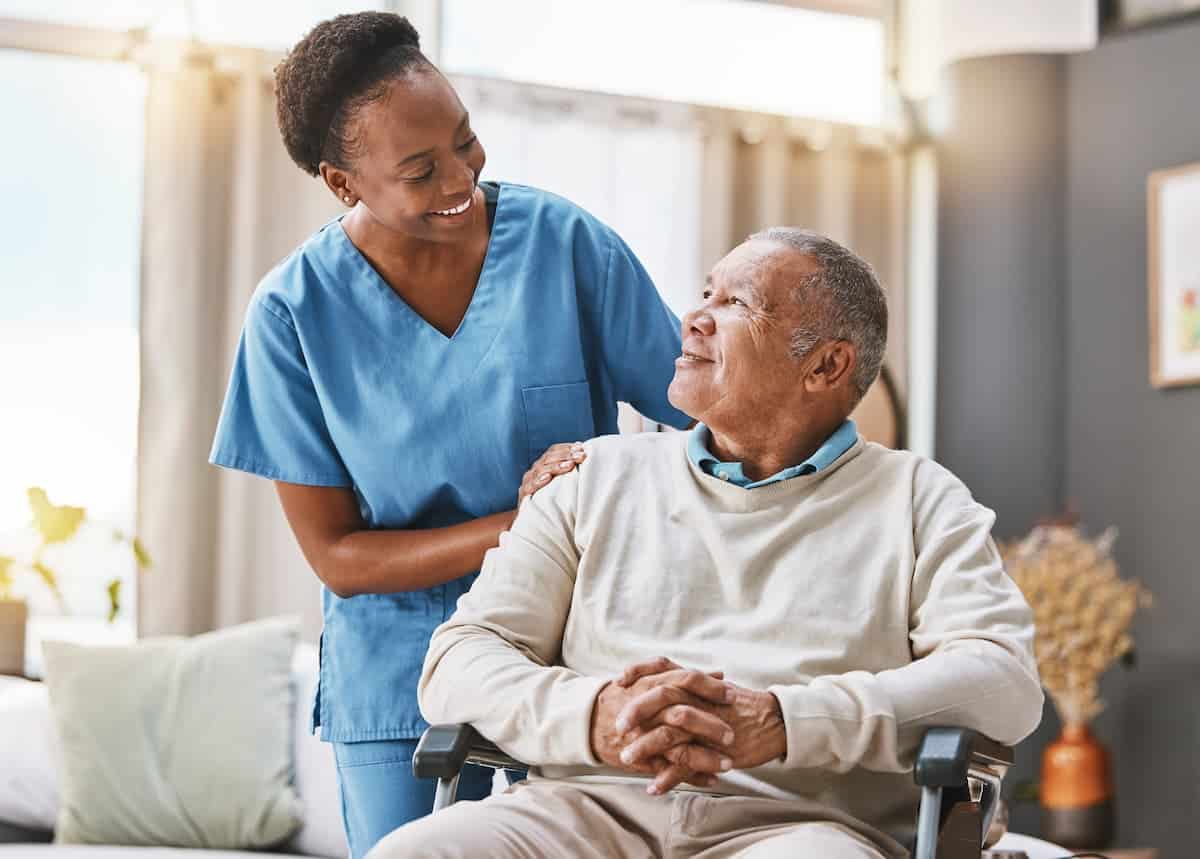 Empowering Staff through Innovative Training
Dementia-friendly senior living communities have programs designed for individuals with dementia. They focus on creating an environment that promotes security, comfort, and engagement while minimizing confusion and anxiety. The core principles of dementia-friendly communities revolve around person-centered care, sensory-friendly design, and specialized training for staff members. At Pegasus Senior Living, their Connections memory care program is doing just that.
The program was designed by Dr. Sandra Petersen, a dementia expert, who incorporated her in-depth knowledge and experience. Its main components are Connect, Move, and Learn.
Connect
Central to dementia-friendly communities is the concept of person-centered care. This approach recognizes the uniqueness of each individual, focusing on their strengths, preferences, and history. By creating personalized care plans, staff can better meet the needs of residents, help keep them engaged, and promote their overall well-being.
Pegasus Senior living care team members have the unique opportunity to undergo Dementia Live® training. This dementia simulation helps them truly live in a resident's shoes, creating more empathy and connection.
Move
Engaging the body and the mind is critical for dementia care. The Connections program encourages physical activity to maximize the quality of life. Under careful supervision, residents of Pegasus communities can participate in boxing, walking clubs, stretching, and other fitness programs to help them achieve an active body and mind.
Learn
Residents learn through carefully curated activities and sensory experiences. To ensure the delivery of high-quality care, staff members in dementia-friendly senior living communities undergo specialized training programs. One unique method gaining traction is Dementia Live®, an innovative experiential learning tool developed by AGE-u-cate.
Dementia Live® cultivates empathy and understanding among caregivers by simulating the experience of living with dementia. Through virtual reality technology and sensory modifications, staff members experience the cognitive and physical challenges faced by individuals with dementia. This immersive experience enables them to better connect with residents, adapt communication techniques, and develop creative problem-solving skills. By participating in the training, staff members become more attuned to the needs and emotions of residents, leading to improved person-centered care.
Benefits of Dementia Live® Training
1. Empathy and Understanding: Dementia Live enables staff members to step into the shoes of those living with dementia, fostering empathy and a deeper understanding of the daily struggles they face.
2. Enhanced Communication Skills: By experiencing the communication difficulties associated with dementia, staff members learn to adapt their approach, using clear and simple language, nonverbal cues, and active listening techniques.
3. Problem-Solving Abilities: Dementia Live challenges staff members to think creatively and find practical solutions to overcome the barriers individuals with dementia may encounter.
4. Reduced Stigma and Judgment: Experiencing dementia through Dementia Live dispels misconceptions and stereotypes, reducing stigma and promoting a more compassionate attitude toward residents.
In senior living, creating dementia-friendly communities is vital for providing the best possible care and support for individuals with dementia. By embracing person-centered care, sensory-friendly design, and innovative training, staff members in these communities can significantly enhance residents' lives.
The immersive experience provided by Dementia Live® empowers caregivers to develop empathy, adapt communication strategies, and become more effective problem solvers. Together, these efforts contribute to an inclusive and compassionate environment where seniors with dementia can thrive and enjoy a fulfilling life.
Experience the Pegasus difference today.
If you're seeking compassionate memory care, provided by a team that truly understands what your loved one needs, we invite you to learn more about Connections, and how we can support your loved one on their unique journey.