Why are seniors moving to Reno?
The senior population in Reno, NV, is expected to grow by 30,000 in the next 10 years. With over 300 days of sunshine a year, it's a great place for older adults to settle down, but where will they all live? If you're considering spending retirement in the biggest little city on earth, discover the advantage of assisted living and memory care in a community like The Seasons of Reno.
What's the difference between senior living and assisted living?
Assisted living is one form of senior living. This service allows you to continue living an independent lifestyle while our associates handle the hassles of life, like cooking, cleaning, and activities of daily living.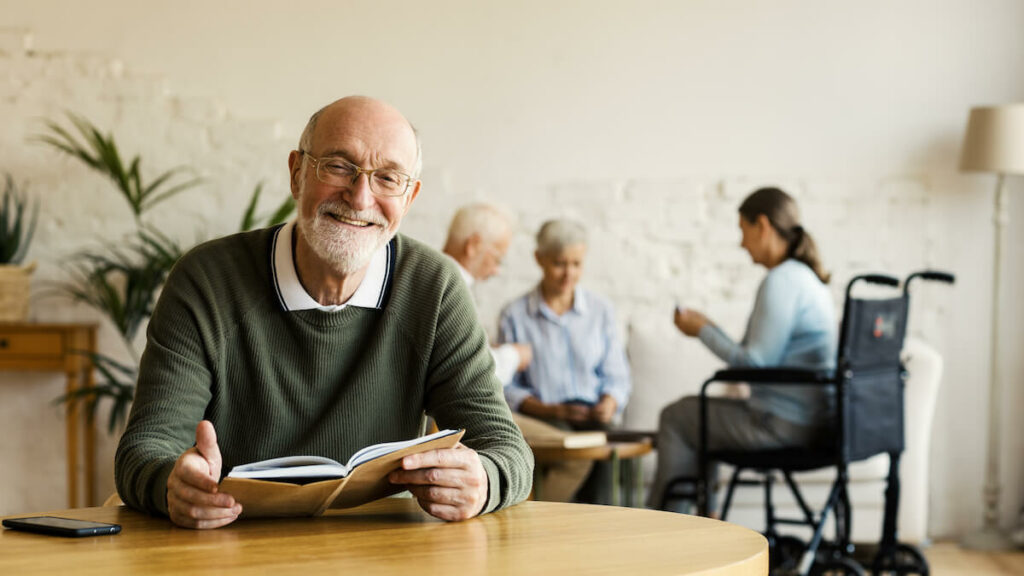 37,000 seniors call Reno home. Nearly 12 percent of those seniors live alone. Finding a place to live that matches your needs and elevates your lifestyle is an important decision that requires research. Consider these options:
Age in place at home

Familiarity and comfort
Not having to move at an unforeseen time
Lack of socialization
Paying for in-home care service
Paying property tax
Paying for home modifications like accessible showers and lifts

Senior apartments

Unique communities for people who are 55+
Usually provides access to a gym and social events
Limited services
No healthcare services

Independent living

Housekeeping, maintenance, and transportation
Activities and social events
Your own accessible apartment or standalone home
May not have care services you need as you age
May need to move to receive higher care

Assisted living

The benefits of independent living, but with a higher level of care
Private apartment
Licensed nurse in most communities
On-site physical/occupational/speech therapy in some communities
Assistance with activities of daily living
Medication management/administration and/or other
engaging activities

Community outings for dining and entertainment

Memory care

The benefits of assisted living with trained memory care specialists for those living with Alzheimer's and dementia
Research-based care
Secure environment
Private or semi-private apartments or suites
Engaging mind-healthy programming

Nursing home

24-hour clinical treatment
Shared rooms
Reserved for chronic conditions
What is aging in place?
To age in place properly, it's essential to have support from your community, a residence that is accessible, and have reliable access to healthcare services you may need at some point.
Owning a home is a blessing. Maintaining the home and all of its responsibilities is not always feasible as we age. Even if you're lucky enough to have paid the house off, property taxes, lawn care, landscaping, maintenance, and modifications can add up. The solution: assisted living at The Seasons of Reno.
Can I age in place in assisted living?
Absolutely. In addition to assisted living, our community offers memory care services for those who have Alzheimer's and other forms of dementia. With over six million Americans currently living with Alzheimer's, the need for memory care is at an all-time high.
Should your needs change, The Seasons of Reno will adapt with you. We offer personalized services, so you only receive help where you need it. Assisted living is a higher quality of life. Staying active, socializing, and eating well are keys to a healthier and longer life.
Some of the care and services we offer include:
Respite care
Bathing services
Dressing services
Medication management
Licensed nurse available
Assistance with dining needs
On-site physical, occupational, and speech therapy
Personal check-ins throughout the day in our care home
Will I enjoy assisted living in Reno?
It's like going on a cruise every day. You can be surrounded by like-minded folks while enjoying three chef-prepared meals daily and occasionally grooving to live music and entertainment.
We have many talented residents, furry friends of all kinds, and dedicated team members like Carolyn. She's cooked the best biscuits and gravy for us since 1989!
There is always something to do at The Seasons of Reno. What interests you?
Wellness
Hobbies and entertainment

Matinee movies
Reading club
Happy hour
Trivia

Outings
Amenities

Library
Spacious family room
Beauty salon
Full-service dining room featuring scratch-cooked meals using seasonal ingredients
What do our senior living apartments look like?
Our modern community will feel like home in no time. We welcome pets and encourage you to decorate your studio or apartment however you'd like. Our spacious layouts include a kitchenette, as well as utilities and basic cable. Welcome to your new home!
Where can I learn more about senior living?
Visit The Seasons of Reno either in person or virtually. Contact us and let us know your preference. See what our residents are up to on Facebook.