Seniors with Dementia Entertained and Engaged with VR, 'SMART Board' Technology
How do our seniors benefit by experiencing the newest technological advancements?
Although our team has provided numerous engaging activities for our seniors in memory care, we strive to surpass all expectations by introducing the most immersive technologies to our residents. One of these has been what our Director of Memory Care Julie Shroyer calls the SMART Board, an interactive electronic display for both education and leisure. With so many opportunities for enjoyment and personal growth, our seniors can make great new memories in a variety of ways.
How Can Our Residents Travel from Home?
The Farrington at Tanglewood in Houston is offering an active lifestyle for memory care residents where they ride among the mountains or along Venice Beach … and they don't even need to leave the community.
A Sharp AQUOS BOARD® interactive display system, which looks like a giant iPad or tablet at 65 inches, sits in The Farrington's memory care activity room. It stands in front of Mr. Alan, a resident. Julie, in addition to being Director of Memory Care for Pegasus is the interim Memory Care Director for The Farrington, is sitting with Mr. Alan, encouraging him to 'drive' them along the scenic highway that the monitor is displaying with mountains and greenery abound. He is using the pedal exerciser at his feet while watching the virtual environment in front of him playing on the monitor. A smile is on his face the entire time.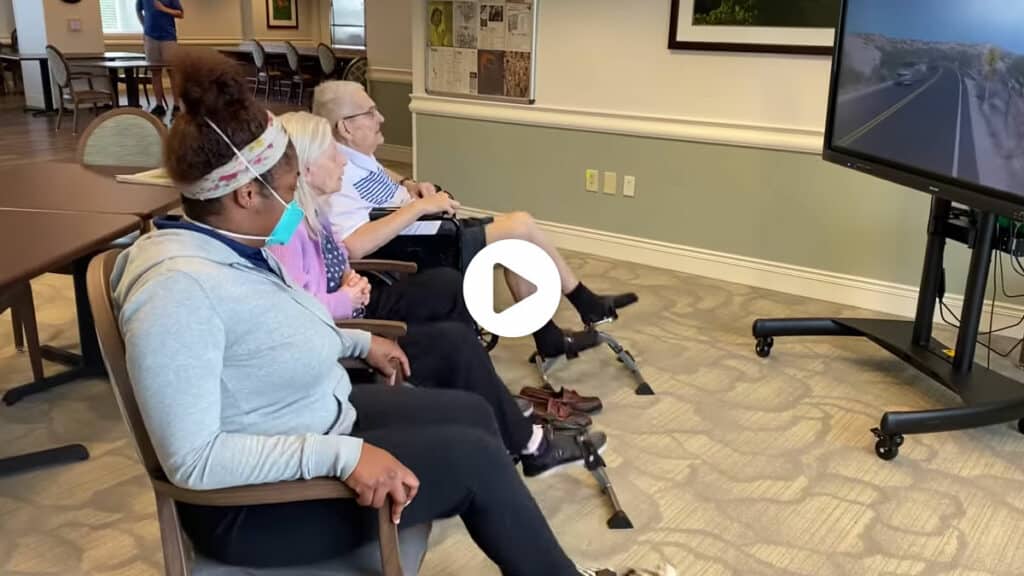 Julie is using this video and other virtual bike-riding videos to enhance seniors' lives by promoting exercise, increasing cognitive functioning, and providing positive experiences. It's these techniques and more that set The Farrington apart from others when it comes to enriching seniors' lives with dementia and/or Alzheimer's. In addition to using what Julie dubs, 'the Smartboard', as fitness equipment, it is also used for educational or entertainment purposes such as playing interactive games like Candy Crush or cognitive exercises like filling in song lyrics on-screen.
Which Kinds of Games Do They Play?
This resident is playing Candy Crush with an associate: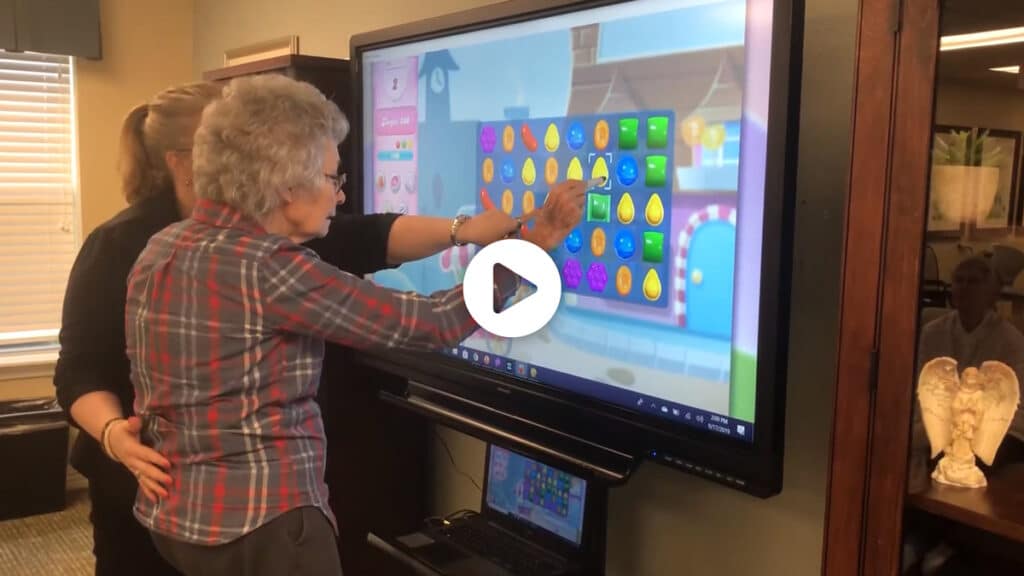 Below are residents playing a "Finish the Line" game: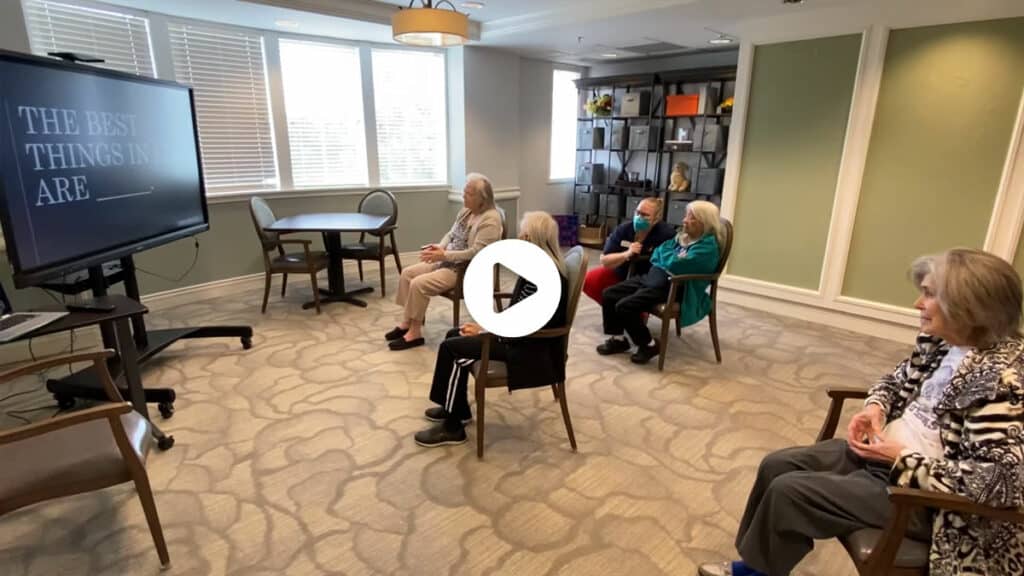 The Smartboard allows associates to continue interacting with residents in a fun way with a larger-than-average touch-screen, making the experience more immersive for seniors.
Come visit The Farrington to see how we are changing seniors' lives! We are following COVID-19 safety protocols – please socially distance and wear a mask when visiting.