What is memory care?
Memory care honors those living with Alzheimer's, Parkinson's, and other forms of dementia by enabling them to live fulfilling lives. Bringing together a balance of activity, artistic exploration, socialization, and therapeutic services, it's a valuable service that provides relief to residents and their families.
Does my loved one need memory care?
The statistics for people experiencing Alzheimer's or other forms of dementia are growing exponentially. In the United States, 11.3% of adults over the age of 65 are currently living with Alzheimer's, which equates to over 6.2 million people. In the state of California, Alzheimer's cases are expected to rise 29.2% by 2025.
Losing the ability to care for one's self is the main reason for requiring memory care.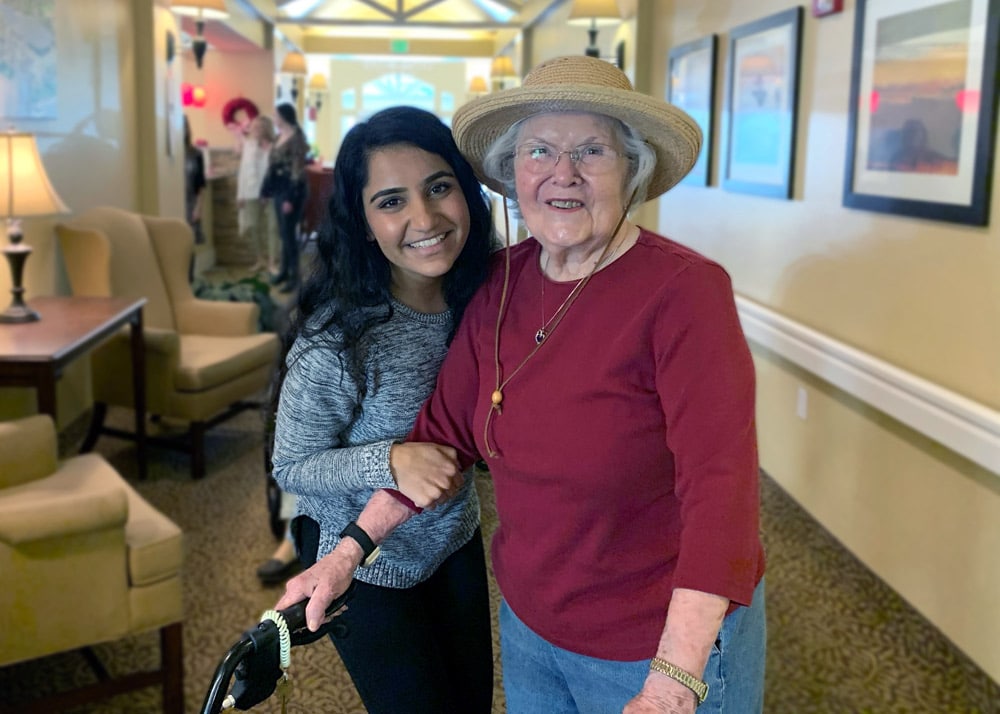 Memory care is a long-term solution to ensure your loved one can live an independent lifestyle with dignity.
Common signs of requiring memory care are:
Forgetting medication
Getting lost in familiar places
Change in hygiene or not able to complete daily living tasks
Experiencing accidents around the house
Having trouble remembering family and friends
Becoming increasingly irritable
Receiving a diagnosis of Alzheimer's, Parkinson's, or other form of dementia
See a more comprehensive list here.
How do I find the best memory care facility in Fairfield?
If you're looking for Alzheimer's and dementia care in Fairfield, The Village at Rancho Solano is happy to answer your questions and offer you a tour of our community. More than just a senior living facility, we use the word community to show that we live like family. When deciding if memory care for your loved one is the right decision, engaging in a tour of the community is an important step.
Consider these questions on your tour:
Will Rancho Solano involve the family of the resident?
Does Rancho Solano provide specialty training for associates?
What is Rancho Solano's standard for cleanliness?
What level of care can my loved one expect to receive?
What specialty programs are available?
Do other residents benefit from services Rancho Solano offers?
Can I care for my loved one with Alzheimer's, Parkinson's, or dementia?
For the millions living with some form of dementia, it's estimated 11 million people spent 15.3 billion hours taking care of someone. That's over $257 billion of unpaid work across the country. From doctor's appointments and medication management to preparing meals and making sure the home is safe, a lot of everyday tasks can start to add up and feel overwhelming.
Can my loved one benefit from in-home care?
Socialization is a huge factor in Alzheimer's and dementia care, and they may miss out on that when staying at home. At Rancho Solano, we provide an open environment for residents to interact in addition to orchestrating a calendar of activities, outings, and events.
In-home care may not include things like brain-healthy meals or a 24/7 monitor of care. In addition to all of the expenses that come with living independently, in-home caregivers can cost somewhere around $95-$175 a day.
Where is the best place for someone with Alzheimer's and/or dementia?
According to the Alzheimer's Association, people living with early-stage dementia benefit from a supportive environment that emphasizes living in the moment. It needs to be a space that is easy to navigate and reduces anxiety. Having routines of mentally stimulating activities, access to physical recreation, and a balanced diet contribute to continuing an independent lifestyle. All of these qualities and more are available at The Village at Rancho Solano.
What does The Village at Rancho Solano provide for memory care?
We're very excited to say, we've just completed upgrades to our entire community, including assisted living. Starting in August 2021, we'll have 26 brand-new apartments available in our memory care neighborhood. It's an open environment designed to feel familiar, reduce stress, and encourage socialization. Relaxing aromatherapy adds a tranquil sense to our living space.
Provisions
The Village at Rancho Solano commitment
Care Programs

Nurse often available for medical needs
Personal check-ins and monitor of health
On-site therapy
Medication management

Activities

Customized programming
Signature SingFit song therapy
Fitness programs including chair yoga and walking club
Word games, storytime, and reminiscing therapy
Art therapy

Amenities

Three locally-sourced and brain-healthy meals and snacks every day
Transportation, housekeeping, and laundry services
Beautiful views of the hills of Fairfield surround our community
What's included in the cost of memory care?
Our individualized care plans include all of the services necessary for your loved one to thrive. With pricing starting at $4,350 (as of June 2021), we also keep our pricing competitive compared to other dementia care communities in and around Fairfield.
If costs seem overwhelming, we understand. Remember that there are benefits you and your family could be eligible for: Additional care services could be covered by long-term care insurance, veterans benefits, or other programs. Pricing, or any state and federal benefits applicable to senior living, can get confusing fast – that's why our senior living sales specialist would love to help you navigate how to maximize the benefits your loved one may be eligible to receive.
When you reach out to our community, one of the first steps we take is to address the costs. Before you schedule a tour, our sales specialist will ensure you know everything associated with pricing, including benefits that may be available for veterans and/or long-term care insurance.
Experience how memory care at The Village at Rancho Solano can enrich your loved one's lifestyle. Contact us for more information or to schedule a tour. If you want to glimpse a day in the life of a resident, follow us on Facebook to see what we're up to on a daily basis.