You're never lonely at our Arlington active adult community.
This year has been an unconventional one in many ways. With more time on our hands than ever before, moving into senior living may bring up questions on what you or your loved one can do during your free time. Here at Town Village Crossing, we put our seniors' happiness first, filling their days with fun activities and events.
What are the benefits of an independent living community?
Town Village Crossing offers both independent living and assisted services to seniors. 
Our independent living is based on the convenience of our seniors. We take care of the maintenance, housekeeping, cooking, and transportation all while our seniors enjoy enriching activities daily. 
The benefits at Town Village Crossing make living here a unique experience. Some of our benefits include activity and exercise rooms, outdoor gardening areas, cozy lounge areas, and a beauty/barber salon, amongst many other specialties.
We even have our own in-house store and cafe, The Nook! Residents can purchase all sorts of items at The Nook, making the experience secure and convenient by having food and toiletries available in the community.
Items at The Nook include: bread, soda, milk, ice cream, toilet paper, and other staples, plus pet food, greeting cards, snacks, and toiletries like shampoo, mouth wash, and more. We make things convenient for our residents so they don't have to visit the store for one item. When toilet paper was scarce during spring 2020, our Nook Crew, which consists of associates and soon-to-be volunteer residents, made sure we were stocked up for our seniors! The Nook Crew also assists with online grocery ordering with delivery, dry cleaning orders, and transportation requests. Our passionate crew has also been known to find out the residents' favorites and have them stocked as a surprise!
Our assisted services are designed to help with daily care needs such as medication reminders and management, or assistance with bathing. These services can be provided in the privacy of your own apartment, so you can continue living life knowing we are here to help your every need!
How do seniors beat loneliness at Town Village Crossing?
There is never a dull moment at Town Village Crossing; each and every day is packed with fun things for our seniors.
Whether it is happy hours, bean bag baseball, bingo, painting, or walking around the courtyard with our Silver Sneakers group, there is always something exciting to take part in at Town Village Crossing!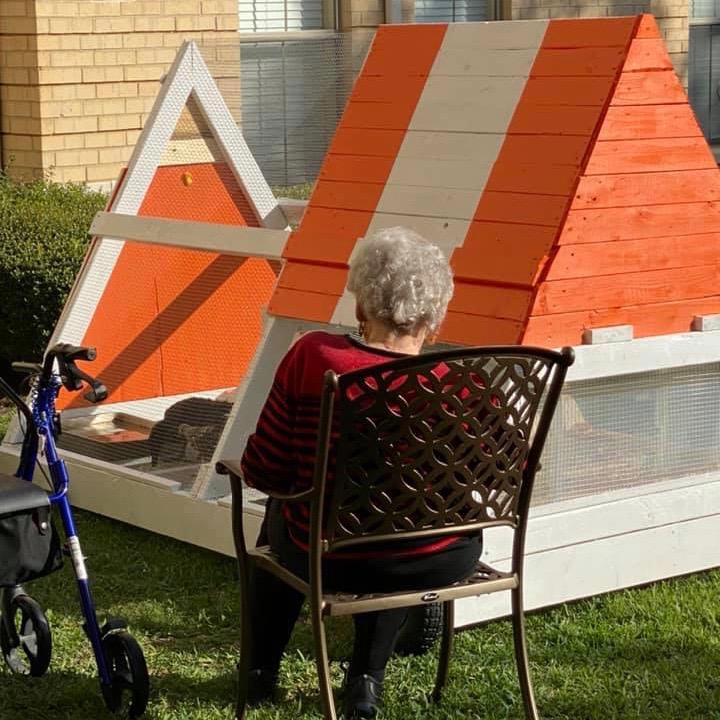 We also recently installed a Whataburger inspired chicken coop! That's right, our resident baby chick, Dottie, and duck, Quaker Jax, upgraded their living space! They now live in the orange and white chicken coop in the courtyard. Our residents love to spend time with them and watch how fast they are growing!
What do our residents have to say about life at Town Village Crossing?
Maintaining a home or yard can feel like a hassle. Town Village Crossing takes care of everything for you including weekly housekeeping, maintenance requests, and more.
Meet Jaunita, she loves spending her time making new friends.  
Hear why she loves living at Town Village Crossing! 
Where can I find more information about ongoing activities?
With the many fun things happening at Town Village Crossing, it can be hard to keep track of when things are happening. But lucky for you, we have a monthly activity calendar! Stay up-to-date with the events and activities we host every month by checking the calendar regularly.
We make it easy for you to fill your time doing the activities you love most.
Our associates would love to know how we can assist in making your life better at Town Village Crossing.
Please contact us if you have any suggestions, questions, or would like to schedule a tour.