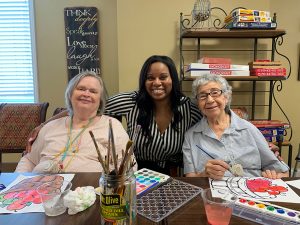 Ever wonder what seniors in communities are up to during retirement? At Pegasus, our teams are always happy to bust the myth that loneliness and depression inevitably arise once people stop working. While these emotions can certainly happen and should be acknowledged, there is a powerful way to combat them: pursuing one's passions with a healthy dose of engagement.
Needless to say, all residents at Pegasus are encouraged to consider what activities are fulfilling to them. Do they find solace in food, art, books, or movies? What about woodworking, fitness, animals or volunteering? Whatever it may be, our teams make it happen for them to the best of our abilities, even during COVID-19 restrictions. While we follow all safety regulations and rules, we are still serving our seniors with passion.
Need examples? Check out just a few of the many enriching hobbies Pegasus residents are enjoying!
Knitting
Walking
Writing and Photography
Art
We are so honored to serve the creative, hardworking, and intelligent seniors in our communities. There is nothing more fulfilling to our teams than encouraging each of our residents to pursue what they want to do.
If you are looking into senior housing options for yourself or a loved one, consider a Pegasus Senior Living community in your area. We'd love to show you how we are enriching seniors' lives every day. We have always followed all safety guidelines due to COVID-19, which is why we offer virtual tours. We can also send additional information or speak to you over the phone regarding any questions you may have.