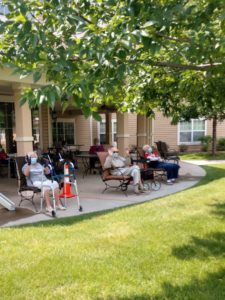 It's summertime in beautiful Denver, Colorado and our seniors at The Courtyards at Mountain View are enjoying every minute they can by staying active and getting outdoors. Due to quarantine and social distancing restrictions, our residents are learning new ways to have fun while also staying safe. Thanks to the wonderful team at The Courtyards, engagement is always a top priority. Whether it's enjoying some music outside, or getting together for game nights, we're never short of activities for seniors in Denver.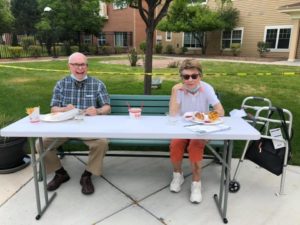 Picnics are a great way to get outside and have a good time with some good food. A few weeks back, our seniors enjoyed some delicious burgers and fries out in the sunshine. Everyone was seated appropriately to follow social distancing guidelines, but fun was still had. Generally, food is a great way to get people together. The Courtyards provides snacks like popsicles or muffins to our residents as a special treat throughout their day. They look forward to the treats and can interact with other seniors as well!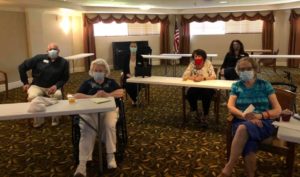 Another fun activity that's been going on at The Courtyards at Mountain View is pub trivia nights. Residents get together in small groups, or virtually, to play along. Attendees get very competitive which just adds to the fun of it. The exciting part about virtual pub trivia is the ability to reach more residents across the community. This past Friday, they held a game with over 20 different groups competing!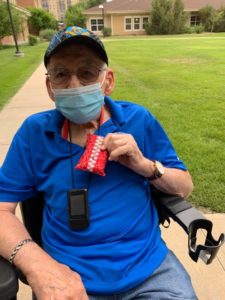 Not only are our seniors still getting together and engaging, but they are helping each other out. This past July, one resident took it upon themselves to create hand-made tissue holders for all her neighbors. Everyone was so touched by her act it felt like "Christmas in July." This is just another example of how engaging our senior living community in Denver really is. We strive to make sure nothing stands in our way of keeping life entertaining, even during a pandemic!
Speaking of engagement, we are thrilled to announce that The Courtyards at Mountain View will soon be offering expanded Memory Care services for even more activities for seniors in Denver, CO. Some highlights for our signature Connections program include:
Enhancing minds.
Healthy diets.

Maximum comfort.

Therapeutic healing through song.

Transforming the perception of Dementia.
Just like Pegasus Senior Living's slogan says, "We're passionate. We're local. We care." We are passionate about seniors' care. We're locally available all over the country. We care about enjoying your life, no matter what age! Reach out to discover everything that The Courtyards at Mountain View has to offer today!