Residents at the senior living community The Chateau at Gardnerville, located at 1565 Virginia Ranch Rd, Gardnerville, NV 89410, are excited about the community's recent updates.
The community has undergone renovations throughout including new paint, carpet, and fixtures. The updates create a more inviting look that everyone is proud of.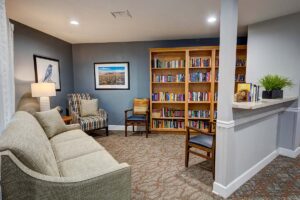 "Residents love the new artwork and the new furniture the best," shares Jessica Maidlow, Community Sales Director.
"They were glad to see our community receiving a much-needed upgrade this year. We also got two brand new spa bathtubs for residents to enjoy in Assisted Living and Memory Care."
The Chateau at Gardnerville is excited to share its new look with residents and guests. The community is open for tours.
Learn more about the exceptional services and environment The Chateau at Gardnerville offers.
Sign up for a tour today to see the improvements in person!