What the 1947 Winner is up to Now During COVID-19
Mr. Bob McBride won Mr.  Louisiana and was the first runner-up for Mr. New Orleans in the 1940s. 
How does Bob stay in shape?
Bob is a 91-year-old resident at senior living community Laketown Village in Kenner, LA. He uses a wheelie to do planks every day. "You got a wheel and a handle on each side. I do these planks. I will go all the way out 300 times. I do 5 sets of 50, which is 300. It's for your core." At his age, it may be of no surprise to anyone that he is still doing planks to this day to stay in shape.
How did Bob become interested in bodybuilding?
Born in 1929 in New Orleans, Bob McBride got into bodybuilding when he was 18-years-old as a student at Louisiana State University.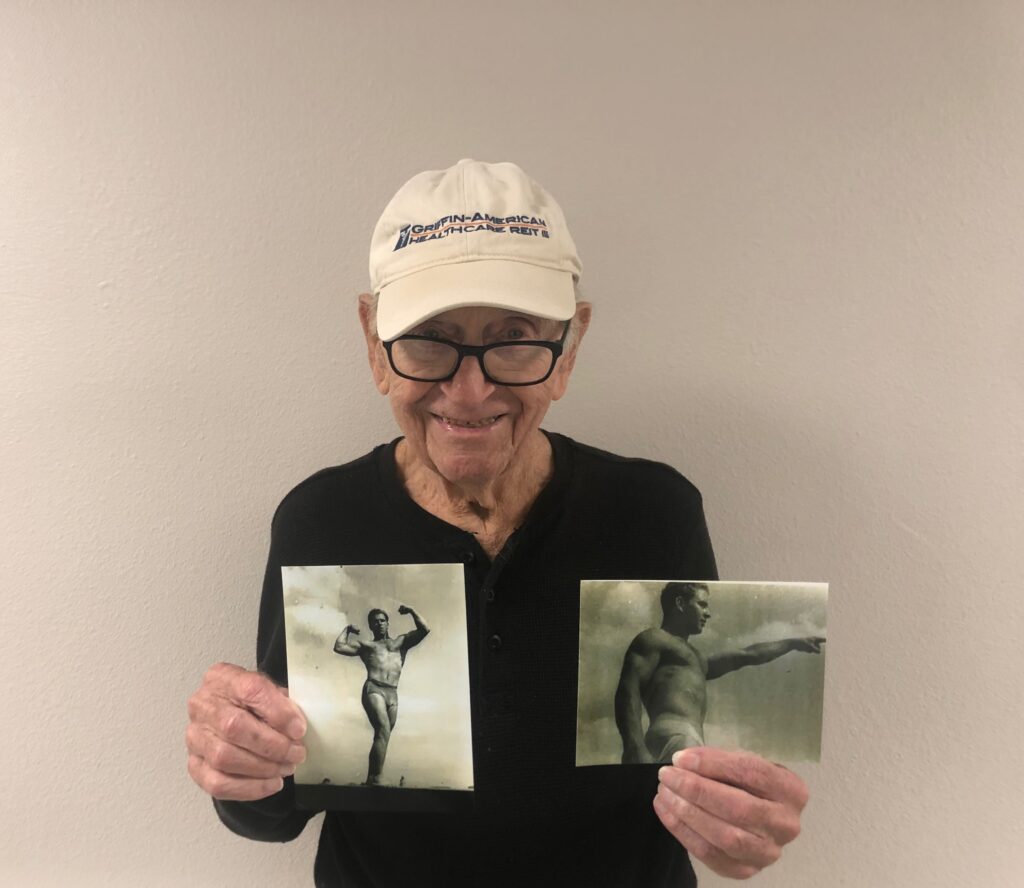 Bob enjoyed bodybuilding because he wanted to emulate other bodybuilders, such as John Grimek, who was a famous bodybuilder in the 1950s.
Who are his family members?
Bob was close to his large family growing up; his mother, a staunch Catholic, had eight children in nine years! Bob is the third oldest among five boys and three girls. The only sibling still living is his sister Kathleen who lives in Arizona. "We loved each other," Bob said about his big family.
Bob has lived in the New Orleans area his entire life. He went to Fourchette High School where he played football.
The story of how Bob met  his wife, Natalie, is amusing; Natalie originally dated Bob's younger brother Calvin! Calvin told Bob he wanted him to meet Natalie, and while he was hesitant to go out anywhere, when he saw Natalie for the first time he was floored. "She was the best-looking woman you ever laid eyes on," says Bob. "She hated me at first."
However, Bob could tell that Calvin and Natalie were not meant for each other, and he began talking to Natalie on the telephone. One day she asked Bob to come to the dance hall with her and Calvin, and over time Bob was able to steal her away. "That was it from there," says Bob. There was no bad blood in the family, though; Calvin was Bob's Best Man at his wedding, and Natalie later became best friends with Calvin's wife! Funnily enough, Bob married Natalie the day after she graduated from high school, when she was 17 and he was 21!
Bob had three children: Robin, Roberta, and Robert. Sadly, Bob lost his oldest daughter Robin to a pulmonary embolism. Robin's death shocked Bob's wife Natalie, and she passed away from the same medical issue 30 days later.
What did he do for work?
In his professional life, Bob owned Marrero Furniture Company. One location was in Aurora, LA. and the other in Covington, LA.
Does he have any pets?
Bob misses his family members who have passed over the years. Despite some of his losses, Bob gained a four-legged best friend: his dog Emma. "Now, Emma," says Bob, "I'm madly in love with her. She's a Catahoula-Australian Shepherd mix."
Now seven years old, Emma was adopted by Bob when she was a year and a half old. Emma had been mistreated; she had chain marks around her neck and had been beaten. "It's a pleasure taking care of Emma," says Bob. Emma is often spotted with Bob when he walks her in the courtyard, and she is quite popular with Laketown's associates and other residents.
How else does he spend his time at Laketown Village?
Like the rest of the Laketown Village community, Bob is a Saints fan. "Everybody is a football fan here," said Bob. Bob's trademark at Laketown Village is making jambalaya. Cindy Rooney, the Sales Director, says you can smell the jambalaya all throughout the floor.
Bob loves dancing. He said, "In those days we called it jitterbug. I just like to move around."
About COVID, Bob had the following to say: "That's rough. We're lucky here though. We have a courtyard we can go outside in. I can bring my dog out there."
Bob moved to Laketown Village about a year ago. "I like everything about Laketown Village. By and large, I like the whole package. Cindy is terrific. She will take care of anything."
Contact our team today
to visit Bob at Laketown Village! Please be advised that we are practicing COVID-19 safety protocols with required face coverings and social distancing.