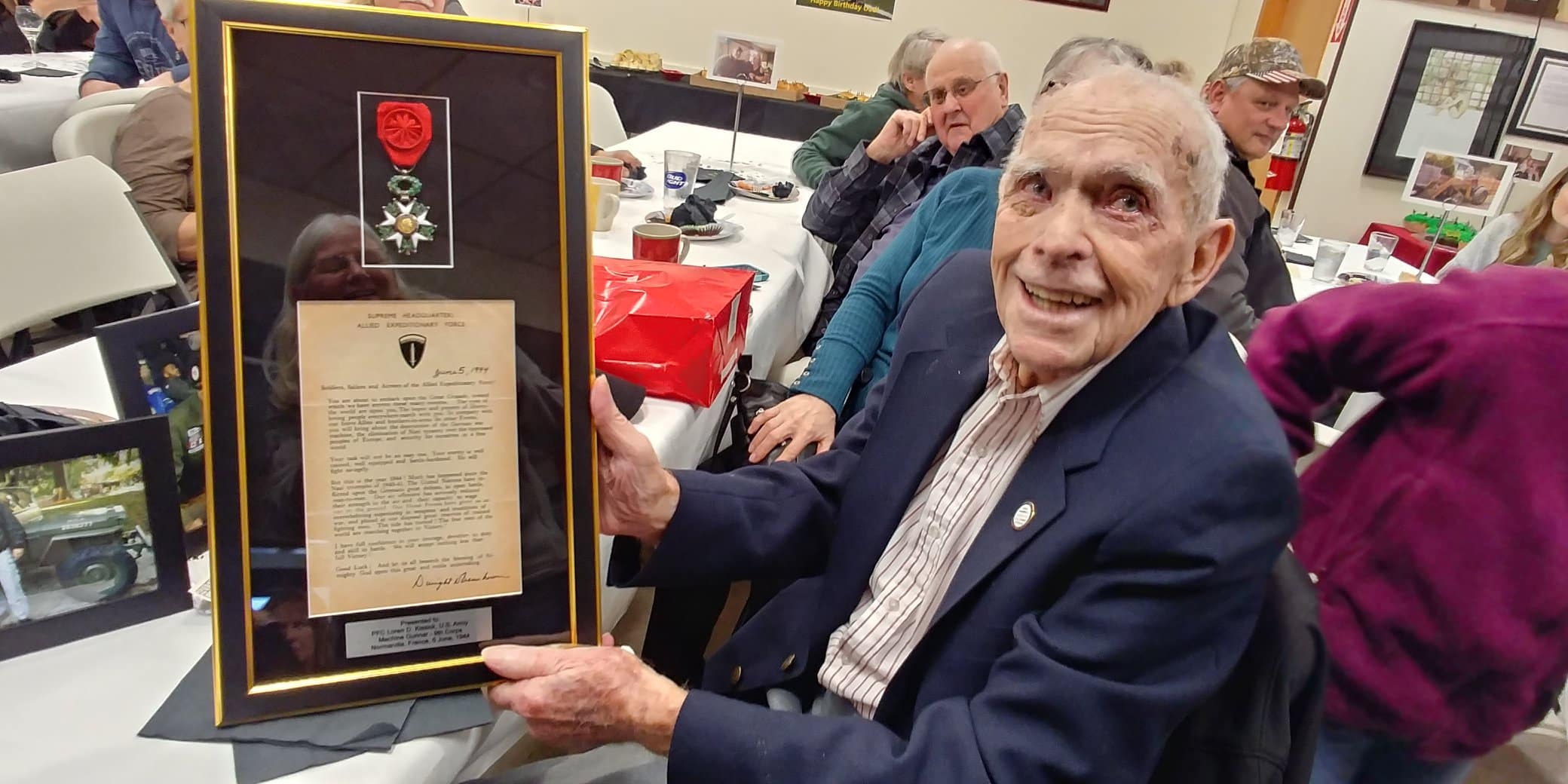 Loren Kissick is receiving recognition for his remarkable service and sacrifices in France during WWII. On January 25, Loren received the French Medal of Honor by Cmdr. Rand H. Wintermute, U.S. Coast Guard Ret., and a member of the French Foreign Legion.
The French Legion of Honor is an order of distinction first established by Napoleon Bonaparte in May 1802. It is the highest decoration bestowed in France and is divided into five categories: Chevalier (Knight), Officier (Officer), Commandeur (Commander), Grand Officier (Grand Officer) and Grand Croix (Grand Cross). Foreign nationals who have served France or the ideals it upholds may receive a distinction from the Legion of Honor. American recipients include Generals Dwight D. Eisenhower and Douglas MacArthur, Admiral Michael Mullen, and even, as an institution, the United States Military Academy at West Point.
American veterans who risked their lives during World War II and who fought on French territory qualify to be decorated as Knights of the Legion of Honor. Veterans must have fought in one of the four main campaigns of the Liberation of France: Normandy, Provence, Ardennes, or Northern France. Loren landed on the second wave on Omaha Beach on D-Day (June 6, 1944). He was a machine gunner on an M3 half-track personnel carrier. He served with the 9th Corps in the U.S. First Army under Gen. Omar Bradley on D-Day before his reassignment to Gen. George Patton's Third Army, which later became famous for its participation in the Battle of the Bulge — of which Loren is also a veteran. He fought in all five major battles of the war.
Loren recently turned 95 on January 15. His family and retirement community, The Rivers at Puyallup, are so proud of his recognition!