As we age, our needs change. That's why it's important to have a range of senior care services available. Living with the convenience of personalized care would be ideal.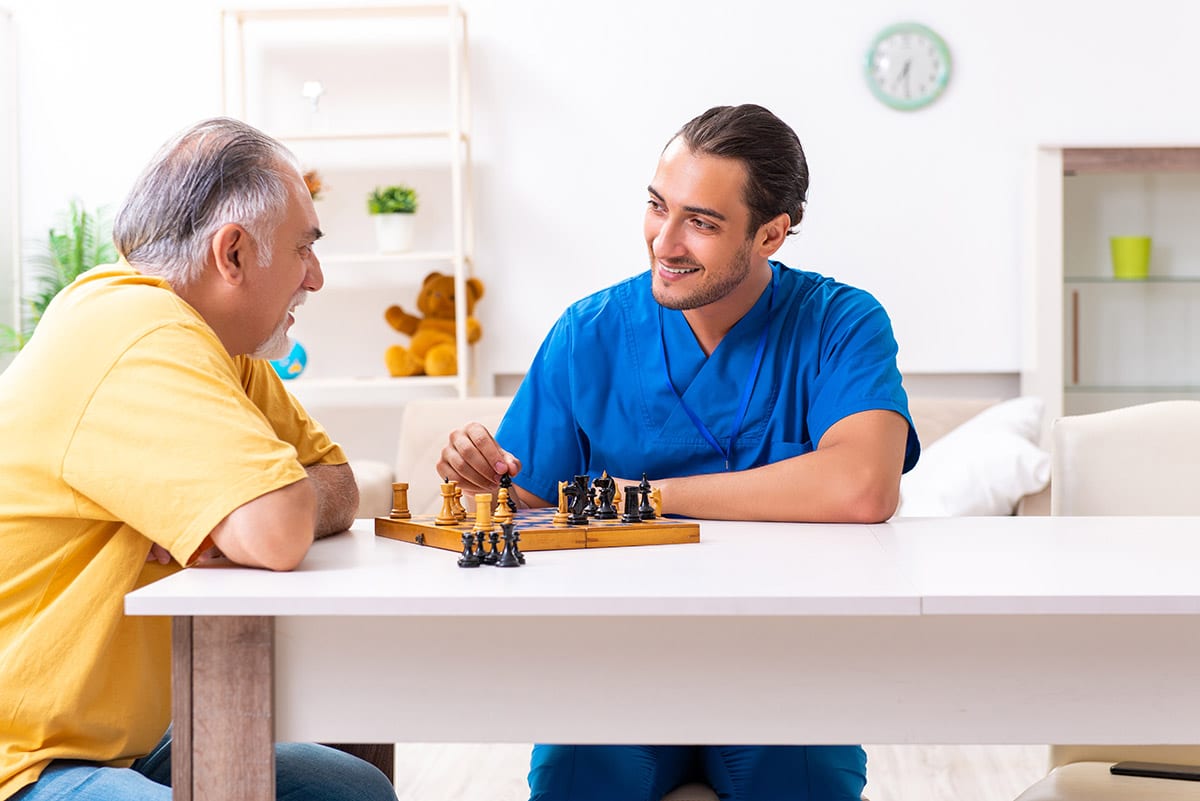 The Courtyards at Mountain View is proud to provide three levels of senior care services in Denver, Colorado:
Independent living
Assisted living
Memory care
When most people think of senior care, they think of a nursing home. However, there is a much wider range of elderly care services available. Let's explore the options for senior assistance in the Rocky Mountain region.
Options for Senior Living Communities in Colorado
Independent Living
Retirees can start aging in place with independent living. This level of care is ideal for retirees who are self-reliant but would like to live with peace of mind. Assistive services include cooking, cleaning, and transportation.
Independent living communities typically offer a wide range of amenities and social activities to keep residents engaged and active.
The Benefits of Independent Living at The Courtyards at Mountain View
Independent living seniors can experience the ultimate freedom in retirement. The Courtyards at Mountain View residents don't have to worry about bothersome chores. Our residents also enjoy endless social activities and wellness programming.
Older adults in our community enjoy:
Pet-friendly apartments and studios
Fully equipped kitchens
Housekeeping, transportation, and maintenance
Paved walking paths and on-site fitness center
Private outdoor courtyard
Assisted Living
This service is perfect for seniors who need help with tasks like bathing, dressing, and managing medications. This support allows residents to live independently.
Assisted living communities typically provide 24-hour supervision and access to skilled nursing care should the need arise.
The Benefits of Assisted Living at The Courtyards at Mountain View
Seniors living in Colorado can extend their level of independence with our assisted living services. Personalized care services are available while living in a spacious private residence.
The benefits of assisted living are supported by:
Individualized care plans
Medication management
Activities of daily living assistance
On-site physical, occupational, and speech therapy
Three daily chef-prepared meals
Memory Care
Memory care is specialized support for seniors with Alzheimer's or other forms of dementia. These communities offer a secure environment with staff trained in dealing with cognitive impairments. They also provide structured activities and therapies designed to improve the quality of life for residents.
The Benefits of Memory Care at The Courtyards at Mountain View
Connections is the signature data-based program for dementia care in our community. The program is inspired by Dr. Sandra Petersen and treats memory loss by keeping residents active and engaged.
Each memory care team member receives specialized training to meet the needs of seniors with Alzheimer's and dementia. Team members also lead mind-enhancing activities.
The foundations of the Connections program:
Engaging the Emotions: Art projects and social activities encourage creative thinking.
Encouraging Movement: Dementia-friendly exercises promote brain neuroplasticity.
Challenging the Brain: Activities like puzzles and trivia keep the mind in motion.
Supporting Socialization: Compassionate caregivers create a welcoming environment for older adults to continue forming relationships.
Additional Senior Care Services in Denver
There are many ways for older adults to receive care in the Mile High City. Independent living, assisted living, and memory care offers a lot of built-value in addition to providing long-term care. However, it's important to know your options.
Home Care Services
Most people would prefer to age in the comfort of their own homes. For some, that is possible with the help of medical home care. Services can be managed by a care coordinator and may include anything from homemaking tasks to medical care.
Because medical home care is more comprehensive than what most people can do on their own, it is also more expensive.
According to the 2021 Genworth Cost of Care Survey, full-time home care in Colorado averages $6,387 per month. Assisted living is around $4,750 per month.
Nursing Homes
For those who need more comprehensive care, there are nursing homes. Nursing homes provide round-the-clock medical care and other assistance, such as help with eating or bathing.
Nursing homes are usually more expensive than medical home care. They can be cheaper than hiring someone to provide 24-hour home care. Expect a Denver nursing home to cost about $10,053 per month.
Senior Day Programs
Another option for seniors is a senior day center. Senior day centers provide a wide range of activities and services designed to meet the needs of older adults. These centers offer social activities, educational opportunities, and occasional transportation services.
Day centers are usually less expensive than other services. However, they may not provide the level of medical care that some seniors need. Senior day programs in Denver cost $2,275 per month.
Visit The Courtyards at Mountain View for Comprehensive Senior Care Services
The Courtyards at Mountain View offers three levels of senior care to meet the needs of older adults in Colorado.
If you or your loved one's level of needed care changes as they age, we are here to help. Contact us today to learn more about our comprehensive senior care services.