Seniors recall fond memories and socialize with like-minded folks
We encourage seniors to take part in a variety of enriching endeavors at Dunwoody Place, a  Personal Care Home and Independent Living community in Atlanta, GA.
Why is it important for seniors to engage in fun activities with their peers?
Without enjoying social interactions, seniors may become lonely and experience a decline in their mental health. Because Dunwoody Place associates had known their residents would be at a higher risk for these issues during the COVID-19 pandemic, they successfully planned entertaining projects for our seniors while following protective protocols.
How are seniors reminiscing about their past?
Reminiscing is different from remembering; it involves speaking about one's happiest memories at his or her leisure. We appreciate when our residents speak about their positive past experiences to us, to others, and to our online audience! Our residents reminisced about their first plane rides for a video we shared on Facebook. One has flown from Memphis, Tennessee to California; after arriving near the coast, he took a ship to Korea. He also looks back fondly at his memory of flying to Jerusalem, Israel with his wife.
Another resident had boarded a Pan Am plane to immigrate from Cuba to America; before her landing, she was fascinated by the view from above. When she arrived, her flight attendant told the passengers that President Kennedy welcomed them all, and they all cried tears of joy.
Mrs. Marsha had been a social studies school teacher before she retired. In her own video, she happily speaks about how her second-grade teacher had allowed her to pass out papers and erase the board. That was the moment when she decided to be a teacher herself. Once Mrs. Marsha led her own classroom, she did not assign homework but loved seeing her students learn during many intensive group projects. She also enjoyed seeing her own name on the door!
Mrs. Mitzi celebrated her 100th birthday in September. "Daddy called me Little Mother," she laughs, "because my older sister was not particularly mature!" The centenarian had five siblings who all led great lives and stayed in touch as they grew older, Mrs. Mitzi recalls. She also shared a vivid vacation memory in which her entire family went to Carolina Beach and stayed at an extravagant house by the water.
If you want to encourage a senior you love to reminisce, here are a few tips suggested by
Daily Caring
:
| | |
| --- | --- |
| Do | Don't |
| Choose a quiet place at your loved one's favorite time of day | Choose a public place where the senior cannot see or hear you well |
| Allow the senior to share whatever positive memories surface | Ask that person to remember something specific, or even anything at all |
| Respond with empathy if he or she speaks about negative experiences, but ask other questions about what the senior had enjoyed | Encourage him or her to dwell on negative memories |
If you keep these guidelines in mind, we know you and your favorite senior will have enjoyable discussions together!
How do we celebrate special occasions?
While wearing a pink tiara with the number 100 to celebrate her birthday, Mrs. Mitzi received a warm welcome from loved ones and our associates as they sang "Happy Birthday" when she arrived at Dunwoody Place after a trip outside of the community. She was incredibly honored by the special gesture.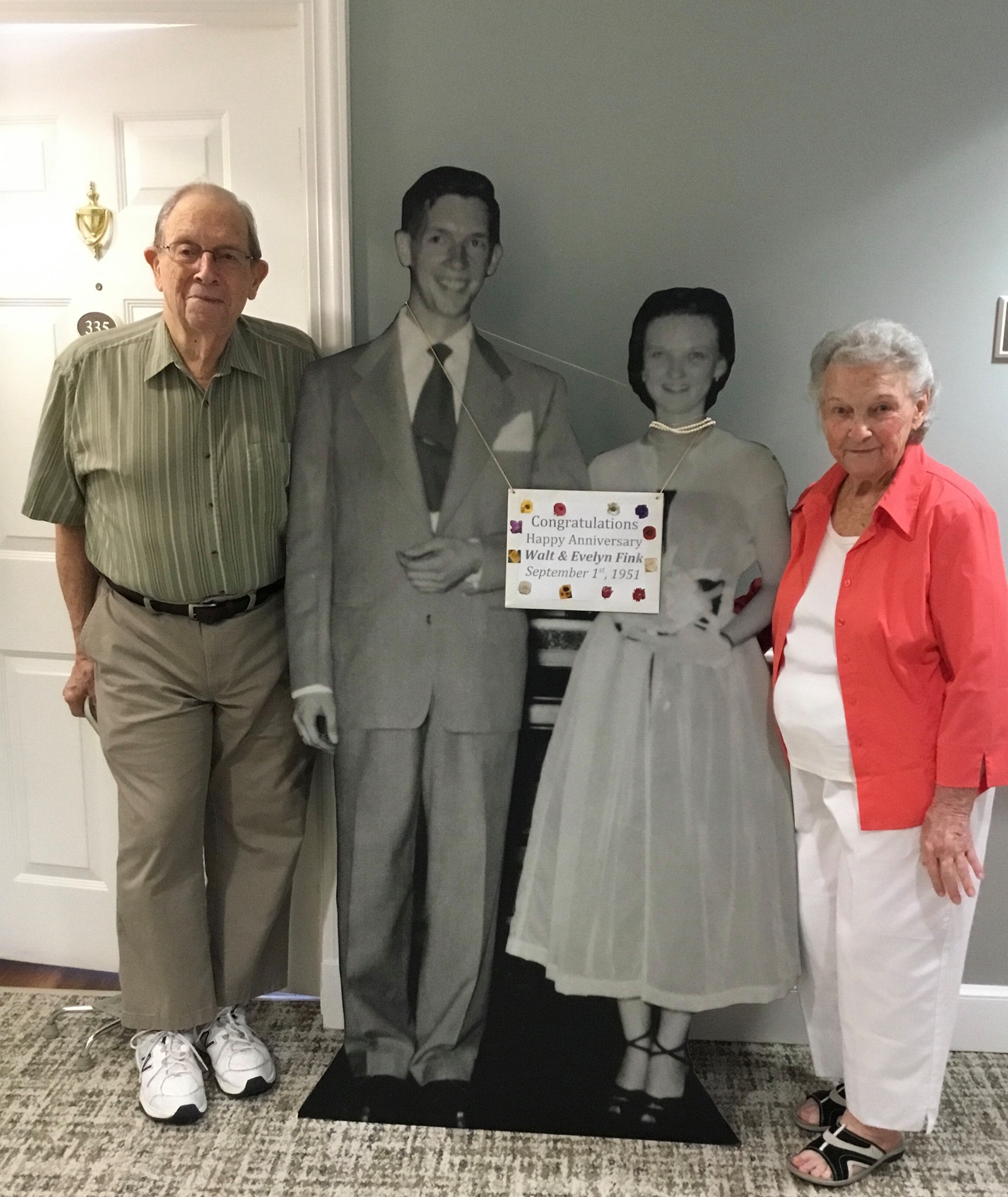 The Finks are a couple who recently celebrated their 69th wedding anniversary. Our creative team attached a handmade congratulatory sign to black-and-white, life-size cutouts of their pictures from an old photo of them at their wedding. We are so proud of their continued dedication to one another!
What kinds of games do residents like to play?
Dunwoody Place residents enjoy playing bingo in our courtyard and were excited for the Bingo Store that opened on September 30, 2020. In our Golden Girls Bingo club, seniors can socialize while playing bingo and eating cheesecake–and best of all, as participant Robert White can confirm, it's not just for women!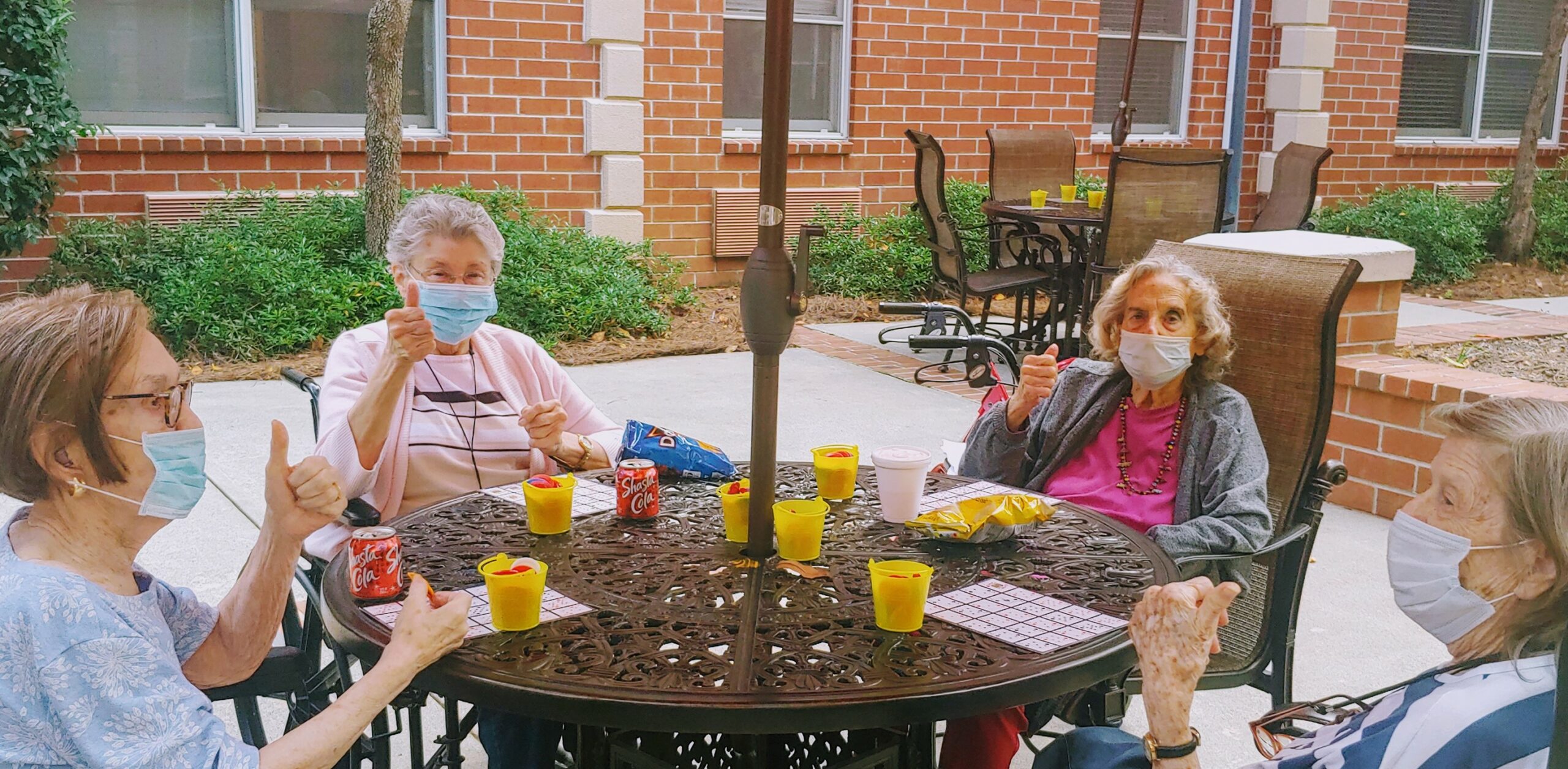 More popular games include trivia and make-a-word, among other engaging pastimes. Whichever one they choose, we know they are keeping their minds active while having fun.
Want to hear live music? Come to Dunwoody!
Our seniors were amazed as they watched two talented musicians, The Class Act Band, perform popular classics at our outdoor entrance. They used a wide range of instruments and sang enthusiastically to an ever-changing beat. There is always a new form of entertainment at Dunwoody Place!
Like our many adventurous and optimistic seniors, we hope you and your loved ones have the opportunity to thrive during the most challenging times. By offering opportunities to reminisce, play games, celebrate, and dance along to dynamic music, we provide an extraordinary senior living experience in the Atlanta area.
Does Dunwoody Place sound like a great place for you or someone you know?

Please
contact us
to get in touch with one of our helpful associates.