Are you looking for the perfect retirement community? Do you need help caring for a loved one?
When looking for the best senior care services, finding a place that feels like home while offering a personalized level of care is ideal.
Gig Harbor Court is a Washington state assisted living community for seniors who want to live their way. We make life simple and pleasant for our residents by providing them with new friends, exciting activities, and person-centered care.
Imagine yourself or a loved one spending days surrounded by new friends and exciting activities. That's what older adults expect in our senior living community. We offer residents a variety of social events and activities, so they can always stay busy and entertained.
You can rest easy knowing that your loved one is in good hands at Gig Harbor Court. Our staff is passionate about providing top-quality care to residents, and we work hard to ensure everyone feels comfortable and happy here.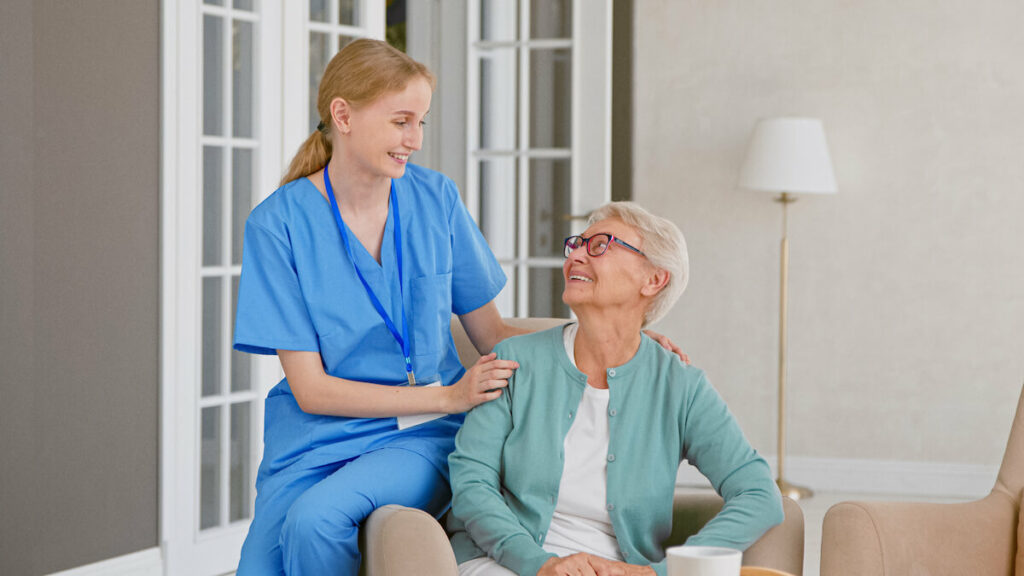 What are the advantages of assisted living in Washington?
Gig Harbor Court is located in Pierce County, WA. You'll find our senior apartment community between Carr Inlet and Puget Sound. Residents have the pleasure of relaxing in the tranquil courtyard or diving deeper into nearby nature with community-provided transportation.
Some of the nearby attractions include:
Sunrise Beach Park
Grandview Forest Park
Gig Harbor Viewpoint
Living amongst the beauty of nature is a significant benefit of assisted living at Gig Harbor. A relationship with nature is a positive force for "maintaining and enhancing the physical and mental health and wellbeing in older populations."
In addition to community outings, activities like the gardening club allow residents to feel connected to the outdoors. Washington is a beautiful state, and we encourage older adults to soak it up.
What's the difference between home health care and a long-term care facility?
Home care assistance can be one option families consider for an aging adult. According to Medicare, home care services might include:
Nutrition planning and preparation
Vital checks: blood pressure, temperature, heart rate
Medication management
Pain management
Supervising the home
Providing future care instructions
Coordinating care with the patient, doctor, care managers, and adult family members
A hospital stay and doctor's orders are needed to qualify for Medicare assistance for in-home care or skilled nursing home care.
The cost of home care agencies' services without insurance coverage is similar to an assisted living community. Senior housing like Gig Harbor Court also has a lot more to offer.
The average cost of assisted living in Washington: $4,500/month
The average cost of a Home Health Aide (44 hours/week) in Washington: $5,148/month
Senior living at Gig Harbor Court starts at $3,703/month
Assisted living is a type of long-term care. Superior senior service at Gig Harbor Court includes:
Licensed nurse supervision
Bathing, dressing, and grooming
Dining assistance
Mobility assistance
Transportation to medical appointments
On-site physical, occupational, and speech therapy
Personal care and 24-hour response are significant benefits of assisted living. Socialization, chef-prepared meals, and engaging activities also improve senior care service.
Gig Harbor Court: Senior Living in the State of Washington
Our team members make a difference at Gig Harbor Court. Their passion for making assisted living feel like home is incredible.
Chef Rahfiki is a shining star in our community. In addition to being an award-winning cook, you'll see him leading a drum exercise and making residents smile. He is passionate about cooking and loves sharing his knowledge with others.
He strongly advocates for healthy eating and strives to create nutritious and delicious meals. Our Dining Service Director is inspiring to all who know him, and we are lucky to have him as part of our team.
Residents also have a lot to look forward to beyond the dining room experience. Our activity calendar is carefully curated each month to include activities and events for every lifestyle.
Our community is recognized as a SeniorAdvisor.com Best of Assisted Living award winner and a certified Great Place to Work®.
Find the Best Senior Care Services Near You
Contact us to arrange a tour of personalized senior living that feels like home. Take our survey for a special treat!