Colorado is the most active state in the country. We are a lively bunch, from exploring the outdoors to cheering on the Broncos and grooving at Red Rocks. You shouldn't have to slow down after retirement, which is why independent living at The Courtyards at Mountain View in Denver is how you can maintain your active lifestyle.
What is independent living in Denver like?
The Courtyards at Mountain View provides carefree independent living for adults 55 and older. It's far from a nursing home or even assisted living (although we offer this service later down the road for peace of mind and aging in place). It's simply a community that takes care of the cooking and chores to leave you more time to do what you want.
We provide services that let you enjoy time with your friends and soak up the Colorado sunshine. Explore the city on your own or use our transportation services and activity calendar to find some fun.
How can you stay active as an independent living senior in Denver?
The Courtyards at Mountain View sits a few miles east of downtown Denver off of Cherry Creek. With an emphasis on activity and socialization, independent living with us is a way to stay engaged with the community.
Going out to lunch at local burger joints, Mexican eateries, and eateries with plant-based options
Enjoying happy hour with live entertainment and local craft beer tastings
Playing lawn games in our large backyard
Walking along the High Line Canal to the historic Fairmount Cemetery
Rooting extra hard for the Rockies, who need all the cheers they can get right now
As a 55-plus community in Denver, we love to contribute to the greater good in the area. Find us making blankets for our neighbors at the Dumb Friends League, a local animal shelter, from time to time. We welcome pets, and it's not hard to find a furry friend to love over there. We learn about regional horticulture in our flower pressing activities and invite local artists over for concerts on the patio.
Check out our calendar for daily activities.
Are 55-plus communities and independent living different?
Not necessarily, but we do offer more services for the senior experience in our community. The Courtyards at Mountain View offers spacious apartments you won't have to worry about keeping up. Our housekeeping service can take care of the heavy chores and linens, and our maintenance team can fix any other problems. With year-round service, there's no need to shovel snow or rake leaves.
If any problems do arise, take advantage of our emergency pendent service and 24-hour staff assistance. We have covered parking options to protect your vehicle from storm damage or use our transportation services to get around. There's no need to stress over surprise bills as your monthly rent includes basic utilities. We're here to provide all the services you need so you can relax.
What amenities are available at The Courtyards at Mountain View?
Benefits
Examples
Dining

Three chef-prepared meals a day
Independent living kitchens when you want to cook for yourself
Happy hours, parties, and activities always include treats

Feeling good and  looking good

State-of-the-art fitness center open 24/7
On-site beauty salon and barbershop
On-site physical, occupational, and speech therapy

Staying connected and supplied

Country store
Library and computer center
Wi-fi access in common areas

Relaxing

Community fireplace
Outdoor lounge area, grills, and walking paths
Private dining room
24/7 concierge services
What features do independent living apartments have?
Because of Denver's plentiful sunshine, our apartments feature large windows to let in as much light as possible.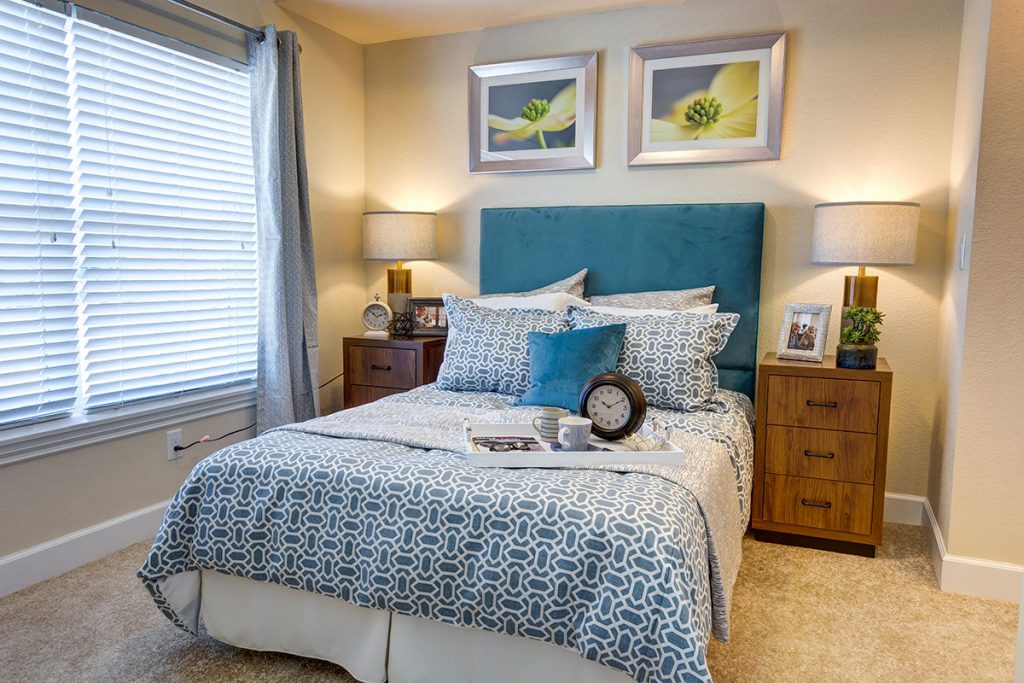 Some layouts feature multiple bathrooms, dens, and patios to make you extra comfortable and cozy. All living spaces are accessible for folks who are over 55.
Stacked washer and dryer
Fully equipped kitchens
Wood-style plank flooring
Modern fixtures
Walk-in showers
Soaring 9-foot ceilings
Why choose independent living in Denver?
Staying active and engaged is vital to a long life. Joining a community like The Courtyards at Mountain View is the perfect opportunity to start new hobbies or hone in on ones you already have. Our activity schedule is to provide you with entertainment and socializing if you want to participate. We're always keen to learn new activities to introduce to the community. Let us know if you have any ideas.
We are centrally located in Denver for easy access to enjoy our happening city. The Courtyards at Mountain View also offers assisted living and memory care services, should you ever need them in the future. We do all of this because we're local, we're passionate, and because we care. Stay active with us and enjoy your life.
Connect with us to take a tour of The Courtyards at Mountain View and follow us on Facebook to see what kind of fun we're having.