Where should your loved one receive care? Deciding can feel overwhelming and impossible with so many options available. Should loved ones stay at home or try other senior care options?
Adult day care and senior assisted living in Atlanta are two popular options promoting independence for older adults. Personal care is another option for seniors who want to stay social and feel supported. It is also a cost-effective option.
Continue reading to learn more about the cost and benefits of senior care options in Georgia.
Adult Day Care in Atlanta
Adult day care is a type of short-term care that provides seniors with socialization and supervision during the day. Adult day care centers are typically open during regular business hours, Monday through Friday. Senior centers are one version of this service for more social and independent older adults.
Senior day centers are ideal for seniors living alone or with family members working during the day. They also offer an option for caregivers who need respite.
Adult day care centers typically offer a variety of activities, such as arts and crafts, games, and outings. Seniors attending adult day care can also receive basic health services like medication reminders and health monitoring.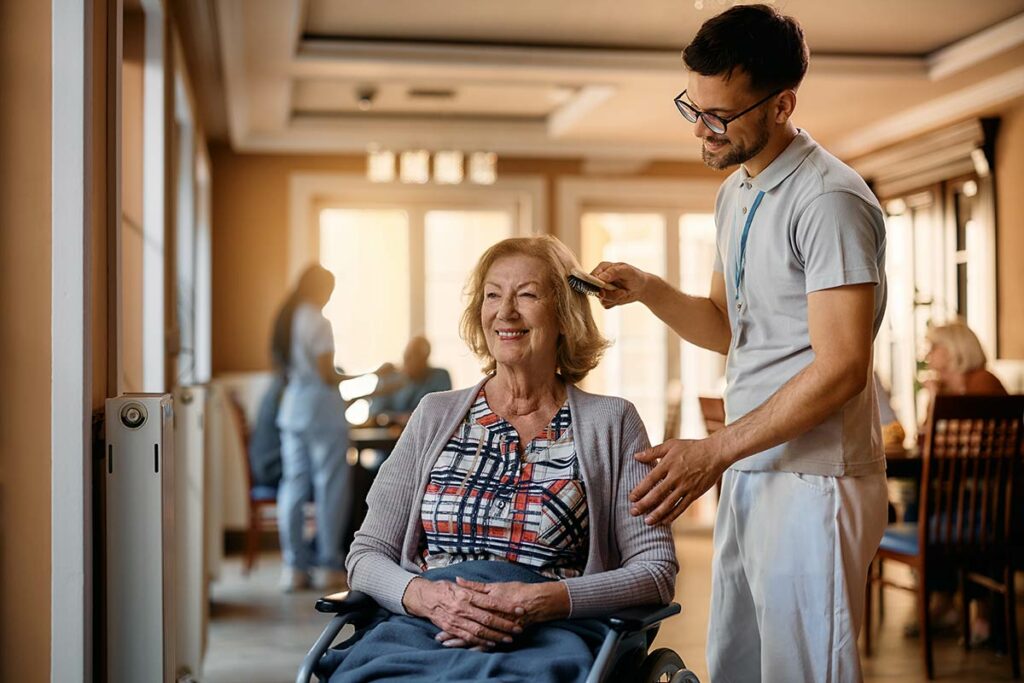 Assisted Living in Georgia
Assisted living is a type of long-term care that provides senior housing, hygiene services, and 24-hour supervision. Assisted living facilities are designed to meet the needs of seniors who need help with activities of daily living but do not require the level of care provided in a nursing home.
Services typically offered in an assisted living facility include help with:
Bathing
Dressing
Eating
Mobility assistance
Using the restroom
Most assisted living facilities also offer medication assistance, transportation services, and access to on-site health professionals. A variety of activities help seniors stay physically and mentally fit.
Personal Care Homes
Personal care homes are similar to assisted living facilities:
They offer senior housing
They provide personal care assistance
They support most activities of daily living
They offer 24-hour supervision
There is access to on-site health professionals
However, personal care homes are typically smaller than assisted living communities. Often they have a more home-like atmosphere. A personal care home offers more services than independent living. It's an excellent choice for seniors who do not require skilled nursing care or memory care.
Socialization and community bonds are the advantages of personal care homes. Loved ones can enjoy retirement in the company of like-minded adults who want to live independent lifestyles.
How much is assisted living in Georgia?
The average cost of assisted living in Georgia is $3,535 per month. Senior living prices fluctuate due to location and level of care. Assisted living in Atlanta averages $3,845 per month, while similar services in Athens are around $4,184. However, that is only one senior living option.
Older adults who want to save money on assisted living can find a cost-effective option in a personal care home. These communities provide individualized assistance but not a high level of medical care.
Full-time home care in Atlanta can cost more than personal care and assisted living. Homemaker or health aide services can cost $4,290 to $4,576 per month. Personal care homes offer 24-hour supervision, meals, valuable socialization, and more.
Personal Care Homes in Northern Atlanta
At Dunwoody Place, our team ensures each resident can live the life they want. Our senior living community creates an environment where older adults become active members of an inclusive atmosphere.
Keeping seniors active and engaged is good for their health. Older adults who regularly socialize are less likely to develop dementia. Our personal care community includes an expansive activities calendar that gives residents options to stay fit and friendly.
We also provide pet-friendly senior apartments. The floor plan options are modern and spacious. Imagine your loved one living with these benefits:
Modern flooring and fixtures
Walk-in showers
Grab bars
Bright natural light
Housekeeping and maintenance services
Consider individual needs and preferences if you're considering senior living options for a loved one. Adult day care is an excellent form of short-term care. Assisted living is recommended for seniors who need extended support but not nursing home care.
Personal care homes can save on assisted living costs and keep loved ones social and engaged. There are many senior living options in Atlanta, Georgia to meet the needs of many lifestyles. Take a tour of our community and experience it in person.
Tour a Personal Care Home in Atlanta
Contact us at Dunwoody Place to see social and supportive senior living in person. We can't wait to show you the advantages of our newly renovated community.