If your family member has been diagnosed with Alzheimer's disease, finding the right care can seem overwhelming. Understanding the goals of Alzheimer's treatment is easier when you are more informed about the signs and symptoms. Pegasus Senior Living VP of Health and Wellness, Dr. Sandra Petersen shares her expertise.
What causes Alzheimer's disease?
There are a wide variety of theories as to what actually causes Alzheimer's Disease. The most likely factors include a combination of age-related changes in the brain, along with genetic, environmental, and lifestyle factors. The importance of any one of these factors in increasing or decreasing the risk of Alzheimer's disease may differ vastly from one person to another.
How can I learn more about Alzheimer's stages and timeline of its progression?
Memory loss is among the first symptoms reported by those with Alzheimer's disease and their caregivers. Working memory and long-term declarative memory are affected early in the progression of the disease, producing an individualized pattern of impaired memory functions.
Trouble understanding visual images and spatial relations.
Having more difficulty with balance or judging distance, tripping over things at home, or spilling or dropping things more often can be a sign. Deteriorating depth perception, as Alzheimer's progresses, often results in the inability to judge distance or perceive and interpret visual images correctly and ultimately results in loss of function.
Trouble with word-finding
New problems with words in speaking or writing; having trouble following or joining a conversation, or struggling to find a word (ie. saying "the thing on your wrist that tells time" instead of "watch") is not uncommon in Alzheimer's disease. As neural pathways deteriorate, the ability to communicate through the spoken word becomes greatly impaired.
Misplacing things
Misplacing items and losing the ability to retrace steps, placing car keys in the washer or dryer, or even perceiving that items have been "stolen" (when they have been actually misplaced), are part of the disease process in Alzheimer's.
What is the best treatment for Alzheimer's?
Whispering Winds of Apple Valley's new Connections program is a unique, research-based memory care program designed to help senior residents with Alzheimer's or other forms of dementia lead a stimulating life. The program offers a secure environment, a committed and caring team, and a variety of activities designed to fit the unique needs of those living with cognitive decline.
The program was designed by Dr. Sandra Petersen, who used her extensive background in memory care as well as her own experience with successful neuroplasticity treatments to develop a unique approach to care.
Residents participate in activities that involve music, aromatherapy, art, and movement to engage the mind and body. New and varied activities help stimulate the brain and build new neural pathways.
"By providing 24-hour neuroplasticity programming along with a combination of therapy and engaging activities, Pegasus' Connections Memory Care program creates a supportive space for individuals living with dementia and their families." – Dr. Petersen
Connections works to stimulate the mind through:
Word games
Recall/reminiscence therapy
Book club
Storytime
A diet full of brain-healthy foods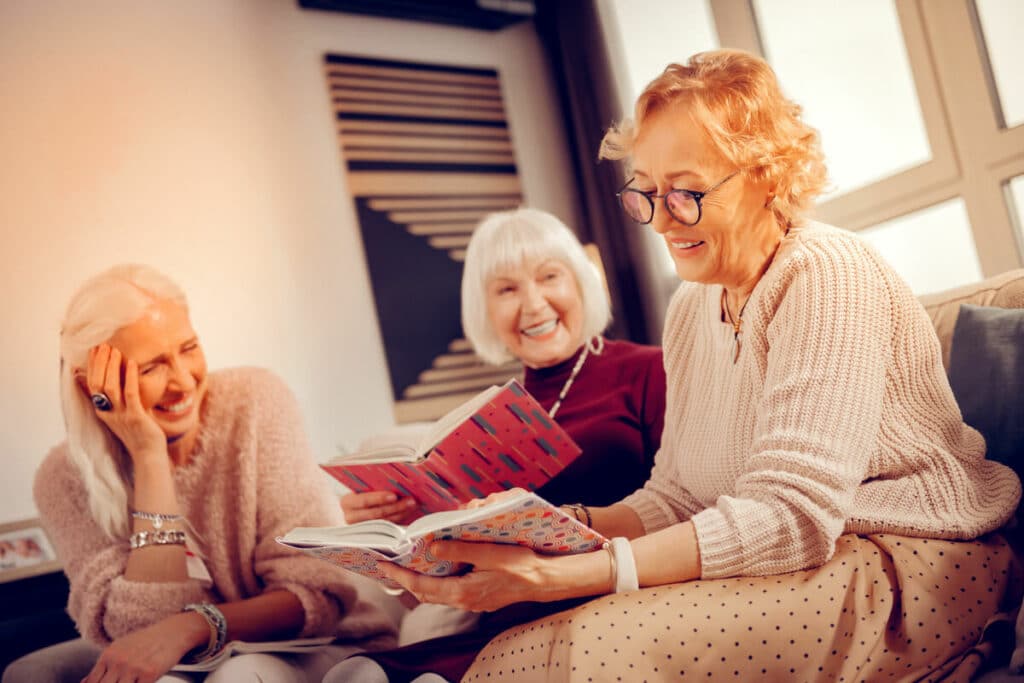 Residents also engage their emotions and bodies through:
Aromatherapy to decrease agitation
SingFit, a program shown to elevate mood and improve speech through singing classic songs
Boxing, walking clubs, and other fitness programs
If your loved one is living with Alzheimer's or another form of dementia, being informed about their condition is the first step. Learning more about their condition will help you understand the goals of Alzheimer's treatment. At Whispering Winds of Apple Valley, seniors receive expert care in a warm, secure environment that meets their needs.
Learn more about our unique, effective approach to memory care.
Find the customized care your loved one deserves at Whispering Winds of Apple Valley. Contact us today to find relief in experience-based treatment with the Connections program.