Deciding what type of living arrangement an aging loved one needs can be challenging and requires careful consideration. It is important to understand the different types of senior living facilities available, such as:
Board and care homes in Fairfield, CA
Residential care homes for seniors
In-home care or homemaker services
Board and Care Homes
A board and care home is a smaller residential living community that operates out of a house or small-scale facility, usually one licensed to house 6 to 10 residents. These homes offer personalized care in a family-like setting, making them an ideal option for seniors who require individualized attention and a more intimate environment.
Board and care homes offer a homely ambiance and a sense of togetherness, which is perfect for seniors who may feel overwhelmed in larger facilities. The AARP notes these types of communities are licensed under at least 30 different names, including:
Adult family homes
Green housing
Residential assisted living
This form of senior living offers an option much like renting a room in a house full of like-minded individuals. Residents can form close bonds with their staff and housemates. Sometimes staff members will also live in the community.
Seniors who choose this type of housing can receive many of the same social and physical benefits. However, these homes are limited in the amenities they can offer residents.
Residential Care Homes
Residential care communities are also similar to board and care homes in terms of the personalized approach. Still, they operate on a bigger scale, typically housing more residents than board and care homes.
They are akin to small apartment complexes designed to accommodate seniors who can mostly take care of themselves but may require occasional assistance with some activities of daily living. Sometimes they may be referred to as boutique senior living communities.
In-Home Care
In-home care or homemaker services for seniors refer to the assistance and support provided to seniors who wish to age in place where they already live. This type of care involves a caregiver who visits the senior's home to provide support with daily activities such as bathing, grooming, dressing, meal preparation, medication reminders, and light housekeeping.
Homemaker services allow seniors to continue living independently in their homes while receiving the necessary support to help them remain safe, healthy, and comfortable.
In comparison to residential living, in-home care allows seniors to maintain their independence and continue living in their familiar surroundings. The caregiver provides the necessary support and assistance that the senior may need, such as running errands or helping with transportation, which may not be available in larger senior living communities.
However, seniors who choose to age in place may find it challenging to stay socially engaged, which can lead to feelings of loneliness and isolation.
A recent study shows that one in three older adults reported feeling isolated in 2023. Loneliness can lead to a rapid decline in a senior's physical and mental health, which is why social engagement is crucial for seniors. In-home caregivers can provide companionship and social interaction, but it may not be enough to prevent loneliness, especially for seniors with mobility issues.
The level of home care needed could cost more than an assisted living community. A caregiver who visits around 40 hours per week costs about $71,496 per year in the Fairfield area. Seniors living at home will also have to pay for groceries and all the other expenses that come with owning a home.
Assisted living near Fairfield, California costs an annual average of $59,400. That cost comes in one monthly bill and includes everything a senior needs to live well.
Assisted Living Communities
Larger assisted living communities offer a wealth of benefits and amenities, such as:
Social activities
Housekeeping
Transportation
Dining services
They allow senior residents to live independently in their own apartments or private rooms while having access to essential services that support their daily activities. The experience at a larger facility is akin to a resort-like setting, which many seniors find appealing.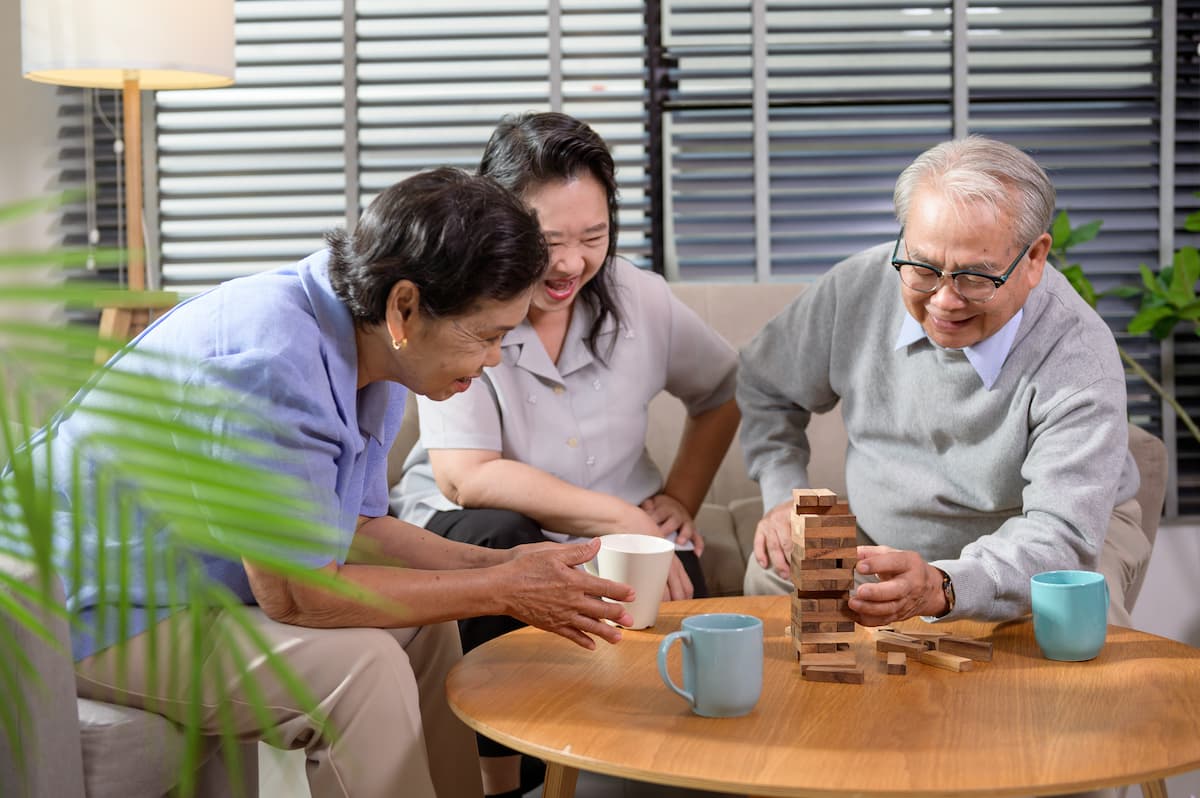 Assisted living facilities often offer seniors a deeper feeling of independence due to:
Private senior apartments
More communal space to explore
Only receiving the support and assistance they need
The option to participate in dynamic social, physical, and recreational activities
Some senior living communities offer a higher level of care. Assisted living and memory care communities can put residents at ease about future needs.
Assisted Living in Fairfield, CA
At The Village at Rancho Solano, we offer assisted living and the Connections memory care program for seniors with Alzheimer's and dementia. With a wide range of amenities and services designed to enhance every aspect of our residents' lives, our facility is an ideal choice for those needing personalized senior care in Fairfield, California.
Our community includes incredible views, impressive dining, and a vibrant social atmosphere.
Team members provide personalized care and attention to ensure peace of mind for family members and a comfortable living experience for residents.
Visit Resort-Style Senior Living in Fairfield!
Visit us today! Let us assist you in picking a suitable living setup for your loved one. Contact us to get started.