As a couple, you've accomplished so much. You've raised a family, enjoyed a rewarding career, and fallen in love. Yet, you've long since taken your vows, and for better or worse, in sickness and in health, it's till death do us part.
Marriage is one of the most significant emotional connections you can have with someone, and it is not always an easy road. One of the most considerable hardships comes as we age, and one partner's health begins to decline before the other. There may be a time when you have to consider changing your lifestyle to support your partner in that uncertainty.
How do I take care of someone with Alzheimer's or dementia?
Alzheimer's is a degenerative mental condition that is only one of the many forms of dementia. It is unpredictable, unannounced, and now seen to affect people before retirement age. Becoming a caretaker for your partner is possible, but it is admittedly strenuous.
In one woman's story of the journey of discovering her husband's experience with younger-onset Alzheimer's, the emotional unrest becomes overwhelming. A trip to the University of California, San Francisco confirmed and changed their plans for the future in an instant.
If your husband or wife is experiencing Alzheimer's, Parkinson's, or another form of dementia, consider the process of caretaking:
Managing frustration, paranoia, and confusion
Managing medications and doctor visits
Preparing meals with brain-healthy ingredients
Losing needed socialization for both of you
Providing activities that preserve brain health
Experiencing caretaker guilt
What options do I have besides being the caretaker?
In central California, Elk Grove Park provides memory care and assisted living services for this exact situation.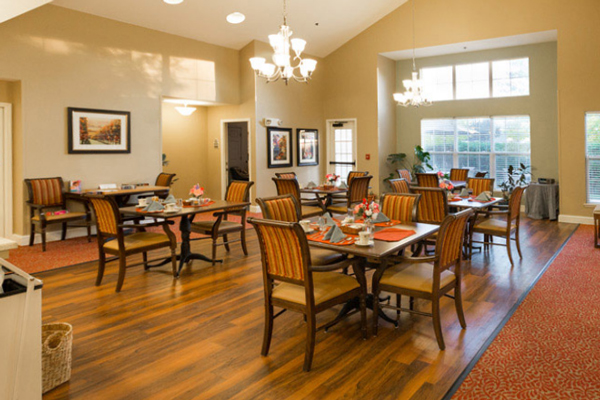 How do I talk to my partner about moving into an assisted living or memory care community?
The first step is planning for the future. If your husband or wife is in the early stages, it's essential to include them in conversations and let them know their feelings are important and considered. The ability to understand future legal, financial, and medical options can lift a huge burden. While this step is a gambit, it's imperative to the aging process.
From a first-hand account, helpful recommendations include:
Being honest about your emotional and physical well being
Acknowledging your partner's point of view
Bringing in a neutral third party into the discussion
Considering a support group in the Elk Grove area for ideas from people in similar positions
How can Elk Grove Park help my partner's experience with Alzheimer's and dementia?
Close to Sacramento, Elk Grove Park in Elk Grove, CA has long been a trusted asset for assisted living and memory care. Our community is unique by design and made up of five cottages, each housing 15 apartments. Each cottage includes a common area for socialization, but you can enjoy plenty of privacy in your own home. In addition, participating in community activities is a great way to spend time with your loved one. Our community is like a mix of hospitality and healthcare.
Environment

One-story cottage-style community
Dedicated memory care cottages
Depending on your cottage, they include a piano, aviary, and beauty salon
Intimate family-style living
Park-like outdoor area and courtyards
Pet friendly

Team

Over 50 percent of associates have contributed to the community for over a decade
A dedicated Health and Wellness Director, Health and Wellness Coordinator, and Wellness Nurse
More nurses than most communities available regularly
Strong care team and providing a higher level of care than other facilities
Research-based memory care specialists
On-site physical, occupational, and speech therapy

Amenities

Three chef-inspired meals a day
Housekeeping, bed linen, and maintenance services
Transportation service
Walking paths and community garden
Clubhouse for activities and events
Library
What is the Connections program for Alzheimer's and dementia care?
While there is currently no cure for these cognitive conditions, research is discovering new ways of preserving independence for people living with these setbacks. Our Connections program studies these findings and encourages four main goals that drive the program:
Activities like art, music, and socialization engage the emotions
Walking club and chair yoga are ways to encourage movement and maximize the quality of life
Stimulating word games and reminiscing over stories challenge the brain
From group activities to multiple common areas, we are constantly supporting socialization for all residents
Our team of associates includes registered nurses who can aid in:
Diabetic care
Incontinence care
Medication assistance, administration, and management
Dressing, bathing, and grooming assistance
Help traveling around the community
Continual monitoring of health and behavior tracking
What are the first steps to Alzheimer's care for my spouse?
Supporting the independence of your spouse and yourself is not something you should do alone. Accept help and take care of yourself so that you can continue to share and enjoy time with the person you love the most. Stay as informed as you can about what your husband or wife is going through so you both have the opportunity to live well.
To see if the smaller family-like atmosphere of Elk Grove Park is the right choice for you and your loved one, contact us or call (916) 683-1881 to set up a tour of our community.