Colorado dementia care communities like The Courtyards at Mountain View provide an environment where seniors living with Alzheimer's and dementia can feel seen and heard.
Recalling the past gives residents a boost of confidence and promotes socialization within group settings or even one-on-one conversations. Opportunities like this can mean a lot to a senior with a form of dementia. These conversations allow people with Alzheimer's the chance to live in the moment and form new relationships.
Connections is the signature memory care program offered at The Courtyards at Mountain View. Its focus is on using neuroplasticity treatments to slow the progression of memory loss. Thanks to these data-based techniques and therapies, seniors with Alzheimer's and dementia experience a sense of belonging and structure.
When you have a parent or spouse experiencing memory loss, you may sometimes be at a loss for coming up with something to say. Making a list of conversation starters can help you experience a positive interaction.
How do you talk to a person with dementia?
Before having the conversation, keep in mind that people with Alzheimer's or any other form of dementia are people too. They are adults who deserve the same respect you'd give anyone else.
Sometimes, it takes seniors with dementia a moment to find their words. Try not to rush the conversation and find words for them. Asking a person with dementia if they "remember" can lead to low self-esteem.
Reducing distractions helps the conversation stay focused. Opt for a quiet area at a time when the person is most alert. A busy restaurant or a time when they nap may not be the best environment for chatting.
When talking to someone with dementia, avoid:
Baby talk or childish speech patterns
Yelling or talking in a loud pitch
Interrupting or correcting
Ridicule or tease
Arguing
The phrase, "do you remember?"
Taking what they say personally
Talking about them, in front of them
When talking to someone with dementia, you should:
Minimize distractions
Remain at eye level
Speak clearly and slowly
Speak with a positive tone
Use short sentences
Be an active listener
Respond to their feelings, not necessarily their words
Five Ways To Start A Conversation With Someone With Alzheimer's
Whether you're speaking to someone you're close with or trying to get to know someone new, sparking up conversation is easier than you think.
Conversations don't have to be lengthy. Make interactions short and positive. If you notice your loved one is getting fatigued, feel free to wrap things up.
1. Open-ended Questions
Asking a parent with dementia about their medication schedule or recent doctor's visit may not make for the best conversation. Simple yes or no questions work best, but you can also ask open-ended questions that do not have a wrong answer.
Ask:
What do you think of the color of this room? Have you ever painted a room?
I don't know what to cook for dinner? What kind of dinner did your parents make for you?
I saw the cutest dog on my way here. What kind of dogs do you think are cute?
2. Pictures
If you're speaking with someone you have a history with, props might be helpful. Bring an old photo book and ask:
What was the weather like on this day?
What is our relation to these people?
Who took these pictures?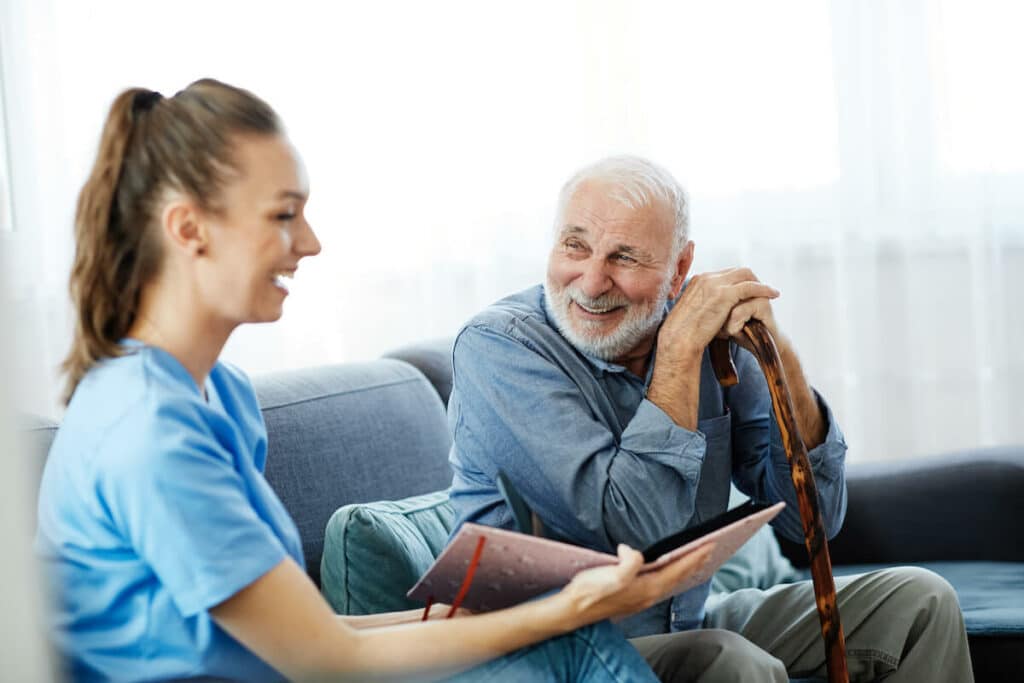 3. Opinions
Opinions are great ways to get conversations started. Let your loved one give hot takes to build up their confidence. Use active listening skills and ask follow-up questions.
Ask:
Who's the best baseball player?
What's the best smelling flower?
What's the best cookie?
4. Recalling the Past
Giving loved ones a chance to recall past events can brighten up their mood and feel heard.
Ask:
How did your wedding day go?
What did you do for work?
Did you ever win an award?
What schools did you attend?
What concerts have you seen?
5. Staycation
A fun activity at The Courtyards at Mountain View is visually traveling. Ask your conversation partner about their favorite travel destinations. Type the location into YouTube and see if there's a walking tour available. Ask them what's changed about the scenery.
Where can I find more information on data-based care for dementia?
Visit The Courtyards at Mountain View in person or virtually to learn more about the data-based therapies available in the Connections Program for dementia care.