Communication is a critical aspect of assisted living and memory care communities. Families of seniors residing in these communities often rely on communication from staff to ensure their loved ones receive the best care possible. These are essential qualities to look for when considering a senior living community in Spokane, WA.
North Point Village offers award-winning senior living in Washington State. Our assisted living and memory care community in northern Spokane prioritizes communication with families. Communication can differ depending on the type of senior living your loved one requires.
Continue reading to discover more about dialogue in senior care, the cost of assisted living, and Spokane activities for older adults.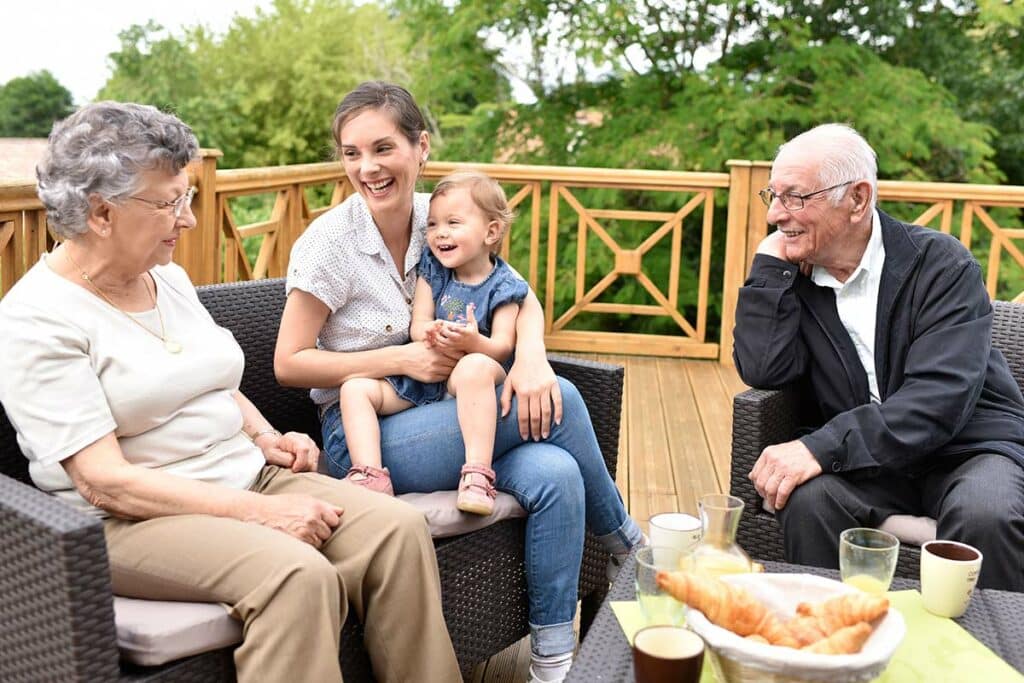 What does communication mean in assisted living?
Communication can take many forms in assisted living communities. Regular updates from staff, including nurses and caregivers, are essential to keeping families informed about loved ones' health and well-being.
Families can expect to receive frequent reports on their loved ones:
Physical health
Medication changes
Changes in mood or behavior
Activity schedule
Nutritional needs
At North Point Village, families are encouraged to participate in care planning meetings to discuss their loved one's needs and preferences. These meetings include discussing beneficial activities, outings, dietary choices, and specialized care needs.
Our team members start care by getting to know each individual. We elevate our supportive services by understanding the person. We provide holistic or person-centered care by offering additional options to make life easier or more enjoyable.
As an example, say an older adult was inactive and depressed. Prescribing a regimented workout routine and medications may not be the solution.
However, our team members may start by learning something unique about the resident. We can offer activities centered around those interests. The person may build up more confidence and become active in a way that suits them. The individual hobby may be something others in the community also enjoy.
Recommendations from family members are always welcome to encourage this type of success story.
What does communication mean in memory care?
Memory care is a specialized type of care for individuals with Alzheimer's or other forms of dementia. Memory care facilities provide a safe and secure environment with trained staff who understand the unique needs of individuals with memory loss.
Alzheimer's and dementia care aims to enhance the quality of life for residents and provide peace of mind for their loved ones. Communication with families is even more critical in memory care.
Regular communication with families helps establish trust between team members and residents' loved ones. Families are naturally more comfortable when informed about their loved one's care.
"The caregivers are personable and make sure my Mom is comfortable. They encourage her to come out of her room to eat and socialize. Mom has continence issues, and she is clean and dry—no skin issues. The place is clean and orderly. My family has been able to talk about any issues that come up. The nurse in charge has responded quickly to any concerns. Mom has adjusted and seems happy there. We can come to visit any time and find everything in order." – Family Member review
Connections guides everything we do in our secure memory care neighborhood. Our signature memory care program emphasizes person-centered care, socialization, and purposeful activity. Team members work closely with residents and their families to create a personalized care plan that addresses their unique needs, interests, and abilities.
The program also includes a range of activities and therapies designed to promote cognitive function and engagement, such as:
Pet, music, and art therapy
Word games and puzzles
Storytelling
Aromatherapy and meditation
Smartboard activities
Dementia-friendly exercise
The Connections neighborhood provides a secure environment with 24-hour supervision and team member support. Our signature services help residents maintain independence and enhance their quality of life.
Transparency: What is the average cost of assisted living in Spokane, Washington?
The Genworth Cost of Care Survey reports that the average cost of assisted living in Spokane is $4,888 per month. That range is slightly higher than the national average of $4,500 per month. Senior assisted living in Washington State is a monthly rate average of $6,000.
Transparency and communication are crucial when it comes to senior living costs. Seniors and their families need to clearly understand the costs involved to make informed decisions about their care. With transparency and communication, seniors and their families can plan for events that may create financial burdens.
At North Point Village, we proudly provide future residents with transparency in pricing and costs. Our website lists starting prices so families can better understand what their care will look like in our community.
Clear communication about senior living costs is essential to ensure everyone is informed and comfortable. However, there are different prices for hospitality and health care.
The base rate (hospitality) cost of assisted living or memory care includes:
Spacious senior apartments
Chef-prepared meal service
Housekeeping
Home maintenance
Scheduled transportation
Wellness programs
Engaging activities
Special events and entertainment
Comfortable common areas
Beauty salon
Private dining room for family events
Senior living costs will look different for every resident. The benefits listed above are included in the base rate.
Additional costs will change depending on the resident's care plan needs. A person needing memory care with three activities of daily living assistance will pay more than an assisted living resident requiring only medication management.
Is Spokane, WA a good place to retire?
Yes, Spokane is a great place to retire! Our city offers a high quality of life for retirees, which includes:
A milder climate
An abundance of outdoor activities
An affordable cost of living
The city boasts top-notch healthcare facilities and a vibrant arts and culture scene. Take a tour through our community's eyes to see the city's benefits. Whether looking for a peaceful retirement or an active lifestyle, Spokane has something to offer everyone.
Communication with families is a top priority at North Point Village in northern Spokane. Families can expect regular updates on their loved one's health and well-being. Relatives are encouraged to help personalize care plans and participate in our activities. Stop by for a tour to get started.
Let's Start A Conversation: Tour Senior Living in Spokane, WA
Contact us to open up communication with our assisted living and memory care community.
We provide personalized tours the same way we individualize care.