Your Guide to Finding Dementia Care in Denver
The Courtyards at Mountain View is a senior living community in Denver, Colorado. Dementia care programming will soon be a welcome addition to our community.
What is dementia care like in Denver, CO?
With their services commonly referred to as memory care, these communities are designed to meet the unique needs of seniors who battle Alzheimer's or other various types of dementia. They are secure communities with a team of associates that have been trained in the industry standards of how to care for dementia residents.
What's the cost of dementia care in Denver, CO?
The cost of dementia care varies across the United States, but there is so much involved in caring for your loved one. Yes, you are paying for healthcare. You get 24-hour monitoring by specialized Alzheimer's associates who manage medications and make sure your loved one is getting the stimulation they need. But you also get hospitality. This includes their room, dining, housekeeping, and other community amenities.
Although the cost could look intimidating at first, when taking into consideration everything you get for the monthly cost, the peace of mind you get knowing your loved one is receiving the care they need in a dedicated community is priceless.
But don't stress too much! There are ways to mitigate the cost of senior living.
Veterans benefits
Long-term care insurance
Reverse mortgage
When does someone with dementia need to move to senior living?
One of the main reasons seniors move to senior living communities is because they have difficulty with basic activities of daily life. According to the Katz Index of Independence in Activities of Daily Living, the most basic tasks necessary to function can be broken down into six categories. When these require assistance, it may be time to start looking for senior living.
Bathing
Dressing
Transferring (the ability to get in and out of bed)
Continence
Feeding
However, there may be some other signs if Alzheimer's or dementia are at work as well.
| | |
| --- | --- |
| Signs | Benefit of living in a community |
| Weight loss or weakness – If you notice your loved one looking weak or frail or losing weight, they may be forgetting to buy groceries or to take medication. | With dining service and medication monitoring included in the monthly price, you never have to worry about your loved one's health declining because of forgetfulness. |
| Mood changes – People with Alzheimer's can become easily overwhelmed or agitated. They may become suspicious and fearful of others. Depression and anxiety are also common. | Specialized Alzheimer's associates are trained to create an environment that is structured and calm to avoid becoming overwhelmed but with just enough socialization to avoid depression. |
| Not paying bills – Seniors with dementia often forget to pay bills. Their electricity can be shut off or worse. | All healthcare and hospitality costs are included in one monthly price so you never have to worry about your loved one's utilities being shut off for non-payment. |
| Messy house – Cleaning can become overwhelming to seniors with Alzheimer's. Clutter piling up can be a sign. | Housekeeping and laundry services are part of the amenities, so your loved one will always live in a calm, clutter-free environment. |
Someone in the early stages of dementia will often do well in an assisted living community. They will have support for the ADLs (activities of daily living). Meals are cooked for them, laundry and housekeeping are included, and health and medication are monitored and managed if necessary. Associates are on hand to step in when confusion sets in.
However, it may eventually come to a point where around-the-clock dementia care is necessary. Fortunately, many assisted living communities are paired with dementia care programming. This makes for a comfortable and seamless transition as the level of care increases.
How can someone with dementia thrive and be happy?
A diagnosis of Alzheimer's or other type of dementia does not mean that life cannot be fulfilling. Dementia care communities are dedicated to caring for individuals who battle cognitive challenges. They have specially-trained associates who know how to manage memory loss.
| | |
| --- | --- |
| Calmness | People with dementia are often easily overwhelmed. A calm environment helps reduce agitation. |
| Structure | A predictable schedule gives individuals with dementia comfort and helps them remember what comes next. |
| Activites | Activities that encourage physical, mental, and/or emotional responses are great for prolonging the onset of Alzheimer's. |
| Socialization | Seniors are already prone to isolation, even more so as dementia progresses and communication becomes more difficult. Living in a community with other residents makes it easier to socialize and form connections. |
What is Connections Memory Care?
Connections memory care is a special brand of dementia care programming at The Courtyards at Mountain View.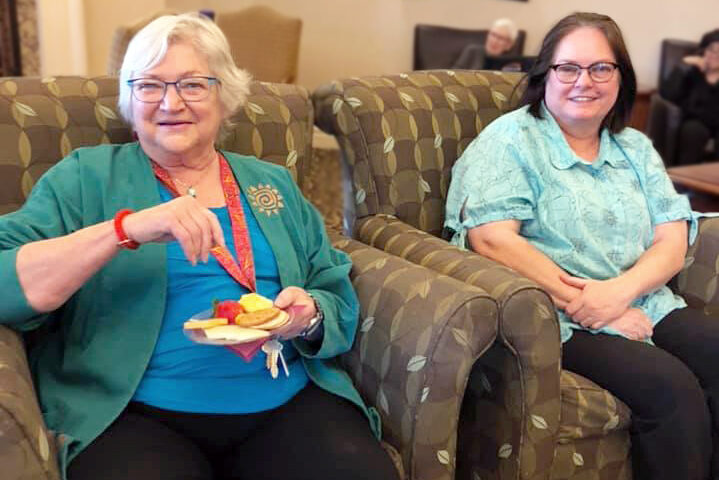 The goal is to get to know each resident to be able to provide individualized dementia care in Denver. We create a relaxing environment that provides activities for physical, mental, and emotional stimulation as well as opportunities for socialization.
Engaging the emotions – Connecting to emotions is important for seniors with dementia because emotions evoke memories. We offer our residents opportunities for artistic expression, like mindful coloring or craft time and guided religious study.
Encouraging movement – We have a variety of activities that get our seniors moving! From bocce ball or walking for fitness to chair exercises including yoga and tai chi, staying physically active helps reduce agitation in dementia care residents.
Challenging the brain – Exercising the brain is important too! That is why we have a lot of fun playing trivia games like Who Wants to Be a Millionaire?
Supporting socialization – To keep seniors practicing communication skills and stave off depression, we provide opportunities for socialization daily. Ice cream socials and movie nights are held at the community, but we venture out into the local area for scenic drives to look at the mountains, a stroll through the Denver Botanic Gardens, or lunch out and about in Denver.
The Courtyards at Mountain View's dementia care in Denver is expected to open soon. Come on by. You can tour our community, receive personalized information, and get on the waiting list.
If it is time for you or a loved one to look into dementia care in Denver, CO, take a tour of The Courtyards at Mountain View and see how we can help.