Tucson Place at Ventana Canyon will now serve even more families with its expansion into memory care services. Our community now offers both assisted living and memory care services. Families with loved ones who live with Alzheimer's and other forms of dementia now have an expert resource in the Tucson area.
The Connections Program
Individuals who require memory care thrive in a secure and consistent environment with specialized attention from associates. They also benefit from participating in active day-to-day schedules in a therapeutic environment.
Pegasus Senior Living's signature programming Connections meets all of these needs with its data-based and evidence-based structure, all led by VP of Health and Wellness Dr. Sandra Petersen.
Over a decade ago, a stroke left Dr. Petersen unable to walk, speak, or process simple memory tasks. Through rehabilitation with brain health specialists, she discovered how neuroplasticity could aid in her recovery.
Research and experienced-based care
Neuroplasticity refers to the brain's ability to be dynamic and adapt to new stimuli and experiences. Knowing that the effects of Alzheimer's and dementia cause changes in the brain, Dr. Petersen's own experiences triggered an idea to combat that.
"If it could work post-stroke," says Dr. Petersen, "why couldn't the same idea of neuroplasticity work in memory care?"
Dr. Petersen was able to make a recovery after only two years by challenging her brain and body to learn new things. Her language processing improved by learning a new language and she improved her motor skills by learning ballroom dancing. Stimulating parts of the brain with new experiences and information helped it to build new neural pathways and recover.
The Connections program mimics how its founder overcame her challenges by engaging memory care residents with mentally stimulating activities and encouraging movement, bringing stability and fulfillment to everyday life.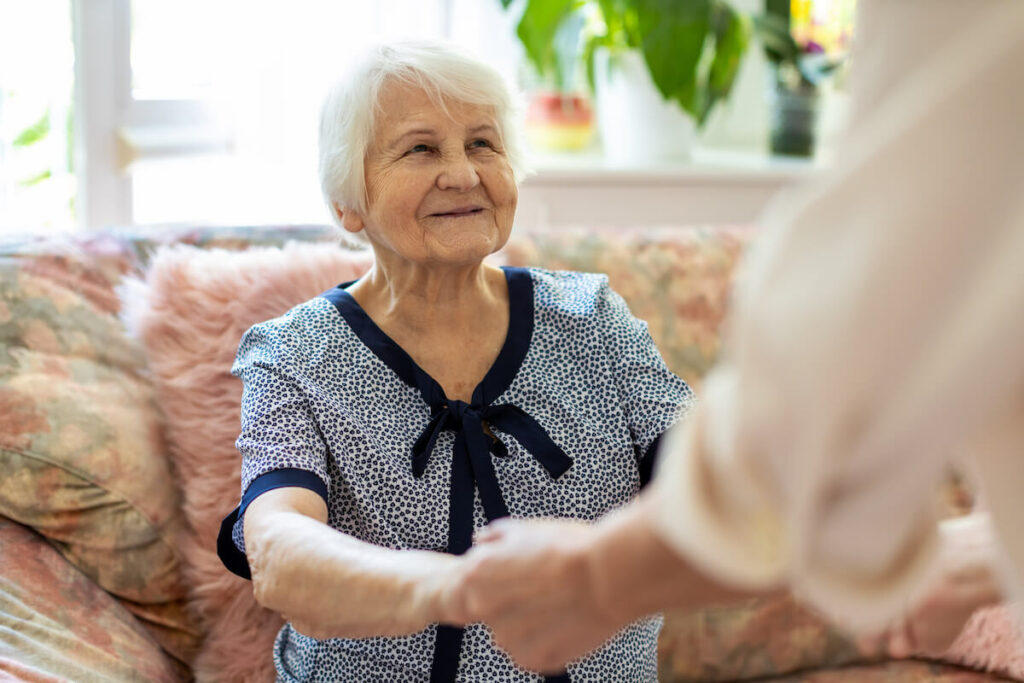 Specially designed activities
Residents can experience activities that stimulate in just the right way and engage emotions like:
Aromatherapy to decrease agitation
SingFit, a program shown to elevate mood and improve speech through singing classic songs
Hobbies they have always enjoyed like painting, drawing, and crafts
Residents' minds are continually engaged with activities like recall therapy, matching activities, puzzles, brain games, and reading.
It's important to have the right kind of environment and stimulation as well as to keep the body active. Exercise helps to improve mood and cognitive function while staving off depression and anxiety. Connections residents participate in safely monitored activities among their peers, getting the benefits of movement and socialization.
Finding help for your loved one
A therapeutic approach to memory care that was developed by research and personal experience is uniquely beneficial for seniors living with memory loss. It's not something you can find everywhere.
Seniors in the Connections program can live well and enjoy interacting with others while getting the assistance they need with everyday tasks.
If you're struggling with how to best care for your loved one with Alzheimer's or dementia, you are not alone. It's estimated that over six million Americans are living with Alzheimer's and need resources like Connections. It's okay to ask for help. Sometimes the care that you are able to provide can't meet their needs.
We understand the time, effort, and emotional toll that caregiving can take on a family. If you're wondering if your loved one's care needs are beyond your abilities, Tucson Place at Ventana Canyon may be able to help. Let our robust, effective program help your loved one live a life of meaning and purpose again.
Are you ready to learn more about our groundbreaking program?
Let Tucson Place at Ventana Canyon answer any questions you may have about memory care. We're here to be your expert resource in navigating a complex situation. Tours are available now for families looking into memory care senior housing in Tucson. Call us today at (520) 462-3232 to schedule a visit.