What is personal care?
The Peach State offers seniors an alternative to assisted living with personal care homes. It saves older adults money and provides an environment for seniors to be social and engaged.
The main difference between assisted living communities and personal care homes in Georgia is the level of care. Many seniors only need help in a few areas of their lives, which personal care offers. Activities of daily living assistance and medication management allow seniors to live with the confidence to enjoy their lives.
If seniors require higher levels of care in a personal care home, there are additional options available:
Third-party caregivers can visit and administer health care.
Communities like Magnolia Place of Roswell also offer memory care for seniors living with dementia. This option allows residents to age in place if their needs change.
What level of senior care do personal care homes offer?
Recent changes to personal care home certification by the Georgia Department of Community Health have ensured seniors can live with peace of mind. Updated regulations provide more reasons for seniors to feel secure and know that assistance is readily available.
The new rules of personal care home certification include:
At least a 1:15 staff to resident ratio during waking hours and at least one direct care associate for every 20 residents during sleeping hours.
At least one manager or administrator on-site 24-hours a day.
All care team members, administrators, and managers must complete 16 hours of training annually. The courses must be relevant to first aid, senior care, and building safety protocols.
Updated infection control plans and emergency procedures must be in place.
The certification changes also apply to memory care centers. These changes offer even more reassurance to communities that provide both personal care and dementia care:
At least one licensed practical nurse, registered nurse, or certified medication aide must be on-site at all times.
Direct care teams receive eight hours of specialized Alzheimer's and dementia training every year.
At least two direct caregivers are to be on-site at all times.
At least a 1:15 staff to resident ratio is on-site during non-waking hours.
At Magnolia Place of Roswell, individual care plans offer personalized assistance for all residents. In addition to managing medications or dressing and bathing assistance, team members provide wellness and rehabilitation services that can improve seniors' level of independence.
Why should seniors choose personal care services?
One of the benefits that improve the lives of older adults is socialization opportunities. At Magnolia Place of Roswell, our seniors are very active and enjoy a diverse calendar of events, games, parties, and more:
Weekly trips out to lunch and shopping
Saturday brunch
Stretching, strength training, and cardio exercises
Chef demonstrations
Worship services
Spa day
Walking club
Bingo, cards, and puzzles
Scenic drives throughout the state of Georgia
Loneliness and social isolation can be as dangerous to seniors as smoking cigarettes. Personal care and memory care motivate residents to stay active, fit, and involved in a community.
Magnolia Place of Roswell offers seniors several amenities that are hard to come by while living independently at home:
Three nutritious meals and snacks are served in the dining room every day.
On-site cafe, salon, and fitness center
Beautifully maintained outdoor areas and walking paths
Library and activity rooms
Cleaning services
Pet-friendly apartments
What kinds of senior living apartments are available?
Our Roswell community offers seven different floor plans for every lifestyle. One and two-bedroom options are available, but we also provide various studio layouts that make senior living very cost-effective.
Studio apartments are not like rooms in a nursing home. These living spaces are bright and spacious and have recently been renovated. Seniors love the ability to have a private residence for residential care right down the hall from their social activities.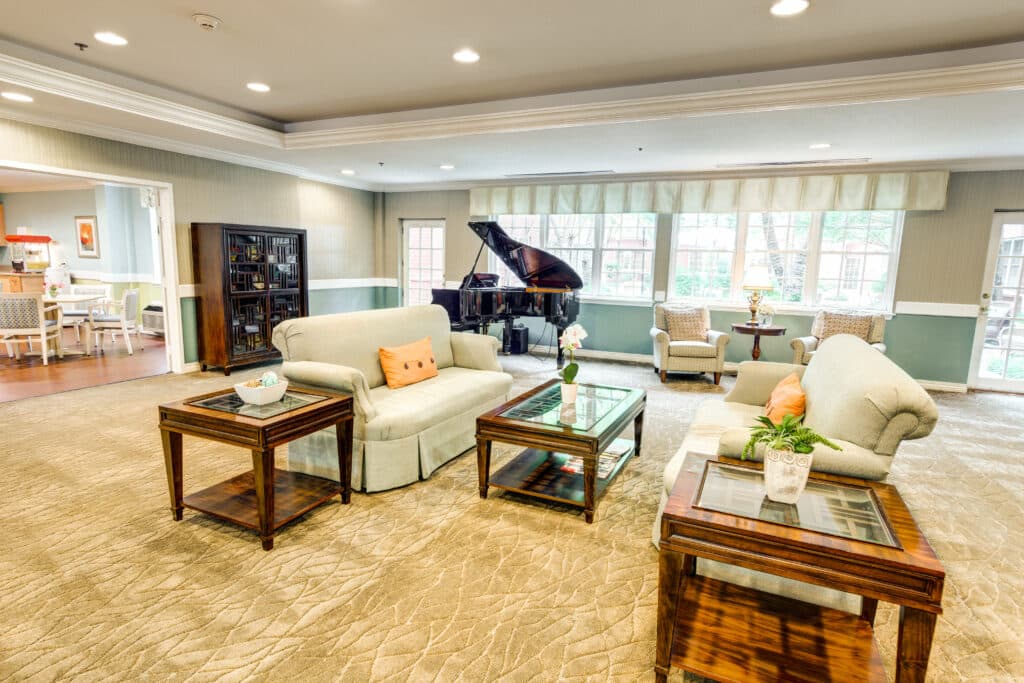 Our senior apartments include:
Basic cable
Housekeeping
Private bathrooms
Walk-in showers
Kitchenettes
Large covered windows
Why should families choose memory care?
Over six million seniors in the United States live with Alzheimer's, the most common form of dementia. The Alzheimer's Association estimates over 11 million family members provide care to loved ones living with cognitive impairments.
Memory care relieves the burden of caretaking and lets families enjoy quality time with each other again. The specialized care available in the Connections program at Magnolia Place of Roswell uses evidence-based therapies to slow memory loss and add purpose to the lives of people with dementia.
Connections is a program created by Dr. Sandra Petersen. Specialized team members who understand the unique needs of these residents provide individualized activities that challenge the brain, promote movement, encourage social bonding, and spark creativity.
Families can let go of emotional and physical challenges that come with providing care. Our secure memory care allows seniors to live independently at a pace that's right for them. The comforts of assistance are readily available at all times.
Find Personal Care and Memory Care in Georgia
For personalized senior living in Roswell, Atlanta-area seniors and their families are welcome to visit Magnolia Place of Roswell. Arrange a tour of our community and experience senior care benefits in person.